Not many pay attention to this fact, but doors and windows play a significant role in boosting the value of your home. Particularly, windows do much more than just protecting your privacy. The right kind of windows can enhance the look and appeal of even a seemingly simple house and complement its exterior and décor.
So, if the home renovation is on your mind or you're getting a new home constructed, make sure to focus on windows. There are so many types of units available, but bay and bow windows are a preferred choice of many Canadians. We have contacted Ecoline, window and door installation experts, and together prepared this post to let you know all the benefits of these beautiful windows and how they can help you enhance your house's overall decor.
Interested? Keep reading!
What are Bay and Bow Windows?
Bay and bow are basically two different types of windows. We have discussed them briefly here:
A bay window is basically a combination of three windows; one of them is a large window that's fixed and non-operation. The remaining two windows are comparatively smaller in size and placed on each side of the larger window. These two can be fixed or casement, depending on your choice.
A bow window consists of multiple smaller windows. They are joined to each other and angled slightly, which creates a 'curved' allusion. This type of window can be constructed using wood or vinyl.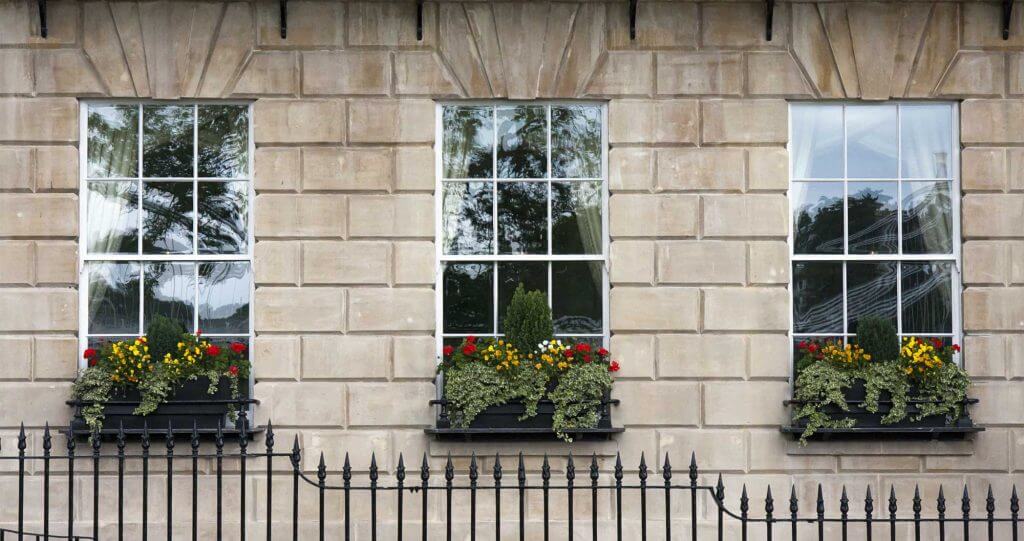 Reasons to Choose Bay and Bow Windows
Bay Windows
Due to its unique style, a bay window can produce a broader view as it extends past the exterior wall.
Since the side windows are functional, they can be opened to let the natural light in from different directions.
As windows in bow windows are fixed, they do not allow ventilation. However, a bay window, as discussed above, contains two operational side windows. They can be opened up to make a place well-ventilated.
Bay windows are considered more versatile and function as they add more space and dimension to a home. The reason? They jut out from the exterior wall. This means there's ample room to create a cozy reading area, a small place to display your craft or display miniature plants.
Bow Windows
Bow windows are bigger in size; thus, they allow more sunlight to enter a living space. This makes them a suitable choice for homes that get large amounts of sunlight.
The curvy look a bow window creates adds an element of elegance to the exteriors of the living space.
As a bow window consists of more windows than a bay window, it offers panoramic views of the surrounding, creating a perfect relaxing spot for residents.
Which One to Choose?
Both bay and bow windows come with many perks. They create a trendy look, allow abundant natural light, and enhance the overall look of living space. What's even better is that both these options are energy efficient in their own ways. Due to their ability to allow natural sunlight inside a home, the need for extensive lighting during the daytime reduces. This results in reduced electricity bills.
Furthermore, these window types include fixed windows, making them more energy-efficient, as they are considered good insulators. This enhances the performance of heating and air condition systems.
A team from https://www.ecolinewindows.ca says that the ultimate decision of which one to get, boils down to your requirements:
If you want more ventilation in your home, a bay window makes for a suitable choice.
On the other hand, a bow window is a more appropriate option if abundant sunlight and a classy design are what you're looking for.
Consider various factors, including the layout and existing décor of your home, when making the final call.
Things to Consider When Getting Them Installed
Whether you have selected bay or bow windows, there are numerous things you need to consider. Some of the important ones are:
Make sure the installer follows CSA guidelines when installing bay, bow, or any type of windows. This ensures safety and peace of mind. Factors such as airtightness, water tightness, wind-load resistance, forced entry resistance, ease of operation are considered for CSA certification.
Most residential projects in Canada have specific rules vis-à-vis construction and exterior décor residents are mandated to follow. So, you must get approval from building authorities before getting new windows installed.
It's not every day you will be out and about buying windows. Therefore, you need to be very careful and tactful when purchasing them. To ensure no trouble arises in the later stages, get the windows from a window company that provides you with a decent warranty. This way, even if the product turns out to be faulty, you can rest assured that you can get it replaced free of cost.
Experienced and Skilled Personnel
Even though hundreds of window installation tutorials are available online, hiring an experienced crew for this purpose is still recommended to avoid common mistakes. This is particularly true for bay and bow windows since they include multiple windows and are hard to install. Professional installers will save your time and effort.
The Takeaway
In a nutshell, both bay and bow windows can make your home more functional and add value to its overall look. They are available in various colours, sizes, and designs. Pick the right one after thorough deliberation and consideration and make your home more appealing.