Designing your perfect kitchen could be a long process, but at the same time, it might be a fun one. If you have started planning this project, then chances are you've been Googling the latest trends when it comes to kitchen design. We know that at the beginning, it might seem like an overwhelming amount of information. But, don't worry, we are here to help you. That's why we are going to talk about one of the most popular styles at the moment: a black countertop kitchen.
Before we get started, there are a couple of things you should know about your countertop. First, you should choose a surface that is easy to clean, especially if you are a home chef. Also, think about your priorities. For instance, if you have children, you should choose a countertop that is stain and scratch-resistant.
Finally, consider which one is the final look you want to have. The good news is that whether you are thinking about a modern, rustic, traditional, or minimalistic design, a black countertop kitchen will help you achieve it. 
If after reading this article you are still not a fan of this bold kitchen statement, there are more options you can look into. Visit Caesarstone to find the most popular countertop colors for this year.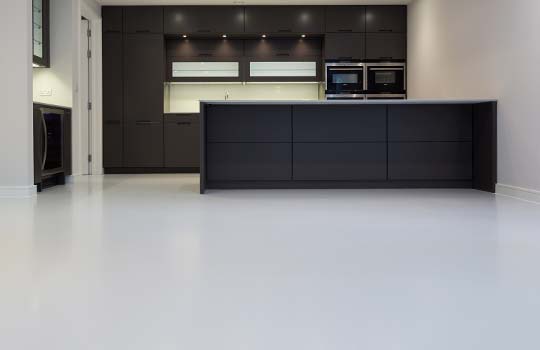 9 Black Countertop Kitchen Ideas
We know that having a black countertop might seem unusual. However, the only thing you need to do is find balance. That way your kitchen won't be moody, but instead, it can convey a welcoming and warm environment. Without further ado, let's get started.
Bold and steel
One of the many looks we love is a grey kitchen with a black countertop. If you are looking for a surface that is durable and resembles the look of natural stone, then you should purchase quartz. To complement it, get white or blue flat-panel cabinetry. Finally, to complete the whole design, get some steel handles and appliances. This style is perfect for all homeowners who want to have a modern and functional kitchen.
Wood obsession
If you have always wanted a rustic kitchen look, here is the design you have been waiting for. There is nothing we love more than light wood cabinetry combined with silver fixtures. Plus, to add a touch of elegance, a glossy black countertop. But, we are not done yet. If you are feeling extra adventurous, you can install a dark backsplash as well. Depending on the size of your kitchen, you can also get some unique light fixtures.
Black and white
Like a classic movie, a white kitchen with a black countertop never goes out of style. White cabinetry is an element that creates a calming ambiance in your kitchen. When you mix this with stainless steel appliances, you have the perfect family kitchen. However, we don't want you to leave behind that edgy design tendency. That's why we would choose a black granite countertop to complement the whole look.
A chef's kitchen
We know that if you love cooking and trying out different recipes, you've always dreamed about having a chef's kitchen. Even when we can't help you get the real thing, we will take you as close as possible with this design. There are a couple of crucial elements you need to have if you want to feel like a real-life chef. For instance, stainless steel appliances and fixtures. Plus, a surface that looks modern but at the same time is easy to maintain. Think about it as a light grey kitchen with a black countertop.
Vintage design
If you are lucky enough to have a large property away from the city, then this is the perfect opportunity to create your vintage paradise. A kitchen with this style could give you a luxurious and charming vibe at the same time. To get started, get a black countertop that has a metallic finish. Instead of having cabinetry, you can get dark wood shelves. To complement the whole design, get some gold lights.
Minimalistic vibe
Some homeowners don't like having a crowded kitchen, but rather a minimalistic space where everything is organized. If this is your case, we have a design idea that you'll love. Imagine a black kitchen countertop with a shiny finish, with just a couple of decor elements on top. You can store all the appliances on grey flat-panel cabinetry and only take them out when you need to. Finally, to light up the room, install an all-white backsplash and tile floor.
Classic twist
All homeowners adore a classic black and white kitchen. However, if you want to have a one-of-a-kind design that impresses your guests, you need to add a twist. First, keep the classic black countertop, but this time we are going to install traditional white shaker cabinetry at the bottom. At the top, we are going to have some glass cabinetry with some delicate black details. That's it, here is your white kitchen with a black countertop.
Colorful style
Having bright or dark tones in your kitchen is a bold move. But what do you think about combining both of these tones? We know that this might be risky, but the key here is finding the right colors and creating the perfect contrast. For this kitchen design idea, we are going to use yellow, white, and black elements. The first two we will use for the cabinetry, while the latter one would be for the countertop. This combination will make your kitchen look more spacious.
Moody grey
Today, millennial homeowners are always looking for ways in which they can express their personalities. That's why they look for unique designs, and nothing is more contemporary than a moody kitchen. Combining a black countertop, with dark wood cabinetry and urban decor is the best way to achieve this look. If you want to bring a little color into the room, purchase small plants and gold decor.
We know that purchasing a black countertop might seem like a risk, but instead think about it as your opportunity to create something different.