The time for renovations is near – and at this point, many people are staring at their cream cabinets and wondering which colors they should choose to make sure that it all looks nice and beautiful.
Do they only have to choose from white and cream – or do they have more say in this matter?
Luckily, cream is a fairly neutral color – which means that if your cabinets are painted in this color, you are given the luxury to choose from a variety of shades. Pretty much every color will work with this tone.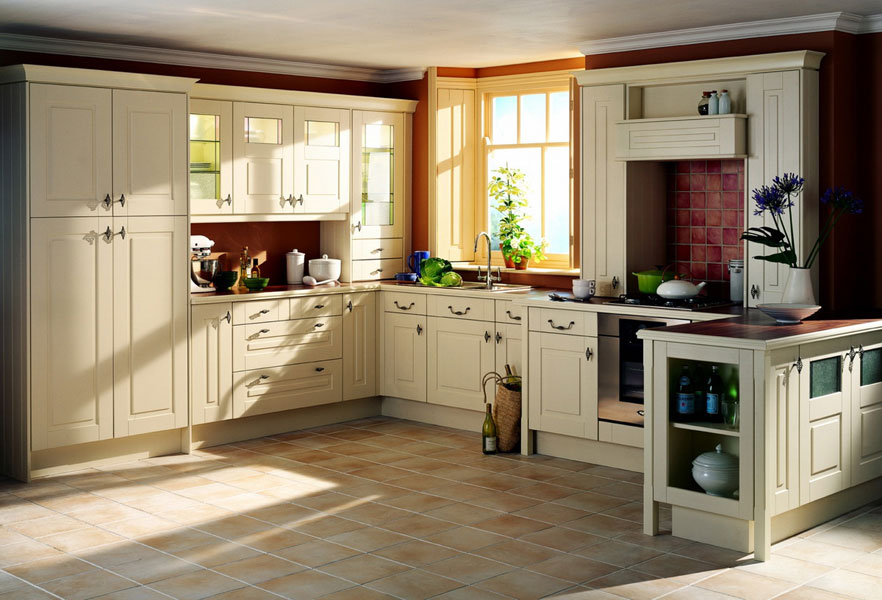 The only differentiating factor here will be exactly what kind of look you are planning to achieve. Here are a few ways for you to do so.
If you are looking to give your kitchen a more "country" look, then you might want to match pastel colors with your cream-colored cabinets.
In this regard, you may go for pale pink, baby blue, pastel green or lilac to splash on your walls – as these colors are very popular when it comes to setting the country vibe.
A set of cream-colored cabinets will stand out very subtly against pastel colors of any kind. They will call slight attention towards them, which will turn them into a delicate centerpiece of your kitchen – one that is not too heavy on the eyes.
If you want a kitchen that gives off a relaxing and calming effect – the kind of calmness that you would experience at the beach – you might want to mix your cream cabinets with some cool colors.
For instance, colors such as aqua, cool blue, turquoise, and sea foam green are all reminiscent of the beach and will allow you to feel the breezy, relaxing vibe of the seaside in the comfort of your own home.
It won't matter if you live near the beach or not; you will certainly feel as if you are. For more information on colours you can consult Interior Painting Vancouver WA.
You may feel that your cream cabinets are too boring and that you want to make a statement in your kitchen. In this case, you might want to choose some brilliant and vivid colors for your walls – colors that will make your cream-colored cabinets stand out even more.
In this case, jewel tones will likely turn out to be your best friends. Go for colors such as amethyst, garnet, emerald, or sapphire, as they will give your kitchen a bold look – one that seems to have something to say.
You may also use some electric blue, shocking purple, or bright red to turn a boring, traditional kitchen into a more modern one. You may use just one color – or if you are feeling bold, you may go for a combo of two colors. This way, the look will be even more shocking and stately.
If you don't want to make any dramatic changes, nor do you want to use any contrasts, then you might want to go for neutral colors instead. This way, together with the neutral-colored cabinets, you will get a rustic look that will blend right in and make the place seem bigger.
For example, if you paint the walls in the same cream color as your cabinets, they will blend in with the walls and create an airy, welcoming vibe in the room. The kitchen will seem even bigger than it actually is, making it a good choice for rooms that are particularly small.
If you don't want to go with the same color and wish to create a pattern to subtly distinguish between the wall and the paint, then you might want to go a few shades darker (or lighter) on the wall.
Brown, ecru, tan, or even some sage green will work just well on the walls. It will create a rustic look that is calming and very comfortable to stay in.
Final Thoughts
The beauty of cream cabinets is that they work with pretty much anything – you just need to decide on the vibe that you wish to go for.
No matter if you want to create a "zen zone" or wish to use your kitchen to make a statement, the options are limitless for you. Get more tips on https://www.rtacabinetsupply.com/
cream colored cabinets kitchen wall colors with cream cabinets best wall color with cream cabinets cream kitchen cabinets cream cabinets site:interiordesignshub.com cream colored kitchen cabinets cabinets cream kitchen ideas with cream cabinets cream colored kitchen kitchen wall paint colors with cream cabinets choosing colors for your kitchen cream kitchen cabinets ideas wall color with cream cabinets cream cabinets kitchen kitchen paint colors with cream cabinets kitchen colors with cream cabinets cream color kitchen cabinets colors that match with cream cream kitchen cabinets wall color cream cabinets with white walls wall color for cream cabinets best wall color for cream cabinets kitchen paint ideas with cream cabinets kitchen with cream cabinets cream kitchen cabinet ideas can cabinets be same color as walls what color to paint walls with cream cabinets kitchen color ideas with cream cabinets blue kitchen walls with cream cabinets best paint color for cream kitchen cabinets kitchen cream cabinets cream cabinets white walls what colors match with cream cream painted cabinets kitchen ideas cream cabinets kitchen cabinets cream match cream what color walls go with cream cabinets cream colored cabinets in kitchen what color walls with cream kitchen cabinets colours to go with cream kitchen units cream kitchen paint ideas kitchen paint colours with cream cabinets cream color cabinets white walls cream cabinets cream color cabinet paint cream kitchen cabinets gray walls colors that match cream cream cabinet kitchens best cream color for cabinets white or cream cabinets cream kitchen cabinets with gray walls cream kitchen paint colors cream colors for walls what color paint goes with cream cabinets best cream color for kitchen cabinets cream kitchen with sage green walls cabinets same color as walls cream cabinet paint red and cream kitchen ideas best wall color for kitchen with cream cabinets cream kitchen cabinet paint are cream colored kitchen cabinets popular cream cabinet kitchen ideas