Your living space is your haven. If your home looks beautiful and elegant, it will feel good when friends come over and are blown away by your home decor. However, it will also help you feel good when you come home from a busy day to a home that looks luxe and sparkling. It's generally an ego boost and a treat to your mental health. 
As much as it would be good to have your home decor on point, it can be a challenge, especially if you are financially struggling. However, there are plenty of places where you can get home improvement loans. You don't have to compromise on how your home decor looks. Here are five tips to make your living space look elegant.
1. Repainting Your Home using contrasting colors
Repainting is one of the most obvious ways to revamp the appearance of a house. However, instead of repainting the whole space, pick a few walls to repaint.  Choosing a contrasting color can bring out color, personality, fun, and elegance. 
Choosing an accent wall to repaint with the contrasting color makes the wall the focal point of the house. It helps to direct the attention of the people in a particular direction. An accent wall is one of the most exciting home decor tricks you can achieve with minimal cost and effort on your side.
2. Utilize throws, pillows, and blankets In Your Home
Your couch is one of the main features of the living room. Therefore, if you're to improve the home decor, you can't afford to ignore the couch. One of the simplest ways to enhance the look of the couch as well as the house is using throws, pillows, and blankets. Other than the couch, here are other areas you can place the  blankets, throws, and pillows:
Bed
Basket
Stools
Chair
Benches
Here are some simple pointers to remember when using the pillows and throws to spice up the look of the house:
Ensure that the color of the pillows matches the theme color of the house.
Alternatively, match them with the color of a masterpiece painting, coffee table, or any other significant feature in the house.
According to the theme of the house, you can either choose the round, rectangular, or whichever shape available. However, feel free to mix them up.
Note; look at everything in your home as a family. The pillows, throws, and blankets do not all have to match in color. But, they need to relate in some way.
3. Incorporate plants into your living area
Bring life into your home. Incorporating plants in your home can bring out a very unique and elegant look. Here are some tips to remember when using plants to improve your home decor:
Place them on the corner shelves if you have limited space.
Plant them off the ground. Placing them on a shelf or raise place gives plants a dramatic look. It adds to the elegance of the space.
Consider placing the plants along the stairs. You can either hang them or put them on the side depending on whether you have kids and the space available.
Instead of using the standard pots, consider using geometric containers. They are attention-grabbing, especially when placed on a central place.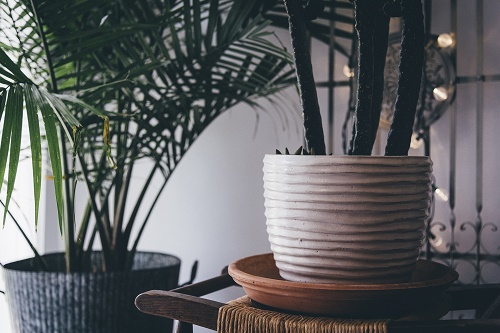 Note, using plants also gives you a chance to get colorful pots that also add to the color and aesthetic feel of the room. When choosing what plants to use, consider the space you have, the lighting and the care needed for the plant. Succulents such as cactus require minimal attention and might be ideal for your space.
4. Incorporate art pieces
One of the most recommended advice to make your home look chic is by using a large piece of art. It also helps to create a focal point in your home. Just like the accent wall, it serves to draw the attention of the visitors and create a wow factor. Having a single painting on the wall can change the appearance and the warmth of a room.
Having wall art not only makes your home look elegant but also makes it look complete. It also brings texture to the room, and if you complement it with other items such as throw pillows, space becomes a single ecosystem.
5. Get a statement piece
Nothing commands attention like a statement piece. It can be anything from a dramatic chandelier to an elegant looking coffee table, an art piece, a painting, and so on.
An item such as a chandelier is a statement of luxury and luxe. It automatically makes your space look expensive and elegant.
In conclusion, get rid of the ugly and worn out rugs ad items in your home. Some of these might hold sentimental value, so instead of throwing them away, lock them in the store. Old and ugly mats, rugs and furniture make a room look ugly and sometimes, no matter how many upgrades you give them, they will still look, feel, and even smell old. So, if you want a modern and elegant home decor, ditch them and get new items that complement every detail in the room.