Are you looking for luxurious, high-end interior design ideas? The high-end furniture, lighting, space planning, and other factors play a vital role in beautifying your interiors.
Your space should also be functional and comfortable while looking desirable. You can always turn to Arcedior for luxury furniture and other aesthetic accessories of interior design. 
Here are the 6 tips for high-end interior designing of your home on a limited budget: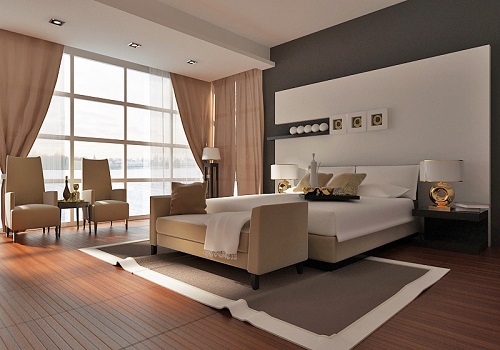 Follow Your Idea of Luxury &Style
Luxury is not about expensive stuff. It is an amalgamation of your personal style and maximization of the resources at your disposal. First of all, follow your thoughts and patterns throughout the space, then approach the trends. Otherwise, the design will go astray.
Even a tiny room can be highlighted with statement luxury furniture or fixture pieces. The emphasis on quality is also non-negotiable to provide a luxurious look and feel to any space.
Invest in High-end Furniture
A piece of high-end furniture with a classic design can transform the face value of any room. But you don't need to spend a fortune on that. You can find antique rugs, sofas, beds, and cushions in flea markets or antique stores. Look for vintage and royal material. Your furniture should display comfort rather than complexity.
Your high-end furniture will appear more impressive if you incorporate a mix of straight lines and rounded sculpted pieces.
Add Drama With Lighting
Lighting is one of the main factors impacting interior design. It adds drama and variation to your accessories. You can opt for a mix and match of lamps, lighting fixtures, and candles to set the varying lighting tone of the same room. Different types of lights can work for reading, watching television, or just for a cosy evening.
But remember to blend the lights with the overall tone of the room. Along with all types of mood lighting, include the space for natural sunlight in your room also.
Camouflage Your Television
Yes! You got all the flat-screen Televisions now which are minimalistic in look. But trust us, they are enough to disturb the appeal of an aesthetically designed living room. We are not asking you to remove your station of entertainment. You can try to hide it through clever moves like mirror doors and sliding wall covering.
Don't worry about completely hiding your T.V. Concealing it will also complement the sophistication of the room and will make it blend with the design.
Invest Time & Efforts in Planning
The planning and strategizing part needs to be on point for the luxurious design transformation of any space. Attention to detail and careful strategy is required for placing high-end furniture in sync with wall colors, decorative pieces, and mood lighting.
A larger piece that can be your room's spiced-up highlight also needs to be planned in advance. It can be a fireplace, center table, solid-colored wall, or an artifact.
But remember to plan all the elements of your design together. Otherwise, the interiors will not look curated.
Express Yourself With Accessories
Accessories and art are not only the tools of beautification. You can customize the minor details of your room according to your philosophy.
You might want a bookcase to be showcased as your love for reading. Or interesting paintings can be placed to express your love for the arts. You can also express your inclination towards Indian, bohemian, or contemporary styles of living through art.
If the design elements and accessories you choose inspire you, they will set your home's definitive mood and tone.
Final Words!
You can take the help of digital beautification and try different looks for your home before deciding on the final appearance. It will save any unpleasant surprises which you might get afterward.
Along with all the points mentioned above, showcase solid colors, textures, and elegant accessories for the royal and luxurious appearance of your interior design.