An Auger is a hand-held tool or machine-powered drilling device used for making holes in wood surfaces or in the ground. It is useful for construction activities that involve digging holes, such as building a fence, installing a deck or planting a tree. Augers makes it easy for tackling any hole-digging job. Home depot auger rental makes getting an auger easy for private individuals who cannot afford to buy one.
What Is An Auger Used For
The Auger is an important tool for digging multiple holes in the ground. Augers are efficient tools for digging holes of a consistent length or width, thereby allowing for quicker, cleaner installation.
It is used for drilling holes on wood surfaces. In situations where you need to make holes for screws/ bolt & nuts, an auger comes in handy.
The precision at which it drills holes, and the rotation helical screw blade that acts as screw conveyor for removing drill material, saves you the time of having to first measure holes before drilling and remove the drilled material from the hole.
Augers can be distinguished into two categories, which are: hand-held or machine powered augers.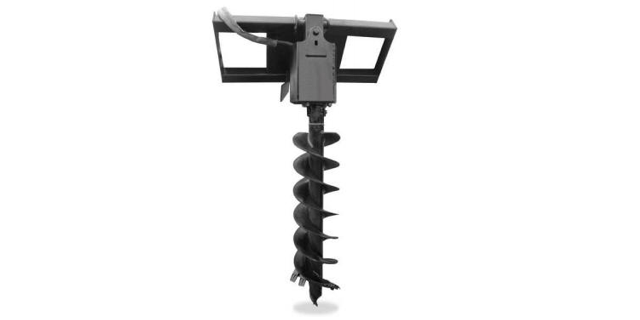 Types Of Augers
Types of augers include: Wood Augers, Ice Augers, and Earth Augers
Wood Augers: These are used for drilling holes of consistent length or width in wood or wooden surfaces. Wood Augers possess a rotating helical screw blade that makes it easy to drill holes cleaner and faster.
Ice Augers: This type is used for drilling holes in ice for ice fishing, it is usually lightweight and easy to move around.
Earth Augers: Earth Augers are used for drilling holes into the earth for the purpose of installing posts (post-hole digger), decks, building fences, laying pipes, planting trees, and drilling through earth/rock for shale or fossil fuel. They can be classified as industrial or agricultural augers.
How Much Does An Auger Cost?
The cost of a new Auger is between $750-$2000. This is the market price for bigger augers (Earth Augers), while the smaller lightweight ones goes for between $50-$200. 
Auger Rental At Home Depot
Augers are available for rent at most Home Depot stores. You can select from the variety of high quality branded and reliable Augers to get the job done faster and better.
How To Rent An Auger From Home Depot
To rent an Auger from a Home Depot store, all you need do is follow this simple procedures:
Home Depot Auger Rental Process
Log-on to Home Depot official website.
Type in your prefered Auger tool type in the navigation search bar, which will then redirect you to information about the tool and list of inventories.
Utilize the store directory button, check the availability of your prefered auger in a store near you for easy rental and delivery.
Go through the tool's rental policy, delivery methods, payment mediums and documents to be tendered for the tool.
Proceed to make payment for your prefered tool if satisfied.
Should You Rent Of Buy An Auger?
Renting or buying an Auger depends on the frequency of the need for the tool. If your reason for renting an auger, is for a one-time job of digging holes for installing a post, we can say the frequency of its need is minimal, and as such, it is better to rent it. But,
If the need of an auger is for a continuous project over a long period of time say up to six months or a year, it will save the contractor money if he buys the auger. Reason being that, the cost of renting the auger, spread over the six month duration will be more expensive as compared to buying it.
Cost Of Renting An Auger From Home Depot
The price charged for rent on Augers varies from store to store, however, 
1 Man Auger Rental
Hourly (4hrs): $56
Daily: $80
Weekly: $320
Monthly: $960
2 Man Auger Rental
Hourly (4hrs): $69
Daily: $99
Weekly: $396
Monthly: 1,188
Note: The above prices varies across different Home Depot store location worldwide. Therefore, it is important to look up the prices charged on rentals in the store location closest to you before renting.
What Type Of Augers Are Available At Home Depot?
Home Depot inventory for Augers contain the best manufactured, top quality augers, tested and trusted to deliver your desired result. Some of the models of augers in its inventory include:
Dirty Hand Tools, Lewis Tools, Ames.
Dirty Hand Tools Model 100 Three-Point Hitch Post Hole Digger
Model#  100498
Dirty Hand Tools 24 in. Heavy Duty Auger
Model#  101021
Lewis Tools Roto Driller 9 in. x 1.75 in. Dia Garden Auger
Model#  100505408
Dirty Hand Tools 12 in. Compact Auger
Model#  101019
Ames 24 in. Planting Auger
Model#  2917600
auger home depot auger rental

auger home depot rental
auger for rent home depot
auger rental at home depot
home depot auger rental
auger at home depot
toilet auger at home depot
auger bit home depot
home depot auger bit
closet auger home depot
hand auger home depot
bulb auger home depot
earth auger home depot
home depot drain auger rental
garden auger home depot
home depot plumbing auger
one man auger home depot
gas auger home depot
home depot ice auger
home depot auger snake
soil auger home depot
home depot power auger rental
auger anchors home depot
planter auger home depot
home depot toilet auger rental
electric auger home depot
home depot 2 man auger
2 man auger home depot
home depot earth auger rental