Kitchen islands are a popular feature in modern kitchen design. In fact, when clients visit our kitchen showroom in Chelmsford this is usually one of the first features we are asked about. This is down to their stunning appearance, but also because they are practical, efficient, and multi-purpose too.
They combine luxury and ease-of-use, giving homeowners the perfect workstation.
Here are 10 reasons why kitchen islands are an extremely popular choice for homeowners:-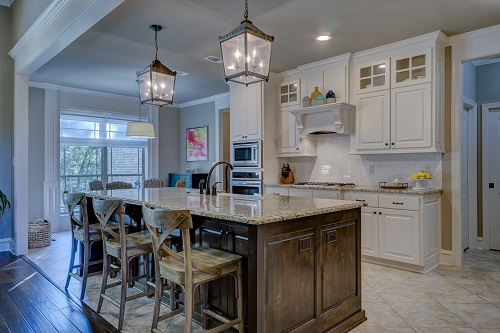 They look amazing!
Kitchen islands create a beautiful kitchen look. Kitchen islands create a warm and welcoming atmosphere that makes a big impact on everyone who enters a kitchen. While they look great in a matching kitchen, island kitchens are often incorporated in a different colour or finish to other kitchen units. They stand out and are a focal point. It can be used to break up the monotony of one kitchen colour and add a new dimension to the overall kitchen look.

Islands are a key component of a kitchen layout.
Kitchen islands are often located next to or opposite another run of units. Together they create an efficient workflow similar to a galley kitchen. You can place appliances within the island or back of the units if you prefer, creating separate kitchen work zones. This arrangement is practical and useful for cooking, but also keeps people away from cooking in a safe area.

Integrated appliances
As we have already mentioned, islands can be part of an efficient kitchen layout. This includes space for cooking and storage. Many islands have integrated wine coolers, ovens fridges, freezers, or dishwashers. Their surfaces also often include hobs, vented hobs, and downdraft extractors. Some islands also have overhead extractors. All these appliances help to save space in the kitchen, with many especially designed to reduce noise levels in open plan kitchen spaces. You can see a wide selection of these in the luxury German kitchen showroom in Southampton.

Kitchen Island storage
A kitchen island offers additional storage space, which is one of their many advantages. There are many storage options for kitchen islands, including integrated open shelves, pull out bins and wide pan drawers.

Kitchen island seating
Islands can be used to create alternative seating areas for dining if space is tight. Islands can be used to create casual dining areas, offering you more options for where to eat. If a recessed seating area within an island is too costly, you can use a worktop breakfast counter overhang at one or two ends of the island to save space. Bar stools can be stored underneath the island when not in use.

A place where families can gather
A kitchen island with seating fulfils a logistical need. Islands not only provide a place to sit but also allow for social interaction. Islands allow for social interaction, whether it's with loved ones while you prepare a meal or with families as you share dinner and a glass of wine.

Islands offer more surface area
Kitchen islands can be used to prepare meals, help with homework, or just for fun. These islands are practical as they provide more space and a brighter surface to prepare or work on meals. Islands are often more spacious than traditional kitchens, which allows for multiple tasks to be completed simultaneously. So, parents can cook dinner while their kids do homework on the other side of the island.

Islands create a physical room divide
Although they are not necessary, homeowners love islands in open-plan kitchens and living rooms. They create a physical separation between kitchen and dining/living area. This distinction helps to clearly define the open space as two distinct zones or sites, one for cooking or working and one for relaxing.

Islands can combine unsightly structural elements
Sometimes, kitchen spaces have posts or pillars that can't be removed without great expense because they provide structural support. These pillars and posts are often not visually appealing or in the best interests of homeowners. These items can be integrated into the kitchen island structure to make them less noticeable in these situations.

Islands can help keep a kitchen tidier!
You will take pride in your kitchen island and want it to be clean and tidy. They are a wonderful way to create a clutter-free space in your kitchen. They combine neatly integrated appliances with additional storage to ensure that there is enough space for every pot, pan, and accessory in the kitchen.