We can all agree that countertops are the main subject of many home blogs since it is the key element of every kitchen. This surface is where homeowners prepare all their meals and spend time with their families. Taking this into account, the countertop needs to be durable, stylish, and unique. In this regard, there are many options available in the market, but in this article, we will focus on the live edge kitchen counter.
Before we talk about the live edge counter, there are a couple of things that homeowners need to understand. First, when it comes to countertops there are many materials they can choose from. Some of the most popular ones include quartz, marble, granite and stainless steel. Even though all of them offer a variety of tones and textures, it is not possible to have a live edge counter with them.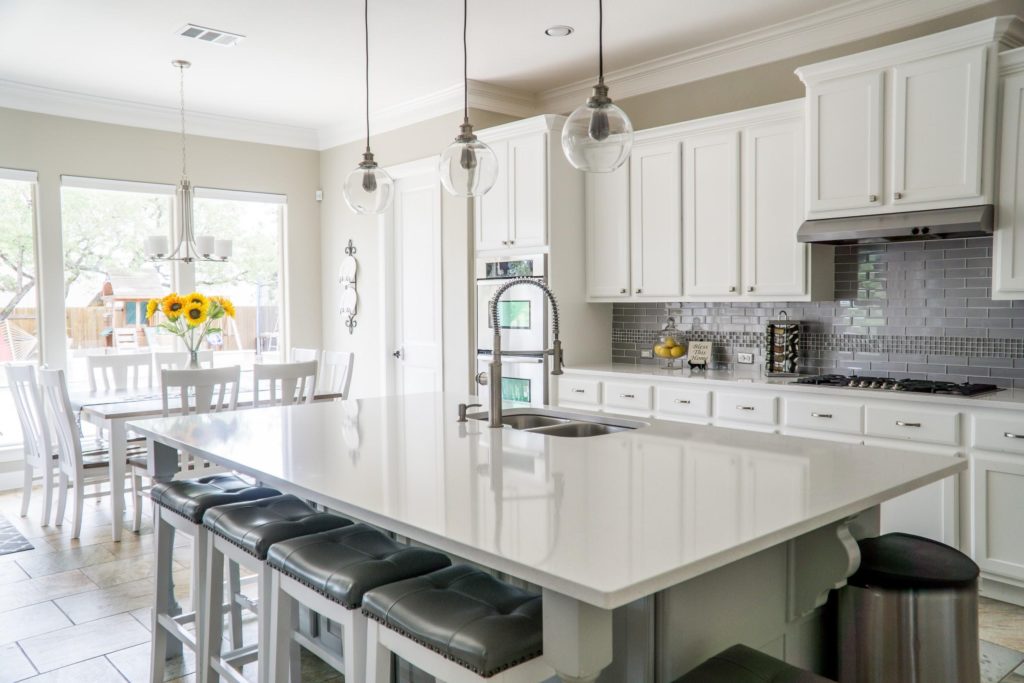 A live edge kitchen counter is made of wood, and its name comes from the organic look that is featured on one of its sides. This design has a raw style, but the edges will still be smooth. That means homeowners will get a quality wood countertop with natural curves and holes. This countertop will create a warm ambiance inside the kitchen. Plus, add an eye-catching detail that will wow all guests.
Overall, all types of wood can be used to create a live edge countertop. However, to get the best results, homeowners might want to purchase maple, cherry, walnut, or tigerwood.
Why should I get a live edge counter?
One of the great advantages of getting a live edge kitchen counter is that this will be a one-of-a-kind piece in the kitchen. Plus, it will immediately elevate the style of any room. This custom surface will show your guests that you keep up with the latest design trends. If that is not enough, here are some other benefits that homeowners can enjoy with a live edge countertop.
Luxury surface
We know that many people dream about having an opulent kitchen design. Usually, to achieve this, people would purchase quartz or marble. However, those materials don't offer the same coziness as wood. A live edge counter can offer a warm environment and still work with a contemporary layout.
Durable surface
The reason why many people have been using butcher block countertops for such a long time is that this is a tough material. This surface is perfect for cooking since it can hold its quality for a long time through daily activities. Plus, the best part of having a wood countertop is that it will be safe for the kids.
Ageing process
We all know that usually with natural stones such as marble when they start ageing, their tone fades away. This can make the kitchen look outdated, plus the surface could easily crack. In fact, most people say that this material looks better over time. The greatest part is that it can add value to your home.
Even though all these benefits are incredible, we know that by this point some people might be wondering if that is the only type of edge available for kitchen countertops. The answer is no. There are several types of edges, and all homeowners who want to understand more about them should do so by checking out this site.
DIY live edge wood
For all homeowners who want to try out this trend at home, we will give them a little guide they can follow to create this countertop. First, they can get a piece of wood and cut all the edges, except for one which will be raw. In case they don't want to do this themselves, some stores sell live edge slabs which are pre-finished.
Once the countertop is the right size and has a live edge, it's time to finish it. To do this while keeping the organic form of the surface, we are going to use clear epoxy. Before getting started, it is crucial to clean the wood slab and make sure there is no debris over it. Remember that the first parts that need to be filled are the holes and cracks. Then, apply the rest evenly over the countertop.
After the epoxy dries, the only thing left to do is sand the surface. A piece of advice: if homeowners decide to do this process DIY, don't forget to cover the floor. Applying epoxy can get messy, and the last thing we want is to damage a key element of our kitchen. Furthermore, before getting started, sketch the final look and draw it over the slab.
Price of live edge wood
The reason why seeing live edge wood at somebody's house is so rare is because of its price. Overall, we can confidently say that a live edge countertop is one of the most expensive slabs in the market. This means that its cost is even higher than the one for quartz or marble. For instance, a 30 feet board can end up costing as much as $600.
In this regard, there are a few factors that have increased the price of live edge countertops. First, it requires a lot of details and craftsmanship, which means more work hours. Second, due to its unique look, everyone wants to get it.
Due to the cost of this countertop, many homeowners opt to DIY this surface at home. On the other hand, purchasing a live edge countertop will add value to any property. Plus, it will last for a long time.
Final Thoughts
A live edge countertop is an incredible option for all homeowners since it is a surface that will take their design to the next level. Plus, even though it is an expensive product, in the long run, it will bring several benefits. Also, keep in mind that if you are looking for a more affordable option, it is possible to DIY a live edge. The key is getting the right tools and planning the whole process.