As the days get warmer and the nights get longer, families all over are rushing to spend more time outdoors. The change of seasons also compels many homeowners to take a look at their backyard landscape.
What's one way to quickly transform your outdoor space, making it more enjoyable and pleasing to the eye than ever before? Consider adding a modern fire pit to enhance your time outdoors. 
Here, we're taking a closer look at backyard fire pits and how they can completely transform your landscape design. Not only are modern fire pits aesthetically pleasing, but they can also add a level of functionality to your outdoor space that makes it easier to enjoy—no matter the time of year.
Read on to learn more about why you absolutely need a modern fire pit.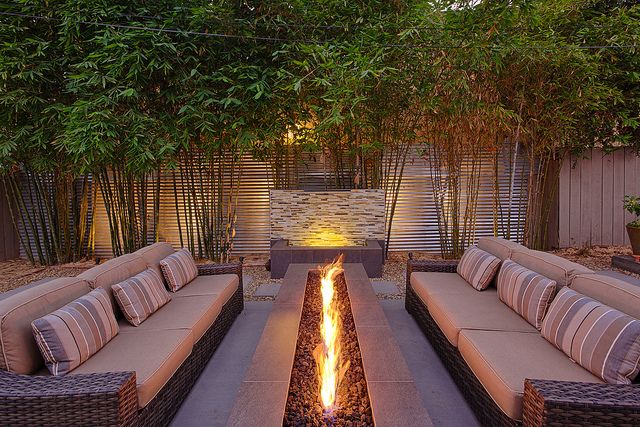 DIFFERENT TYPES OF MODERN FIRE PITS
No matter your tastes or style, there's most likely a modern fire pit out there for you. Modern fire pits come in a range of styles, materials, and heat sources to fit your needs. In terms of materials, most modern fire pits are either made of concrete or metal (wood, obviously, wouldn't be the best design choice here).
Concrete fire pits fit well with any home or landscape design and offer a sense of warmth and coziness while not becoming too distracting. A metal fire pit, on the other hand, adds a more modern look to your backyard that can complement your unique style and aesthetic. 
In terms of bringing the heat, fire pits can be fueled by a propane tank, a natural gas line, or function as a wood burning pit. The fuel source is important when considering how to implement this feature.
You wouldn't want a wood burning fire pit too close to your home or other structures as the sparks can easily drift in the wind. With a natural gas fire pit, you'll need to keep in mind how you'll connect the line to your gas source. Thus, installing this type of modern fire pit too far from your home could be problematic. 
WHY YOU NEED A MODERN FIRE PIT
With so many different types of fire pits available, it's no challenge to find one that perfectly fits your needs and your backyard landscape design. But why should you even consider a modern fire pit in the first place? What does this outdoor feature offer for your space and is it even practical (and safe) to set one up in your yard?
Modern fire pits are not only safe and practical, but they're also aesthetically pleasing and can serve as the perfect centerpiece for your landscape. Here's a look at some of the top benefits of implementing a fire pit in your yard:
1. Year-round backyard enjoyment.
Depending on where you live, you may only get to really enjoy your outdoor space for a few months out of the year. After all, who wants to sit around outside when it's snowing or hailing or the temperature is barely above freezing?
With a modern fire pit, however, you can get more enjoyment out of your backyard landscape. No matter the temperature outside, a fire pit will warm you up and offer a cozy place to keep warm.
2. Unique cooking tool.
Fire pits aren't just pretty to look at. Many families love their backyard fire pits because they also have a practical purpose as a cooking tool.
Simply put a grill rack over the open flame and you can enjoy some delicious barbecue or grilled vegetables (or why not both)? A fire pit is also the perfect cooking tool for enjoying s'mores. Simply get a few sticks, marshmallows, graham crackers, and chocolate and you're good to go. 
3. Increase property value.
A modern fire pit, in addition to other popular backyard landscape features, can dramatically increase the property value of your home. In many ways, this is also seen as a safer bet.
Compared to some other landscape choices that can be difficult—or impossible—to reverse, a fire pit can easily be removed if the incoming buyer doesn't want one. However, odds are that anyone would love to have this feature as part of their yard.
4. Extend your property.
Are you really getting the most out of every square foot of your property? Especially if you have more than an acre or two, many homeowners aren't maximizing how they get to enjoy their property.
By installing a modern fire pit, however, you can effectively extend your property by establishing a new area to gather and spend time.
Set up your fire pit near the back end of your yard and build around it, incorporating fire pit chairs, couches, and more. All of a sudden, it'll seem like you have a much bigger property than you had before.
5. Create the perfect atmosphere.
After a long day at work, imagine just how relaxing it'll be to sit down by your new modern fire and simply relax. Even better, curl up with a loved one and enjoy the allure of the open flames together.
A fire pit creates a unique atmosphere that simply can't be replicated by any other type of landscape feature. Ignite a little romance in your backyard with a concrete or metal fire pit. 
CONCLUSION – WHY YOU NEED A MODERN FIRE PIT
No matter the size of your landscape, your personal style, tastes, or budget, there's a fire pit out there for you and your family. Whether opting for a metal fire pit, concrete fire pit, gas or wood-burning, a modern fire pit can transform your yard and allow you to enjoy this space throughout the entire year.
A modern fire pit can also add value to your property and function practically as a new option for cooking your favorite meals. And, of course, at the end of the day, a fire pit is the perfect spot to cozy up with your loved ones and simply enjoy your yard and the simple act of being together.
So, what are you waiting for? Consider adding a modern fire pit as a key feature in your yard.