Incorporating furniture items into your outdoor space is a great way to provide it with your much-desired comfort while also adding attraction to it. However, take note that not all kinds of furniture suit your outdoor living space. This is the reason why you have to learn something about this area so you can get the best.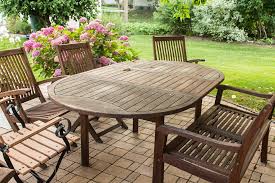 Among your best choices for sturdy and functional pieces of outdoor furniture are those made of solid wood. Furniture items made of this material, like the Amish-made patio sets, are also among your most attractive choices.
However, you can't just impulsively pick a piece of outdoor solid wood furniture. It is important to determine whether it is indeed a sound investment first.
To guide you in selecting the perfect wooden furniture for your outdoor space, here are some helpful tips:
1. Determine where you will be placing the furniture
One of the most important considerations is where you will be putting the wooden furniture outdoors. Will you put it at a spot that might completely expose it to the elements? Is there going to be a sort of overhead protection, like within a porch?
If you plan to put the furniture in an outdoor environment with a considerable amount of protection, then items made of softwood, like pine, might work. However, this type of wood is not suitable in case you plan to put the item in locations that are too exposed to the elements.
2. Get familiar with the different types of wood used for outdoor furniture
Be aware that you have several choices as far as outdoor wood furniture is concerned. The most popular ones are hardy and do not require intensive care. Also, note that there is no need for you to choose furniture made entirely of wood. It is because you can also find those coupled with frames constructed out of metal.
As for the different types of wood, here are your best options:
Teak – This type of wood is famous for outdoor furniture despite it being more expensive compared to the other types. One reason is due to its longevity. It is weather-resistant, which means it can withstand whatever element or weather your outdoor space is constantly exposed to. Furthermore, it requires the least care and maintenance requirements among the different types of wood.
Cedar – It might not be as durable and long-lasting compared to teak and other types of wood but proper care and maintenance will still help it last for around a couple of decades. If you choose this type, be prepared to coat it with protective oil annually.
Eucalyptus – If you want a piece of wooden furniture, which can last in the same way as teak, then go for eucalyptus. However, keep in mind that it requires more care and maintenance than teak. You need to treat it annually with an acrylic sealant based on water. The good news is that it is more affordable than teak.
Redwood – This type of wood is also an incredible choice for outdoor furniture. Categorized as a softwood, this one features a subtle light wheat shade and straight grain. One great quality of redwood is its durability. It can last for as long as 25 years provided you maintain it through the periodic application of sealant and preserver. It can also resist termites and rot.
3. Determine proper placement
Before starting to buy, you have to plan in advance and prepare your outdoor living space. Determine where you will be placing or positioning them first.
Make sure that these wood furnishings do not sit on dirt, pooled water, or grass. If possible, put the pieces of furniture on a deck or level concrete slab with proper drainage.
In case you plan to put the wooden furniture on your lawn, spend time preparing your yard or garden by putting on gravel or pavers. You may also want to put solid wood benches on your garden path as this can make the area look idyllic.
Just ensure that it is not a low spot where there is a great possibility for water to gather.
4. Check the quality and overall construction
Shopping for wooden furniture pieces for your outdoor space requires you to check their overall construction and quality first. Stay away from those pieces with stapled or glued joints as they will most likely fall apart right away.
Note that plenty of cheap patio furniture pieces are created that way. The problem is that this might only cause you to spend more in the long run due to frequent replacements.
The joints should be durable and sturdy. Check for tenon and dovetailed joints since these are capable of holding up on heavy use and abuse. Make sure that the screws used in attaching the pieces are constructed from stainless steel.
They should have rust-proof coatings, too. Keep in mind that you need high-quality and durable pieces since you will put them outdoors, exposed to various elements.
5. Consider the surface
Determine whether you will put the wooden furniture on soft grounds, like grassy spots, or hard surfaces. One advantage of putting this type of furniture on a hard surface is that you are assured that it will receive protection from harsh destroyers, like mildew or rots.
However, if you plan to put the furniture set on soft grounds then go for metal or resin over wood.
Conclusion
Aside from the mentioned tips, it also helps to consider the climate in your area. Note that several factors associated with the climate, like heavy rains, scorching heat of the sun, moisture, and humidity can have different effects on wood.
Being exposed to harsh weather too often requires you to go the extra mile to protect and maintain the furniture.
exposed to harsh weather too often requires you to go the extra mile to protect and maintain the furniture.
For example, it would be best to add the items with some sort of shade. Furthermore, keep in mind that some types of wood are difficult to maintain when exposed to damp conditions. Consider all these things as such will help you decide on the right outdoor furniture that you should choose.