Our rooms are the place we always come to relax and escape away from the efforts of every day. Since it's the place where we spend most of our time, it is extremely vital that we make that living space as comforting and aesthetically pleasing as possible.
Is it really possible to personalize your room? Read on to find out.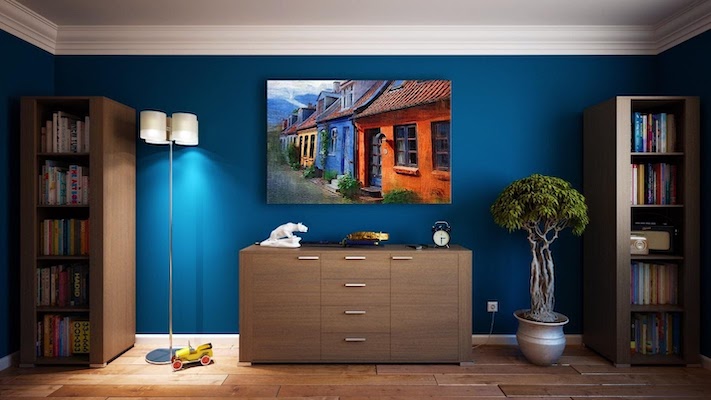 Focus on the Walls
The walls of a room are usually that one space where nothing has been occupied on to its surface- which is what makes it the perfect canvas of your room.
You can do different kinds of things on the walls. You can add in some Mother Nature aspects to it. Get a few planters and hang them up on the wall. Not only does this improve the air quality of your room, but it also breathes life into it with a brand new fresh look.
If you are bad at taking care of plants or have to leave your home for several days, you can get fake planters. They won't change the appeal of your room either way.
Another thing you can do is start up an art gallery. There are so many different kinds of artwork online that you are free to look and purchase from all around the world.
Or if you are an artist yourself, frame up some of your own personal handmade artwork or a personalized canvas print on the walls.. This will give your room a sense of individuality and entering a space that radiates your personality will be more comforting for you to be in. 
Bring in the Colors
Don't underestimate the power of what a new fresh layer of paint can do to your surroundings. All it takes is a couple of cans, paintbrushes and a little bit of DIY work to give your room the ultimate updo it deserves.
If you want to bring in life and color back into your room, doses of paint might just be what you need. Getting to paint your furniture is a great way for your creativity to run free and renew your old things with a new appeal. You can start off by coloring your bedside tables or your dressing table.
If radiant colors and a festive look is what you are aiming for, consider coloring each of your drawers or cabinet a different color- each color can indicate what is kept inside it or you can label them up if that is your style.
If you wish to have a room with a more calm and comforting environment, go for a neutral hue color scheme. White or pale blue are excellent color choices that are easy for the eyes to handle and gives the room a tranquil appearance.
Focus On Light Arrangement
We don't realize this, but the way we arrange the lighting in our room can have a huge impact on how we feel within our room space.
Lightings should be arranged according to our needs. For example, if you need to read or write something at night, add some table lamps or hanging light pendants near the bed with cooler lighting. This will help you to stay alert and have better concentration in whatever you are working at.
You can also add small light bulbs around the borders of your mirror with warm lighting. This will make mood relaxed when you are doing your makeup or working on your hair and at the same time, make your environment feel more aesthetically pleasing.
Investing in dimmers can also alter the environment of your room at any time of the day. Plus you can get them within an affordable price and installing them is not that difficult for one person to handle either.
A dimmer can be used to give your room full brightness or lower it down to less brightness depending on your preference. This helps your room gain more dimension while also setting up the mood in your room.
You can also opt for fairy lights. They are visually very appealing, and you can have them on while the main bulbs are off so that it radiates a warm and calm aura that is soothing for the eyes and mind.
Using Curtains To Personalize Your Room & Change The Mood
Curtains can go a long way in improving the look of a room. If you play your cards just right, using curtains can be all you need to do in giving your room a new appearance.
Firstly, don't let your curtains deprive you of natural light. If you are using heavy fabrics for your curtains, get rid of them. It's important to let natural light inside your living space as it can improve your mood, keep your mind sharp and makes the body more active.
Go for light fabrics such as gauze or cotton. Not only will they let natural light, but they will also tone down the harsh sunlight from directly entering the room. This will give your room a more cool and bright appearance.
Another important detail that most people miss out on when it comes to managing curtains is the way they are positioned. Yes, the position of your curtains can make a huge difference in how your room can look like.
Make sure that you have your curtains pole is placed a few feet above your window. This gives the illusion of a brighter and spacious room with a touch of elegance, as shown by the appeal of the longer looking curtains.
Using Rugs To Personalize Your Room
Now that we have discussed various ways on how we can alter your room to make it look more eye-catching, it's time to look down. Literally, look down. That's right. It's time to give some attention to your floor décor.
Don't neglect your flooring and instead give it some love by making it an important part of your room makeover. One of the ideal ways to change the mood of your room is by investing your money in good quality rugs.
Rugs are very important when it comes to setting up the mood in your room. They represent a warm and comforting space where a person can just lie down and let all their worries wash away. Plus, since rugs can have a variety of styles and designs, you can choose any kind you like based on your personal preference.
However, some really well designed and high-quality rugs can be quite pricey, and not everyone can afford such luxuries. In such cases, buy a plain good quality rug. Buy a cover for the rug of your choice, or you can even make one on your own if you wish.
You can then cover it over the rug so that you now have your own personal custom made rug which can hold a personal meaning to you while also giving your room that warm and cozy environment.
Conclusion
Room is the place that you go to when you want to relax and feel fine. We have provided you with different ideas so that you can change the mood of your room. It will lift your spirit and will help you to feel relaxed.