If you've been looking towards installing reclaimed terracotta tiles to your space or home, then it's important for you to read this article before you go ahead with your new plan. Everything from essential tips, pros and cons and different laying patterns. This comprehensive article has got you covered. 
We have taken our time to pull together, 4 essential tips from Edward Howey at Lubelska – a reclaimed brick a terracotta tile specialist supplier. 
4 essential tips
Make sure your tiler has worked with reclaimed tiles before
There are builders and then there are rogue builders. I think we have all heard of horror stories with builders leaving unfinished projects or completely ruining one. Asking your builder if he has ever worked with terracotta or reclaimed tiles is worthwhile. Terracotta is a very brittle product before being laid. 
Modern engineered tiles have been designed to be laid easily and efficiently. 100-200-year-old reclaimed tiles are the opposite. They often date back to the days when tiles were handmade, dried in the sun and placed in a wood-burning kiln. All this results in a tile that is not consistent in dimension. They must be laid carefully and with thought. Having a builder that understands this is very important. Especially when it comes to grouting, sealants and adhesive. 
Research different floor sealers. 
Often a good floor sealer can make or break your laid terracotta floor. There are still some rather inefficient (generally affordable) sealers that need to be used every 2 years as their seal diminishes with time. The problem is that they don't ever fully seal the floor. This is why we recommend a high-quality sealant. Once applied, you don't have to re-seal again.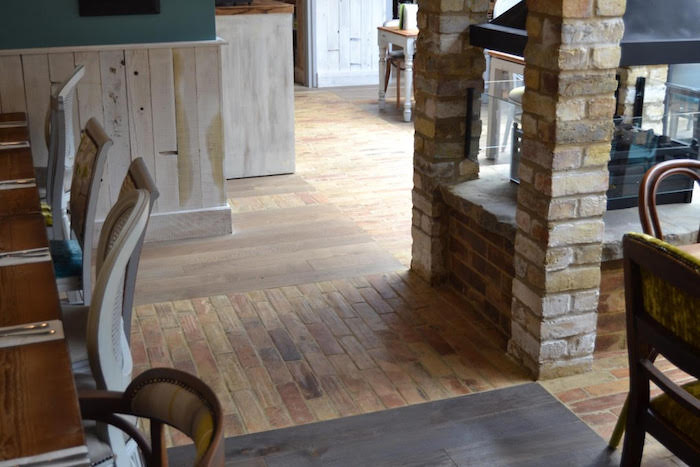 There are 3 types of floor sealers available
Oil-based
Water-based
Silicone based
Oil and silicone based sealers work in a very similar way. They will thoroughly seal the floor and will not allow anything to penetrate into the porous terracotta tile. Due to their nature, they will darken the tile and leave a satin finish (the more you applier the greater shine is produced). 
Water-based sealers work in a completely different way. They stop stains from penetrating the tile by reducing the pore size of the tile but still allow water vapour to pass through. This allows any moisture that was in the tile or below to pass through. And reduce any rate of mould or dampness in your floor.
Underfloor heating
Reclaimed terracotta tiles are generally very inflexible. As with any inflexible tile or building product being laid on underfloor heating is to lay it with a super flexible floor adhesive. Terracotta is brittle and any expansion or contraction in the tile due to large heat changes may result in the tile cracking. A flexible floor tile adhesive should eliminate this risk by absorbing any of the tiny changes in movement in the floor. 
Grouting and laying guidelines
The grouting is mainly down to personal preference. Some customers prefer a light sandstone colour and some prefer a much darker greyish grout. Grout lines should also be considered before laying. Are you interested in having a thin grout line or a thicker one that shows the grout colour? However, we would recommend using a grout that doesn't shrink too much when it dries and this is well worth discussing with your merchant before purchasing. 
There is a large number of different laying patterns. Choosing one is all down to personal preference and size of the tile. From hexagonal tiles to large rectangular tiles, we recommend dry laying a few different patterns down before making any big decisions. Further below we go over a few different patterns available.
The Pros and Cons of reclaimed terracotta tiles

Pros
Durable and lasts a lifetime
Terracotta tiles are one of the most durable on the market once laid and sealed correctly. They can withstand hefty foot traffic for industrial areas or busy homes as well as a lot of weight. You can be sure that your floor will last a lifetime! 
Original and bespoke feel
Due to their very nature, reclaimed terracotta will be bespoke and unique to you. Each tile slightly differs and therefore no two floors are the same. You can be sure you are getting an authentic floor that no one else has. For older buildings, it can provide genuine authenticity and to a contemporary space provide a character that may otherwise be lacking.
If secured properly, terracotta flooring can be very easy to maintain and tidy. It can quickly be vacuumed or wiped. A brick floor can be rather permeable, so see to it to seal effectively so it does not gather dirt.
Works very well with underfloor heating
Terracotta flooring works very with modern laying techniques such as underfloor heating. The terracotta tiles are great insulators of heat and distribute heat evenly throughout a room and will keep your house warm hours after the heating has been turned off. 
Cons 
Distinctive look and appearance
A terracotta floor can look beautiful in any setting including both modern and period spaces. However, due to its usual dark reddish colour, it can often be very striking. This is something to consider before laying a floor and you have to be a 100% sure you'd like this look first. Often customers prefer an understated look – terracotta does not usually provide this. 
Laying reclaimed terracotta is not easy and requires some serious work. Especially as the tiles are usually all slightly different. Ensure you have a tiler that understands the patience and work required for this as well as the treatment needed prior to grouting. 
Terracotta is hard underfoot and does not provide any give. Understand that this type of floor can be hard underfoot and reclaimed tiles might have a few small bumps in them. This is not the floor for people who want a perfectly smooth even surface. 
Different patterns and style for a terracotta floor
There are so many different patterns available. Below we have listed a few different popular patterns available to you.
This is best laid with a thin rectangular tile.
– Stretcher bond pattern
– Basket-weave
Conclusion
All-in-all, terracotta tiles can provide a beautiful addition to any space, but we recommend you do your research on the size and colour of the tile as well as finding the right builder to lay them. Good luck!