A firmly secured stair railing is essential for safety reasons in your home. It helps prevent the risks and injuries that may be caused by falling downstairs. Therefore, ensure that your railing is robust enough to accommodate a significant amount of weight.
Do your stairways have loose or weak handrails? Or, are there no stair rails at all? If so, take the initiative to fix or install new rails. It is pretty simple, and you can do it by yourself. This article brings you the most effective tips that will help you secure your handrails in your home.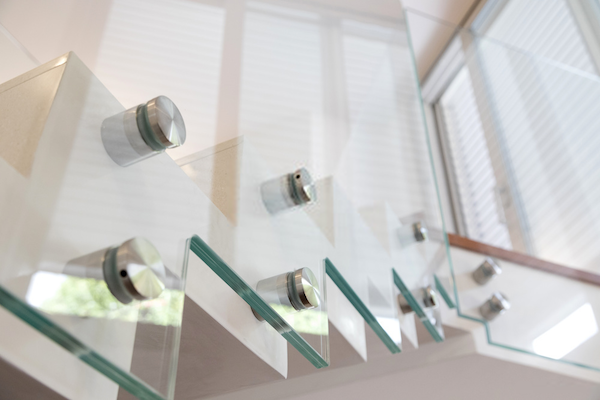 1. Gather the necessary tools and materials
The process of making a secure handrail starts by assembling the necessary tools and materials. Most people make mistakes by rushing to installing or securing loose stair rails without knowing what is needed. As a result, they end up doing sloppy work, which may eventually result in fatal injuries.
Therefore, it is good to do your research on the items you'll need to make the task effective. Some of the things you need include a hammer, a set of drill bit, nail set, stud finder, tape measure, and a miter saw. Also, get yourself a grit sandpaper, finish nails, masking tape, wood glue, railing material, and handrail brackets. Most importantly, ensure you buy the appropriate materials from a reputable vendor.
2. Take correct stair measurements
Before purchasing stair railings, measure the height and length your hallways or stairways extend. By doing so, you can rest assured to get the perfect rails for your stairways. Also, you can easily choose a rail design that fits your style. Moreover, it becomes much easier to estimate the resources needed to complete the task without glitches.
3. Inspect and mark the studs
To replace the handrails, inspect the studs using a stud finder, and mark their heights. If you are installing the railing for the first time, use a metal toggle anchor to set the bracket at apt heights above the stairs. This helps to provide the stair rails with a firm anchorage on the wood framing on the wall. As a result, it becomes incredibly safe and secure for you and your family.
4. Use sturdy brackets
When installing a stair rail, be sure to use top-notch quality brackets. Low-end railing brackets may be the cheapest options, but they may cause serious injuries or damages soon. Consider spending a few dollars on high-quality Stainless handrail brackets. They are not only strong and durable but also highly efficient.
Thus, you and your family will always walk over the stairs and get excellent support with confidence. In other words, they guarantee maximum resistance to breakage and provide a proper yet secured mount on the wall. Use appropriate screwdrivers to make the railing tight and safe.
5. Secure the End Caps
End caps are yet another crucial part ideal for secure and safe handrails. If the end cap is a loose end, it can break or detach from the wall with ease resulting in injuries. So, it would be best if you nailed the lids together and then stick them using wood glue when installing the railing. This offers additional safety and sturdiness. Other than that, they make the handrails more stylish and elegant.
6. Install grasping bars
Most people tend to be reluctant to add grab bars to the railings thinking that they'll damage their home décor. However, there are stylish, elegant, yet excellent grab bars available in different sizes, shapes, and finishes to pick the best. They play a significant role in making your handrails slip-free and secure for your family.
7. Conduct proper and regular maintenance
Like any other tool, handrails require regular maintenance for utmost safety and longevity. This is to say, ensure your stair rails are always super clean. Also, use proper finishes on the rails to add beauty and, at the same time, provide a secure grip surface. Above all, always check your railing is in good condition to avoid injuries.
Bottom LineA handrail is an essential add-on item for providing extra safety in homes. Therefore, its installation process should be done with the utmost levels of care and precision. To this end, we believe the above tips will help you make your handrails secure for you and your entire family.
About the Author:
Jim Pulman has extensive knowledge and experience in Home Building, Construction, and Design. He writes articles in his free time and partners with content creators to share his expertise with the online community.