Wallpapers never went out of style! Back in the day, they were used in almost every household and they did a fair job in adding to the charm of the homes. However, as it is known, everything that's old comes in trend again! Today, wallpapers are back in trend and their popularity is increasing exponentially lately.
If you are wondering if you should get a self adhesive wallpaper to transform your home, it's time you do it! Wallpapers are available in numerous ultra-stylish designs, prints, materials, and fabrics. Being a cost-effective and fun way to give a sleek look to your interior as well as exterior, wallpapers are the best choice to reform your home and give it a new look.
These wallpaper contain a typical adhesive that causes zero damage to your walls or interiors. The best part is, they can be easily peeled and removed. 
Moreover, it's not always good to go with what the name suggests! Why stop at walls? These wallpapers add a brilliant look to your cabinets, kitchen floors, serving trays, and lamps as well!
What exactly are these peel-and-stick wallpapers?
You can think of these wallpapers as a huge sticker. They are a wonderful way to fix your walls and renovate your home. Simply peel off the reverse side and paste it onto the surface. Several wallpapers are scratch and scuff-resistant. With these, you will not have to worry about paint coming off of your old furniture, floors, or cabinets. All you need to do is paste them on and they will change the entire look of these items.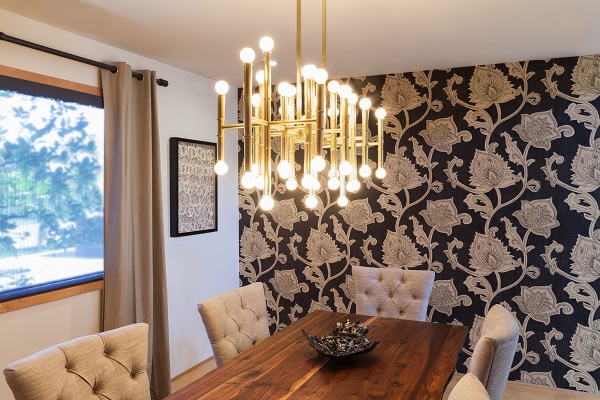 If you live in a rented house, you may not be allowed to paint the walls. In such a scenario, you can always opt for wallpapers. Although these wallpapers are not permanent, they are durable and vibrant. In case you stick it wrong in the first go, you can easily peel it off and re-stick it properly.
When should you grab a wallpaper?
Let's be honest. Paints are quite costly. Moreover, for people who are moody and wish to see a different wall every couple of months, investing in wall paints can be a highly expensive affair. In such cases, home improvements become immensely easy with self-adhesive wallpapers. Being an outstanding solution to transform the look of your home, these wallpapers readily hide ugly spots, textured walls, cracks, and water stains on walls and ceilings.
Ideally, classic tapestries and paintings are what have evolved into designer wallpapers. Being a fantastic option to elevate the look of your room, these wallpapers are available in a variety of prints, variants, and styles. If you are ready to surround yourself with beautiful beaches and landscapes, make sure to buy these wallpapers.
Below are some amazing ideas to improve the appearance of your home with modern wallpapers.
Go for a unique style: To change the vibe of your room/home, you need to select unique textures, prints, and paints of wallpapers. For instance, a linen or damask print wallpaper is excellent for bedrooms. For dining rooms, you can go for classic prints. For living rooms, you can select vibrant peel-offs. Keep in mind, to create a unique style statement with wallpapers.
Don't forget the doors: You can use these wallpapers to give a sleek look to your doors, and the door panels. You can stick them to the windows and pillars as well!
Add drama to the walls and ceilings: Adding a layer of vibrant wallpapers to the chimney walls and ceilings can enhance the look of your home. Make sure to use textured wallpapers instead of design elements in such cases. To add drama to your ceiling, you can go for patterned wallpapers. In case you are inclined towards a sober look, you can decorate your ceilings and walls with intriguing artwork. You can easily customize your walls with these pieces of wallpapers. By selecting accurate wallpapers, you can create perfect harmony and do justice to the beauty of your space!
Conclusion:
Towards the end of this guide, another thing that you need to consider before selecting the right wallpaper is to look at the color of your furniture. Maintaining a perfect color combination can add wonders to your interiors and exteriors thereby changing the entire look of your possession!