It's one of the most mundane items in any house, but one that's also very helpful: shoe racks. This year of the golden rat, know how to place your shoe racks for your luck to flow seamlessly throughout the house. Whether you have only one or a number of them, here are five dos and don'ts:
Do ensure that the shoe rack is not higher than ⅓ of the house.
One of the most fundamental Feng Shui rules is that any house should be divided into three layers: top, middle, and bottom. The distance between these sections should be equally divided as they represent heaven, man, and earth, respectively.
Worn shoes, which goes into the shoe rack, carries with it lots of earth from the outside world, so they belong to the bottom level.
A great shoe rack that won't disrupt the flow of chi in a house should not exceed or be taller than the earth's portion. So a shorter shoe rack is much safer to buy than taller ones. Even your latest best Skechers walking shoes picked from latest skechers reviews (https://anacondaleg.com) can be kept safely on this shoe rack.
It's one of the many great shoe rack ideas for small spaces. You can estimate the division between the house and see if your shoe rack is taller than the earth portion. If it is, get rid of it immediately.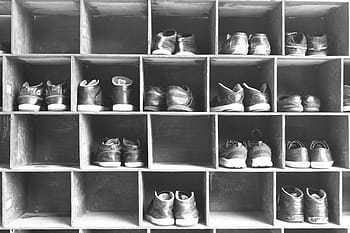 Do opt for a closed shoe cabinet.
While open shoe racks are aesthetically pleasing and cheaper in comparison to their closed counterparts, Feng Shui experts urge that you go for the closed shoe cabinet.
The cabinet will hold the dirt and smell of worn shoes, so it needs to be covered so that bad luck won't permeate all throughout the house.
Choose a shoe cabinet that's generally closed, but has outlets for ventilation. This may be a burden to find, as most shoe racks tend to be open, but there are options and alternatives out there if you know where to look.
Do pick a shoe rack with 5 levels.
When choosing shoe racks, aim for the perfect five levels. According to Feng Shui rules, this represents harmony among the five elements, namely: fire, metal, water, wood, earth.
It's important not to exceed five tiers. If the existing shoe rack in your house exceeds it, change it immediately. Racks with tiers lower than five are fine.
Don't place lucky ornaments on top of the shoe rack.
Never put auspicious ornaments on top of your shoe cabinet. Feng Shui experts agree that even though the shoe rack is conveniently placed beside any door, putting lucky ornaments on top of it is bad Feng Shui.
It should make sense that auspicious ornaments are placed there to welcome good luck, but Feng Shui rules discourages this. You're better off placing the ornaments on strategic places in the living room and kitchen. Opt to put those ornaments on bookshelves and decorative racks instead.
Don't place it in the bedroom.
Most Westerners choose to put their shoe racks inside the bedroom. While this is convenient, it will invite bad Feng Shui inside, especially in marriage. For ladies, make sure that shoe racks are placed outside the house if you want a successful relationship.
Takeaway
If you want to harmonize your shoe rack with the rest of the house, follow the tips above. For non-adherents, these tricks won't hurt anyone, so you might as well get on with these Feng Shui rules.
The year of the golden rat is looking auspicious for everyone, so make sure that you maximize this luck through making necessary changes.