Most of the times scaffolding comes to our minds whenever professional shrink wrapping for an industrial or commercial application is discussed. However, it has been observed that many times people chose wood planks or even metal poles which are exposed to elements.
They don't realize that by opting for this option they not only put their work crew on risk but also risk surrounding area and public.
Years before, contractors used to follow outdated methods such as tarps, Visqueen or old fashioned sheets to cover construction operations. But now thanks to development, that shrink wrapping is a much better option as compared to those ancient options. This article will mainly discuss five important factors why professionals prefer shrink wrap for scaffolding and construction.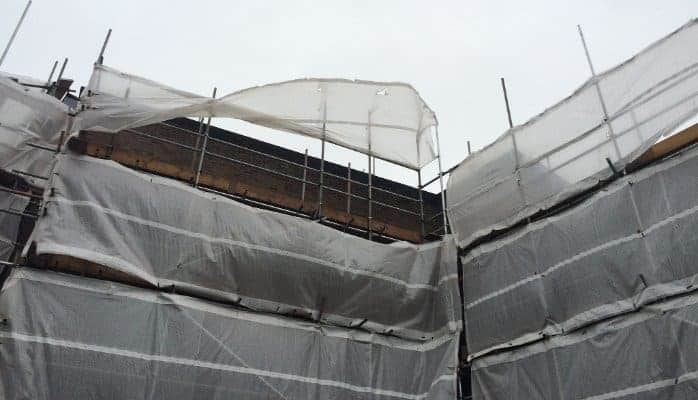 Protects from Harsh Weather
One of the main factors that why professionals prefer to shrink wrap over outdated methods is their tendency to outlast harsh weather. The construction zone is dealt with all types of weather throughout the year.
There can be scorching sunlight or even heavy rain in that area. One has to take all the necessary precautions to deal with this type of utmost weather. 
Shrink wrap not only protects against scorching sunlight or rain, but it also protects the area under construction from sleet, snow, and strong winds. It is been estimated that industrial or commercial level shrink wrap is around 12 millimeters thick which makes the shrink wrap durable and weatherproof.
Prevents Criminal Activities 
It should be noted that constructing something isn't a job of a day or two. It requires months, years and a lot of patience. It is important that one should also pay attention to their site's security. 
Shrink wrap on scaffolding prevents ill-intentioned guys who try to steal your site's material and sneak into your construction space. Even if a criminal tries to sneak in, he'll surely be disappointed by the wrapped zone and would try to opt for another site or way.
For Any Size or Shape
The best part of the shrink wrap is its tendency to mold. It can be wrapped anywhere keeping any shape and size in the mind. The material to be wrapped on doesn't need to be geometrical. The material can be of any size and shape and shrink wrap would definitely fit better than the gloves.
Comfortable Working Environment 
Besides these vital internal significant benefits, shrink wrap also has some external benefits. Shrink wrap comes with an insulating effect which is of immense help.
Labors and contractors will be better guarded against the extreme weather. Moreover, they'll feel more comfortable as they will work in a cozier environment.
Easy to Detach
Many other wraps and sheets are full of hassle, unlike shrink wrap. What distinguish between normal sheets and shrink wrap is the effort to put and then remove it after completion. 
Shrink wrap can be removed by simply cutting it down leading to removing it and ending up being recycled. Besides being cost-effective, it also saves a lot of time and effort of the labor themselves.