A wedding means a new relationship, new responsibilities, and to start a life with a new purpose. The most exciting thing about a newlywed couple is decorating the room. Decorating the room of a newlywed couple is exciting as well as challenging.
That's because two different people are going to share the room and two people have different tastes. But marriage is a compromise so when it comes to decorating the room two people should respect their bedroom ideas and then start working to decorate their room. 
Here are a few tips for the newlywed couple to decorate their room together in harmony.
Choose an exciting color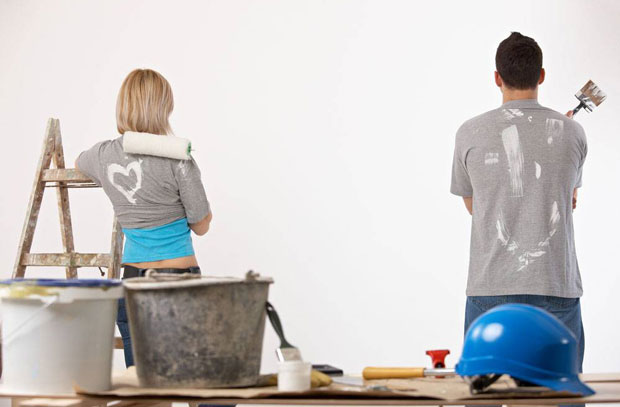 Color is one of the best ways to show love. The color of your room can help to create a romantic ambiance. Choosing the color that spreads love every day also creates beautiful emotions. Try pairing different colors and play with different colors to decorate your room.
Green, light red, purple, blue – these are considered as the color of love. Add one of these colors to your room and see how it feels. Do you know, bright colors will make your room look big? Choose a bright color or add a color that you both love and enjoy the romanticism of life.
Lighting
Once you decide the color, now it's time to add some beautiful light to the room. If you do not have enough lighting to your room then the room will be dull which is not ideal for the newlyweds. Your room lighting can help to enhance different moods.
If you can afford it then try setting different lights to your room. Now the fairy lights are not for the teen girls only, add some fairy lights to your room. And don't forget to add a table lamp beside your bed.
Focus on the comfortable bed
The focal point of every bedroom is the bed and this is the place where you take rest and sleep after a tiring day. You and your partner should choose the most comfortable bed for you. So get a comfy mattress to sleep better.
There are various price ranges available for different types of mattresses. Now that you guys are married and have to have proper financial planning too. Now if your financial planning affects your budget for the mattress then, you may look into these 7 best mattresses under 1000 dollars.
Pillows and headboard
Add some comfortable pillows on the mattress. Try choosing some colorful pillows that will give some romantic feel. Plus combine the mattress with a plush topper or blanket on top of the bed. For more comfort, place some cushions on the bed as well.
A beautiful slim headboard to the bed will make your room look appealing as well as bigger. Choose a creative headboard – this would go perfectly with the newlywed couple room.
Cozy rug
Don't forget the floor while decorating the room, add a rug to the floor. Throwing a rug right in front of your bed will make your room more attractive also, warmer. Choose a rug that you will feel comfortable with your feet and that looks attractive as well.
Walls and windows
Add some illusion to the wall with some of your favorite photographs. Choose the wall and then add all the photographs to the wall. Or else you can add your or your partner's favorite painting to the wall.
Keep your windows simple yet elegant with some of the best curtain collections. Your room interior decor is incomplete without some beautiful curtains. Select a cool color for the curtains and you can go for silk, linen or velvet curtains to add to the room.
If you want you can also place a mirror to the wall, adding a mirror is an old traditional way. But this is an interesting way to make your room look bigger. The curtains and wall decor ideas will give your room a soft tone.
Combining the Furniture
When it comes to the furniture you should select the furniture wisely. Try to choose all the furniture to the same textures. Different colors of furniture will not look good in the room. Do not overfill the room with too much furniture.
A bed, dressing table, reading nook (if you or your spouse like reading), an organizer or closet – these are the basic furniture that includes in a room.
Add some fresh flowers and plant to your bedroom
Fresh flowers and plants are the best at giving us oxygen and fresh feel. As a newlywed, add some flowers to the room. You can't deny the smell of the beautiful fresh flowers, this will also give a fresh feel to the room.
And you can find many houseplants at an affordable price that are great for the room. This will provide you a nice greeny environment that you both can enjoy.
Blending your interest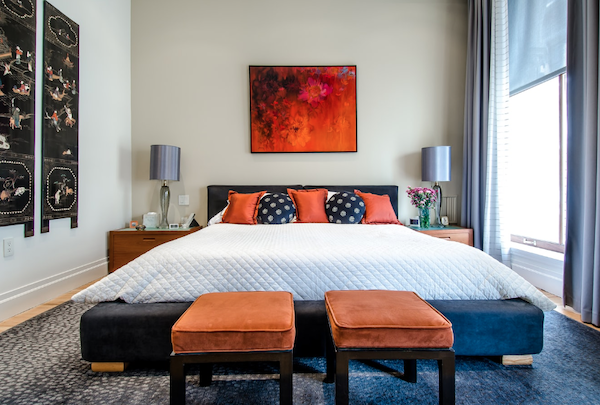 There is nothing better than blending both of your interests to make your room cozier. This is one of the interesting ways to enjoy together. First, find the things you both are interested in and then combine your interest.
If you cannot decide what to make then you can seek the experts' help. An expert will make it easier and thus you both can get a masterpiece for your room.
Other things to decorate the room
Here are some of the tips that you can follow to decorate your small bedroom –
Add some beautiful scent to the room. Nowadays, scented candles are also available which you can purchase to add to the room.
If you or your spouse is a book lover then you can make a shelf to the wall. This will make the room more interesting also, it works as a space-saving.
Your ceiling is not out of your room, decore the ceiling with a beautiful sticker.
To give the newlyweds couple room luxurious looks add a chandelier. You can purchase or make your DIY chandelier at home easily.
Final Thoughts
When two people step into a new beginning of life, this is exciting and challenging as well. They can find many mismatches in their thoughts or ideas and so on. But since they have to share a room, it should be comfortable and romantic as well.
You can either combine your thoughts to decorate your room also, take ideas from the above discussion. The choice is yours, but your room is the place where you forget everything behind, this should be comfortable so that you both can enjoy the precious time of life together.