If your bedroom's appearance bores you to sleep, that's a good sign that it's time to revamp it. Yes, the bedroom should be a relaxing place that promotes sleep. But, that doesn't mean you can't have a space that's inviting and enticing.
Luckily, you can redesign your bedroom in no time at all using stylish and affordable techniques. And, these updates will add the perfect amount of pizazz in a comfortable room.
So are you ready to learn how to create a rich and inviting interior? Check out these seven clever tricks to restyle your bedroom without doing a big redesign.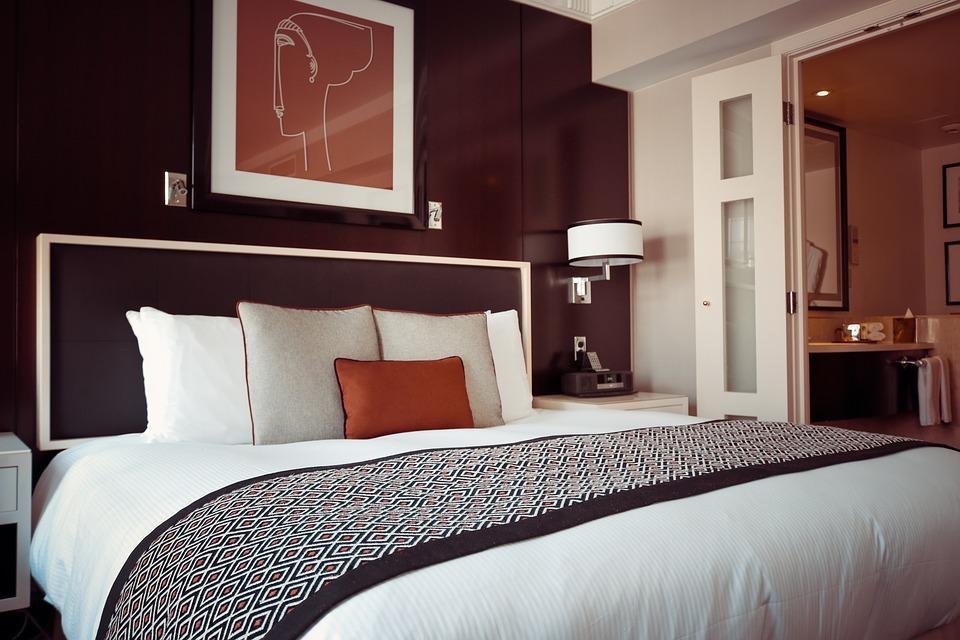 1. Change the Hardware on Your Furniture
One of the easiest ways to transform your furniture is by replacing the hardware. Instead of the boring pulls or handles it came with, use hardware that has a modern and stylish design.
Update drawer knobs and pulls with metal or glass hardware. Replacing knobs and pulls is a fun and easy project that won't take a lot of time. And the improvements will be small yet significant when you look at your bedroom as a whole.
You'll be in awe how much a little tweak like this can add to a sleek and modern interior.
2. Lay Down an Eye-Catching Rug
Big fluffy rugs feel great on your feet, but rugs don't only have to be about comfort. An eye-catching rug in a fun pattern could be just what your bedroom needs.
If you're going for a modern appeal in your luxurious apartment, add a rug with a bold pattern. One with a sophisticated splash of color will also do the trick.
The rug materials you can select from are endless! Cotton shag, genuine leather, and wool are a few materials that can elevate your bedroom. Have fun with a trendy rug, and you'll love the result.
3. Add a Contemporary Chair
Is the corner of your bedroom looking bare? Add some character to your bedroom by adding a trendy and modern chair to the corner. If there's a beautiful view outside your window, adding a chair in the corner is perfect. You can relax and take in the sights from the comfort of your apartment!
Many chairs could work. Here are a few examples:

Butterfly
Ball
Diamond
Swan
Swing
As you can see, there are so many fun chair designs available! If you find a few you like but don't have enough room, add one to another place. Another stylish chair will no doubt look amazing in your sweet living room or office area. 

If you go with something like a swing chair in your bedroom, you're almost adding another dimension to the room. Who wouldn't love swinging away while reading a good book?

4. Glam it Up With a Tray
Something as simple as a decorative tray can do wonders on your nightstand or top of your dresser.

A tray is both functional and can add the perfect amount of appeal in your bedroom. In regards to functionality, you can use it to hold a tissue box, a cell phone charger, and even chapstick! To fashionably conceal items, use something like a shadow box. If you want to keep rings on your tray, add a small ring dish.
Shop around, and you're bound to find one that blends in with the rest of your decor.
If you find a tray in the style you like, but it doesn't match your color scheme, paint it.
On top of a tray, you can hold anything from jewelry to cufflinks. Adding a few trays is an easy way to make your bedroom look elegant and on-trend.
5. Create a Bedside Table Using Random Items
Who says you have to use a traditional nightstand by your bed? Get creative with alternative objects such as a couple of colorful drums.
You could also stack some decorative boxes. There are unique "boxes" you can stack such as vintage record players or hat boxes. Or, you could use a few antique boxes to infuse personality into your space! Think outside the box (literally!) and you'll love the outcome.
And, of course, stacking books is always an option. If the books are colorful they could look cool stacked in your room!
Use your imagination and stack decorative pieces you like. The items you select should also complement the rest of the space.
Now you have somewhere to put your new tray!
6. Add a Pattern to One Wall
If you're tired of staring at the same wall color in the apartment, play with a wall in the bedroom.
An easy way to add to a luxurious bedroom is by incorporating wallpaper with a modern design.
There's no need to paint your wall when you can use peel and stick wallpaper. For something unique and modern, go for an abstract or geometric pattern.
Adding the patterned wallpaper to only one wall will make it stand out. You'll have an instant focal point without having to do a huge overhaul in your bedroom.
Now add a sunburst mirror to the wall for instant contrast and a lot of personality!
7. Add Lots of Pillows
If you want to create a cozy retreat in your room, add a bunch of throw pillows on your bed. Adding several pillows that come in various textures will look warm and inviting in the room.
Imagine how amazing it'll feel cozying up on your bed while taking a nap! You can finish off the look with a chunky knit blanket.
While you're at it, add a few pillows to your new bedroom chair. Doesn't that sound like the ultimate relaxing space?
In Conclusion
Updating your bedroom doesn't have to take a lot of time. We know life gets busy but that doesn't mean you have to forgo a bedroom revamp!
Choose elements that will make you feel right at home. In no time at all, you'll have the perfect colors, style, and accessories in an inviting bedroom.
With these simple tricks, you can create a beautiful space that makes you feel like you did a new redesign. Except, all you did was switch up a few things!
Author Bio:
Kelley Stack is the business manager at Sawyer Place. With over ten years of experience in Manhattan managing luxury properties, she begins and ends each day loving what she does.