When flooring choices for households are concerned then vinyl flooring comes into the mind without any doubt. It is also the best option that one can opt for commercial applications, cafes, and offices.
With every benefit of an application comes a negative disadvantage as well that none talks about. The same goes for vinyl flooring as it provides a great advantage being 100% waterproof surface but also carries some cons which will be discussed in this article later on.
This article will focus on the pros and cons of vinyl flooring. If you are surfing the internet to find the advantages and disadvantages of vinyl flooring then this article has got you covered.
This article will include a complete detailed guide relating to the pros and cons of vinyl flooring.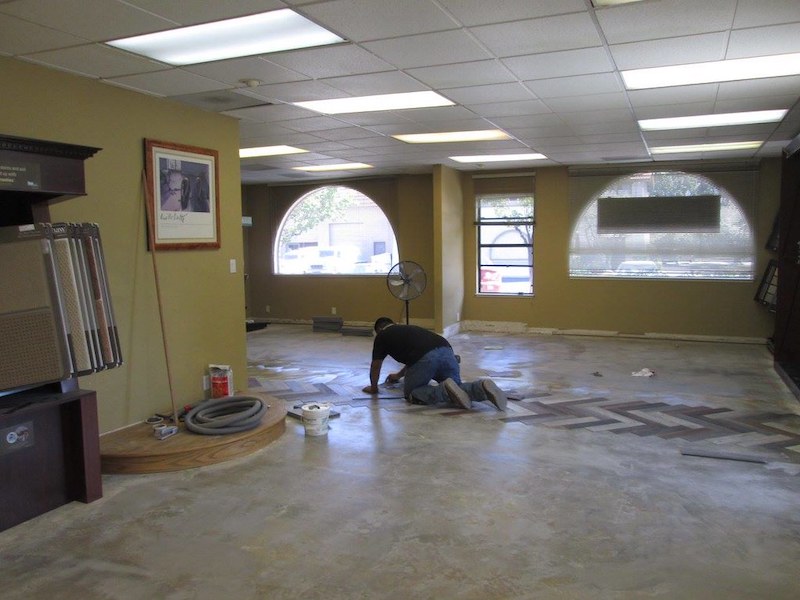 Pros of Vinyl Flooring
As discussed earlier, one of the main reasons why people opt for vinyl flooring is because of their special ability to be 100% water-resistant.
If elaborated, this means that the spills and water on the surface will not affect the flooring at all. This is the reason why everyone opts for it as it is best for places like restaurants, basements, cafes or even for kitchens and bathrooms.
It is said that vinyl flooring is perfect for those who have pets along with them and are in worry about the accidents and all that. Whenever one opts for anything they make sure that the thing they are buying is durable.
The same goes for vinyl flooring as it is much durable and can withstand much heavyweight and traffic. Glue down vinyl being installed in large commercial spaces can definitely help them.
Moreover, it is much easier to maintain as regular sweeping can keep them clean. One of the best things about vinyl flooring is that it can be easily installed on any subfloor.
Although it is very beneficial the best part is that it is much affordable and most everyone can afford it without burdening their pocket.
Cons of Vinyl Flooring
On the other hand as discussed earlier vinyl flooring unfortunately also comes with few cons. If the customer opts for gluing down their vinyl plank flooring then the removal process of it can be quite hard and challenging.
One should definitely avoid the glue if the objective is temporary as it can save loads of effort and time. As discussed, vinyl flooring is very durable but they can be damaged or punctured easily if sharp objects are placed onto them.
Sharp objects can be a metal leg chair or even dropping a kitchen knife by mistake. Moreover, vinyl flooring is not UV resistant which means that it can start to fade its color over time.
For those who are very environmentally conscious people, it should be noted that vinyl flooring is not biodegradable which means that recycling can be a huge and difficult task. Though it can be recycled by a few programs they are not that much easy to find.
vinyl flooring pros vinyl flooring planks pros and cons vinyl plank flooring pros and cons vinyl flooring pros and cons vinyl vs laminate flooring pros and cons luxury vinyl flooring pros and cons vinyl flooring on stairs pros and cons vinyl flooring in bathroom pros and cons luxury vinyl plank flooring pros and cons vinyl flooring for kitchens pros and cons vinyl plank flooring in bathroom pros and cons vinyl flooring pros cons sheet vinyl flooring pros and cons vinyl wood flooring pros and cons vinyl plank flooring pros cons vinyl flooring in basement pros and cons pros of vinyl flooring vinyl tile flooring pros and cons vinyl flooring in kitchen pros and cons wood look vinyl flooring pros and cons