Are you looking to create a modern, sophisticated and stylish kitchen?
If so, pairing white kitchen cabinets with black countertops is an excellent choice. This classic combination can make any space look chic and elegant while also ensuring that it stands out from the crowd. With the right colour scheme and accessories, this timeless pairing of colours can create a unique aesthetic for your home.
In this guide, we'll explore how to utilize a black countertop in a kitchen with white cabinets. in order to achieve maximum impact. We'll discuss some tips on choosing the perfect colours as well as provide advice on how to accessorize your new look in order to complete your dream kitchen.
Let's get started!
Click the following link if you would like to get more tips for designing a white kitchen with black counters — https://www.caesarstone.ca/blog/5-white-kitchen-ideas-with-black-countertops/.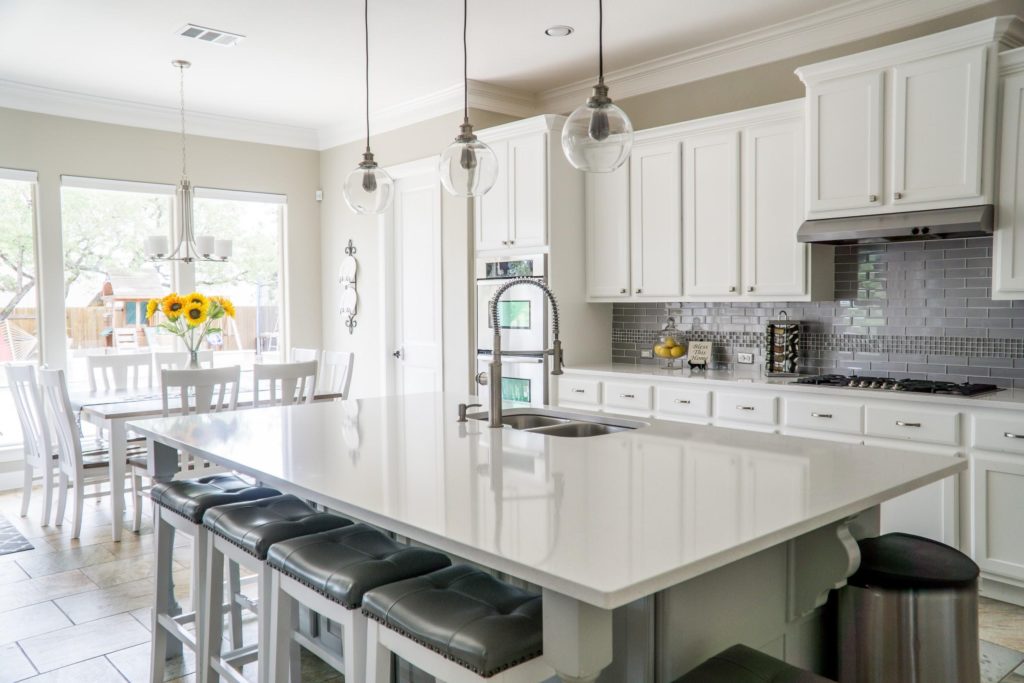 Choose the Right Shade of White
It's important to choose a white that isn't too stark or bright; one with subtle gray undertones is ideal for creating a luxurious look. This will help ensure the colours don't clash and create an overall unified design.
Consider Different Shades of Black
You can also choose different shades of black for your countertops in order to create interest, depth and texture in the kitchen space. Darker hues like charcoal or ebony can give dramatic contrast against lighter cabinets while lighter tones such as graphite provide more subtle contrast that still produces interesting results. This is something that homeowners should keep in mind if they want to utilize a black countertop in a kitchen with white cabinets.
Use Contrasting Textures
Combining different textures between white kitchen cabinets and black countertops is another great way to add visual appeal and dimension to your kitchen space without clashing colours or designs. For example, adding glossy tiles on the walls behind cabinets can complement matte-finished countertops nicely while textured materials such as wood or stone create added interest in any room's design scheme.
Accessorize Strategically
Adding accessories strategically around your kitchen helps bring out the beauty of this classic combination even more! Copper elements are often used to accentuate this modern colour palette but you could opt for gold or silver depending on your preference. You could also choose to add coloured accents to your cabinet doors with a splash of green, blue or any other hue that complements the space.
By carefully considering these tips when pairing white kitchen cabinets with black countertops, you can create a timeless and stylish look that will be sure to impress guests and family alike! With the right colour scheme and accessories, this classic combination is sure to elevate any kitchen design to the next level. So what are you waiting for? Start creating your dream kitchen today!
Can You Use Black Quartz Countertops in a Kitchen With White Cabinets?
Black quartz countertops are an excellent option for white kitchens because they provide a sleek and modern look that adds contrast and style. They are nonporous, so they won't stain or require sealing like other materials such as granite.
Black quartz is also scratch-resistant and heat-resistant, meaning it can withstand hot pans or knives without suffering any damage. The colour of black quartz will remain beautiful and consistent over time, providing a timeless classic look that never goes out of style.
Furthermore, quartz is available in a variety of textures and patterns to match any kitchen design. One example is leathered quartz which has a brushed matte finish that gives the countertop a unique look without sacrificing its durability.
With all these benefits, black quartz countertops make an ideal choice for a black countertop in a kitchen with white cabinets.
Accessorizing Your White Kitchen With Black Countertops
Finding the right accessories for your black countertop with white cabinets is easy if you know what items work well in kitchens. If you want to give your white kitchen with black countertops a touch of style, feel free to try out the following accessories:
1. Copper accents such as lighting fixtures, cookware or utensils
2. Gold or silver table accessories
3. Coloured glass jars filled with dried spices or herbs
4. Matte black appliances to match the countertops
5. Textured backsplash tiles for added interest
6. Hanging copper pans over the stovetop
7. Black and white patterned rugs in front of the sink area
8. Bouquets of white flowers on the kitchen island
9. Artwork featuring black and white prints above cabinets
10. Wrought iron shelves hung on walls to showcase decorative items
How To Pair White Kitchen Cabinets With Black Countertops — Conclusion
White kitchen cabinets with black countertop surfaces can create a timeless, modern look that is sure to impress.
By carefully considering the textures and accessories you use in your design scheme, you can make this classic combination stand out even more! Black quartz countertops are an excellent choice for white kitchens because they offer functionality as well as beauty.
Finally, accessorizing your white kitchen with items like copper accents or patterned rugs will help bring it all together into one cohesive space. With these tips in mind, you'll be able to confidently pair white cabinets with a black countertop and create a stunning kitchen that family and friends alike will admire for years to come!