Creating the perfect guest bedroom is the art of blending form and function as well as balancing out what the guest might consider important and comfortable. There are lots of ideas out there to inspire a fabulous space. For some hosts it might come naturally, but for others, some help may be needed in the form of practical ideas.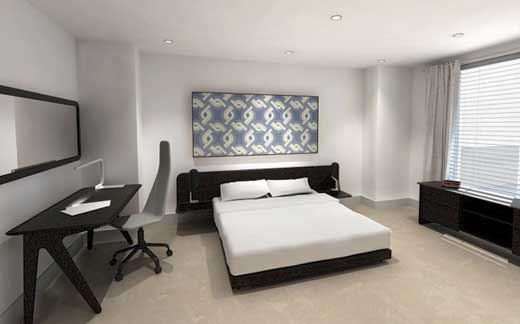 Quality Bed and Comfortable Bedding
Buying the best bed and mattress you can afford is a good start. An important part of any stay away from home is getting a good night's sleep. So, make sure the bed is comfortable, the pillows are plump, and the bedding is a natural, breathable fabric such as cotton.
Bathroom Detail
Providing essential toiletries and clean, soft towels is one of the small luxuries a guest will always enjoy. Shower and bath gel, shampoo, hand soap, body lotion, small toothpaste tubes, and washcloths are all good to find. These small details will offer guests the feeling of a little bathroom pampering.
Refreshments at the Ready
It's always welcoming to find an electric kettle or coffee maker to make a hot drink in a guest room, with some snacks like cookies, chips, and nuts. If a guest spends some time relaxing in their room, it's a nice touch if they can access some snacks without coming to the kitchen.
Media Facilities
Installing a TV in a guest room is now a prerequisite for many hosts and guests. It's a matter of choice, but many people like to keep up with a favorite show or the news when they are away. Providing phone chargers is a helpful gesture. Brochures for entertainment and local restaurants can be left in the room along with the Wi-Fi password for your home.
Good Lighting and Smart Seating
Always have good lighting. Decorating in neutral tones is a great way to enhance the natural light. Bedside lamps are required so that guests don't have to get out of bed to turn lights on or off.  A small table with chairs is a useful item too, since it provides a place to read, use a laptop, or write postcards.
Good Air Quality and Heating
Keeping the guest room at the optimum temperature for the climate is all important. Make sure the heating or air conditioner is working well. Keeping all HVAC systems maintained and repaired will enhance the enjoyment of any house guests. It is essential to have HVAC technicians service your systems, clean the vents, and change the filters regularly. This will improve the air quality by keeping the dust levels low.
There really is nothing like a trip away from home, be it a weekend or longer. Relaxing, exploring, eating out, and enjoying new experiences are all part of the fun of vacations. However, having the perfect room to retreat to at the end of the day is a priority for any guest. Give some of these tips a try, and see for yourself how happy your guests will be.