When most people think of a bathroom, they don't think of an eye-catching interior. They think of a bathroom as a place to shower and get ready for work.
But although the bathroom is a necessary addition to any home, you don't have to sacrifice style. 
It doesn't matter if your bathroom is small or large. With the right layout and decor, you can make yours look sleek, stylish, and organized.
Organized bathrooms don't just look good, either. When you have a clean and clutter-free bathroom, it'll make your life a lot easier.
So great ready, because I'm about to share seven design tactics that will help you get your bathroom in order.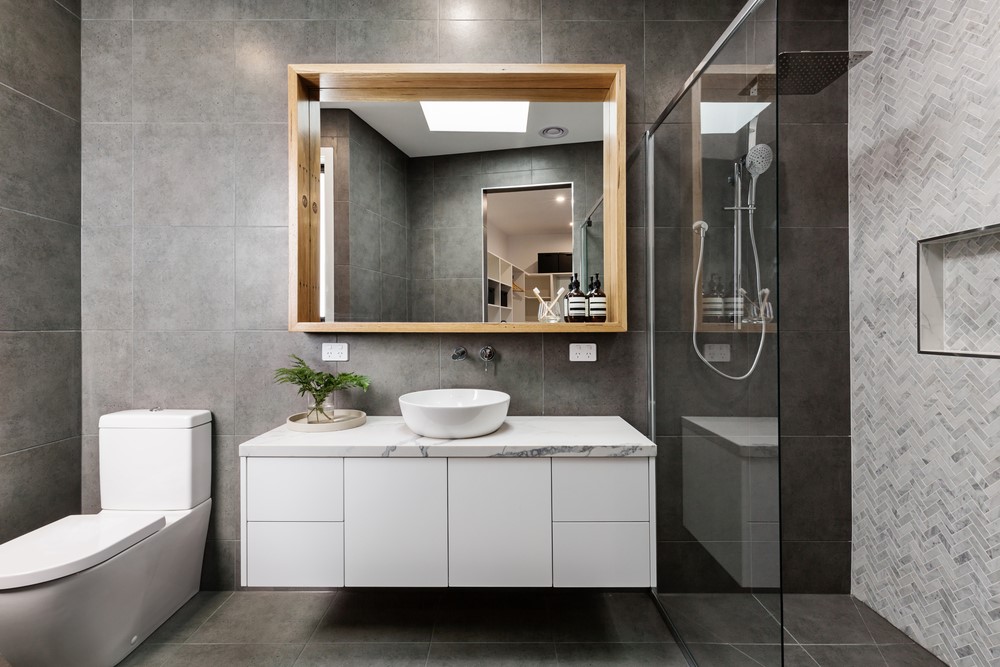 Apply these tips to start the new year off on the right foot!
1. Hang Towels on a Ladder
Ladder shelves are all the rage. Not only do they look amazing in any space, but they're also very functional. 
They're perfect for hanging towels, and they double as decorative pieces. You can buy them from stores like Anthropologie and Bed Bath & Beyond, or make your own DIY towel ladder from upcycled wood. 
Just make sure that you only use your ladder for dry towels, as wet ones can damage the wood. For your wet towels, keep a hamper or basket in the linen closet.
But all in all, this is a fun and creative hack that will make your bathroom look great and function even better.
2. Add Creative Shelving
Shelving is an easy way to add more storage space to your bathroom. And there are a million and one ways to do it.
If you have a tiny bathroom, for example, you might want to install some wall shelves above your sink and toilet. All you need is a few pieces of wood, some brackets, screws, and a power drill.
If you rent an apartment, you may or may not be allowed to drill holes into the wall. So, you should check with the apartment community manager to see if it's okay beforehand.
Or, you can forgo the wall holes entirely and get a freestanding shelf instead. They provide a lot of extra storage space and are great for decorating. You can add a few small plants, some candles, or even a canvas art print to tie the room together.
Shelving also serves as a functional purpose. You can add a few baskets for storing toiletries or neatly stack some towels. It's your space, so don't be afraid to use shelves to showcase your personality!
3. Put a Chalkboard on the Wall
Merge function with style by adding a chalkboard to your bathroom wall. 
A chalkboard is a great place to add inspirational quotes or to write yourself daily reminders. As you brush your teeth in the morning, you can review your chalkboard and take note of any meetings or approaching deadlines.
It can also be a fun and creative focal point in a small bathroom. Next time you have a dinner party, you can jot down a silly message to remind them to put the seat down when they're done.
Chalkboards are both functional and fun!
4. Install a Small Chandelier
If you're not a fan of your bathroom lighting (or even if you are), consider hanging a chandelier. You probably won't be able to fit a dining room-sized lighting fixture in there, but even a small one can add a bit of elegance to an otherwise drab space.
Before you go out and buy a chandelier, check with your property manager to see if it's okay. Not all bathrooms are wired for this type of lighting, and you wouldn't want to damage the electrical system.
If it's possible to add one, a chandelier can be a stunning focal point. It can also provide a perfect amount of lighting for an inviting bathroom. 
5. Put Decals on the Wall
If you'd like to add art to your bathroom but don't want to damage the walls, removable decals are the way to go.
Depending on the theme, you can hang whatever type of decals you'd like. For example, you might want to stick a few inspirational quotes to your wall for a motivational boost!
Or, you might want to showcase a favorite travel destination. If that's the case, add some decals related to the state or country your love.
There are many types of decals available. Use your imagination and select one that complements your current theme.  
6. Stack Some Crates
Not a fan or shelves? Maybe you should create a storage system from stacked crates!
Wooden crates have a vintage, rustic feel that looks great in a bathroom. But, they're also functional to boot! With just a few crates, you can get all of your bathroom stuff organized.
The sky's the limit on what you want to put inside them. You can use yours to store towels, toiletries, bathrobes, and anything else you'd like. And on top, you can even place a plant or two to add some greenery to your bathroom space!
7. Add a Tray on Top of the Toilet
The top of the toilet tank is the perfect place to add a try or small storage container.
If you add a tray, you'll have some room to store a few essentials. You could add a single roll of toilet paper for backup, or a dish with clippers, Q-tips and cotton balls.
Or, you could go with a more decorative approach and place a small plant or framed picture on top.
Either way, use the space behind the toilet to your advantage. It's the perfect place to store the essentials, and if there's room, add a few decorative pieces as well.
---
These design tactics are perfect. So perfect, in fact, that you're going to love utilizing them in your bathroom during 2020.
Trends come and go, so don't get fixated on the current style too much. Instead, apply ideas and decorations that will look wonderful for years to come. 
Most importantly, pay attention to what makes you happy. Use your imagination to organize and achieve bathroom harmony.
There's no doubt you're going to love coming up with an organized and stunning interior.
Author
Ryan Sundling is a Group Marketing Manager at Cardinal Group Management. He has over ten years of experience in the conventional housing industry and works with 5151 Downtown Littleton on a daily basis to help them with their marketing efforts.