I'm still puzzled why most people are leaving their bathrooms behind when all other areas in the house get a lot of attention. The place where we freshen up must also be filled with designs and even decoration to get the best bathing experience. 
Have a light bulb in your mind? If yes, then read our top bathroom improvement tips to learn more and apply them right away.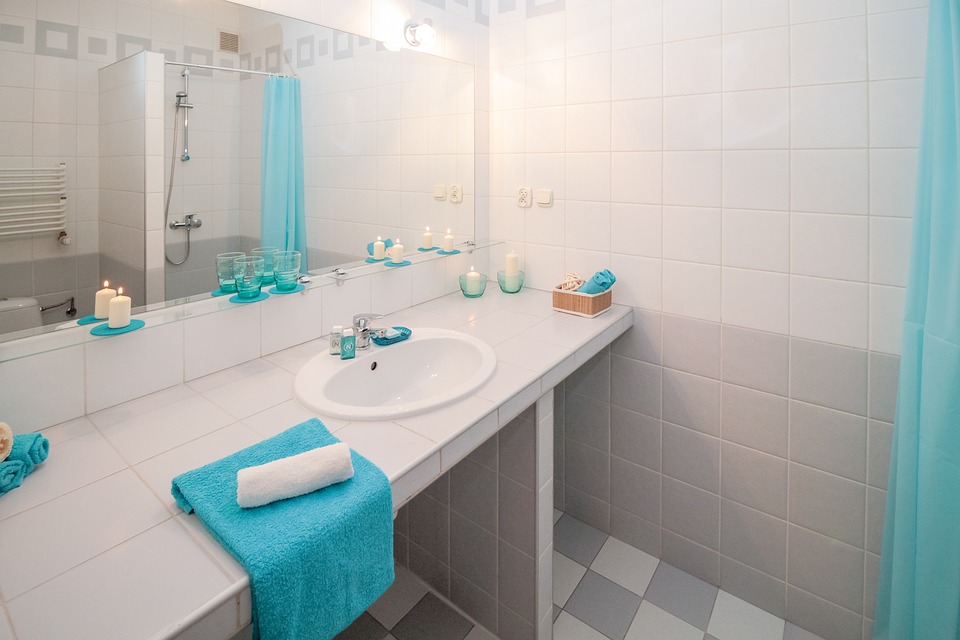 UPGRADING YOUR BATHROOM SINK  
Not everyone is willing to burn a stash of cash that fast in renovating a bathroom, and there's nothing wrong about it, but it should not stop them from improving their bathroom, right? 
It will be a good thing if you can start with your sink because this huge block in your bathroom creates a statement with its tough-looking structure and shiny surface.
Having a new one or simply having a serious polish on it will create a much-needed balance on your bathroom's overall designs.
ADDING MIRRORS TO YOUR BATHROOM
If you have a relatively small bathroom, it is best to add mirrors on it because it can create an illusion of bigger spaces. The more it can eat up the space on your wall, the better. 
TRYING OUT PATTERNED FLOOR TILES IN YOUR BATHROOM
It is aesthetically appealing to see patterned floor tiles as you walk inside your bathroom, but as much as we want to assemble our own pattern ala jigsaw puzzle, the complicated process prevents most people from doing it.
What most people recommend with this problem is to seek the services of renovations experts, a team of design experts who can surely help you with your current designing problems because doing your tile 'thing alone' might just ruin your bathroom. 
HANGING PLANTS IN YOUR BATHROOM
Yes, plants (the real ones) should have their presence inside a bathroom because plants add a 'zen vibe' atmosphere wherever it is.
With all the metals and plastics that we see everyday inside our bathroom, it's time to have a breath of fresh air and change the atmosphere through these hanging plants.
REPAINTING YOUR BATHROOM
This is one of the quickest, if not the quickest way to immediately change the look of your bathroom, but a word of caution, limit your colors to only 2, and choose these two colors very carefully.
Do not choose as many colors as you want because it could ruin, rather than improve your bathroom. 
INSTALLING WALLPAPER IN YOUR BATHROOM
Aside from repaints, wallpaper is one of the quickest ways to change the look of your bathroom, and if you're the kind of guy (or gal) who's always itching to change the look of your bathroom every week, then wallpapers can be your best friends (even if you have to strip them away every week) 
ADDING FRAMED INSPIRATIONAL QUOTES ON YOUR BATHROOM WALL
A lot of people have thought that the best decoration is the one that is pleasing to the eyes, but for me, the best ones are those that please our hearts and mind (ohh, sounding too dramatic here).
Since we're spending a significant amount of time inside the bathroom, it's a great idea to have a framed inspirational quote that faces us as we take a bath. With this, it allows us to meditate on that quote and equips us with enough inspiration and realization throughout the day. 
IMPROVING THE CLEANLINESS OF YOUR BATHROOM
To make your bathroom as clean as it can be is divine. Who cares if someone calls you a clean freak? This is the pinnacle of any bathroom improvements, fancy add ons are just a small part of it. 
Keeping it clean and preventing it from  being a breeding ground for pests is the best thing you can do to your bathroom. 
After all, it's a reflection of yourself, and even if your bathroom is well decorated but hopelessly dirty beneath it, then it says something about yourself.