Traditionally, the kitchen is considered a workspace and is tucked away towards the back of your house. It has just enough room for the essentials but in recent years, the kitchen has become the focal point!
Kitchen walls have been torn down for open floor styles sharing more space between your rooms. However, kitchen floors need to be pretty hardy, having to take on those muddy shoeprints and spilt milk in its stride, whilst still looking fresh and elegant.
Choosing the right flooring material to match your taste, lifestyle and space is vital. Right from classic stone to practical porcelain to slightly more edgy concrete, there is a dizzying array of choices available.
Are you living in a huge, busy house with loads of foot traffic or just a couple of you padding around? Do you want a slick look or do you want a bit of flawed character? Will you look after the floor or simply mop and walk away? Do you want to add a "wow factor" or is subtle your thing?
No matter what flooring you choose, it is always advised to plan it right from the beginning of a kitchen refit, so that plinths and grout lines can be integrated into the design from the get go.
Here are some of the most popular kitchen flooring materials that may help you to decide which one can work best and slot easily in your lifestyle.
One of the most unsurprisingly popular and classic flooring options is covering the entire floor in stone. There are literally dozens of styles to choose, from travertine to granite to classic stone. If you are looking for something subtle and rustic, then stone could be the best option. As stone has its natural, unique variations no two slabs are alike and it adds more depth to the floor.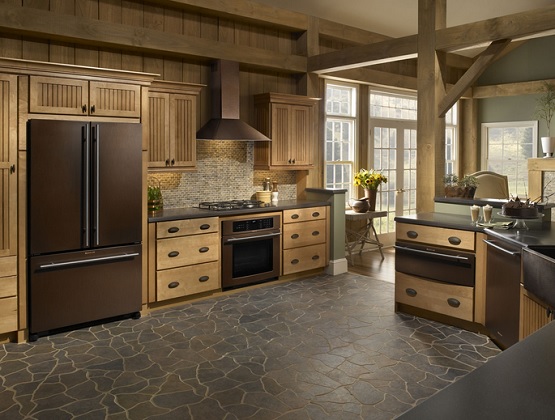 However, you need to ensure that you don't opt for irregular stones as they are harder to slot together. Also, if you go for rustic tiles without smooth edges, then the grout lines are likely to be thicker. Thus, go for a matt surface because it gives a more modern look.
Durable, yet warm and forgiving, rubber provides a sleek expanse alongside a softer edge than concrete, which is perfect for modern spaces. Rubber flooring is available as silver travertine tiles, but larger sheets are resilient and give a neater look.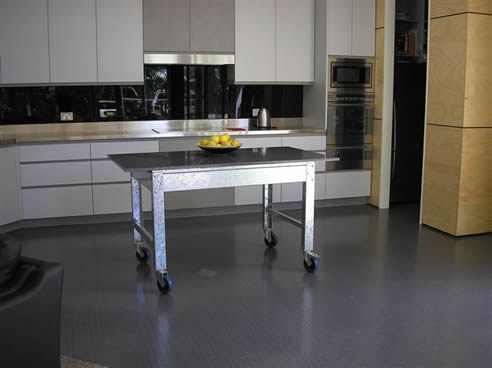 These also come in various textures, such as ridges and studs but try choosing a flat surface so that it is super-easy to clean.
Polished Concrete Kitchen Flooring
If edgy aesthetic is what you're looking for, then you cannot beat concrete. Be it a full-on industrial look or simple scheme, polished concrete surface can do wonders.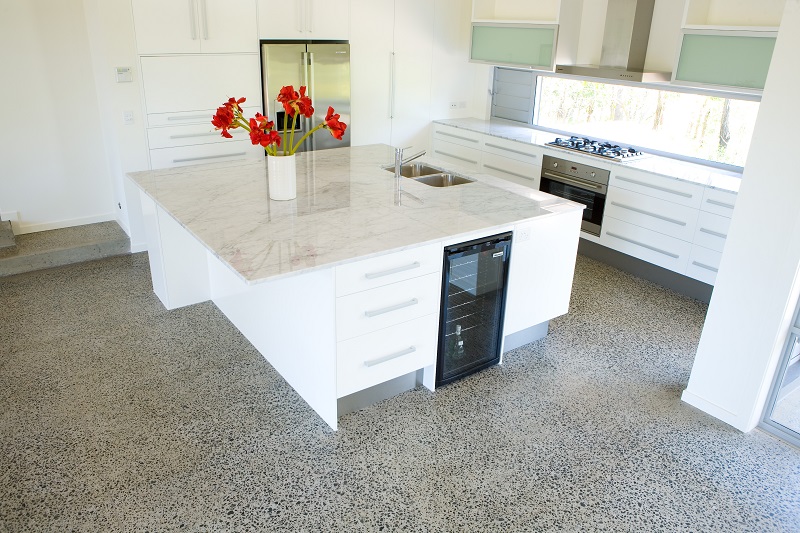 Be sure to thoroughly vet your provider as what looks like a cheap deal on the surface can become very expensive. Polished concrete has to be vibrated during the laying process in order to remove the bubbles, or else it can crumble. Seek professional assistance to ensure that you obtain a guarantee.
Porcelain Tile Kitchen Floor
The phrase "maintenance free" is of course music to your ears and porcelain tiles can just do that job in your kitchen. They do not require any sealing and are very hard wearing; that to chip one you'd probably have to drop a 10lb hammer on it!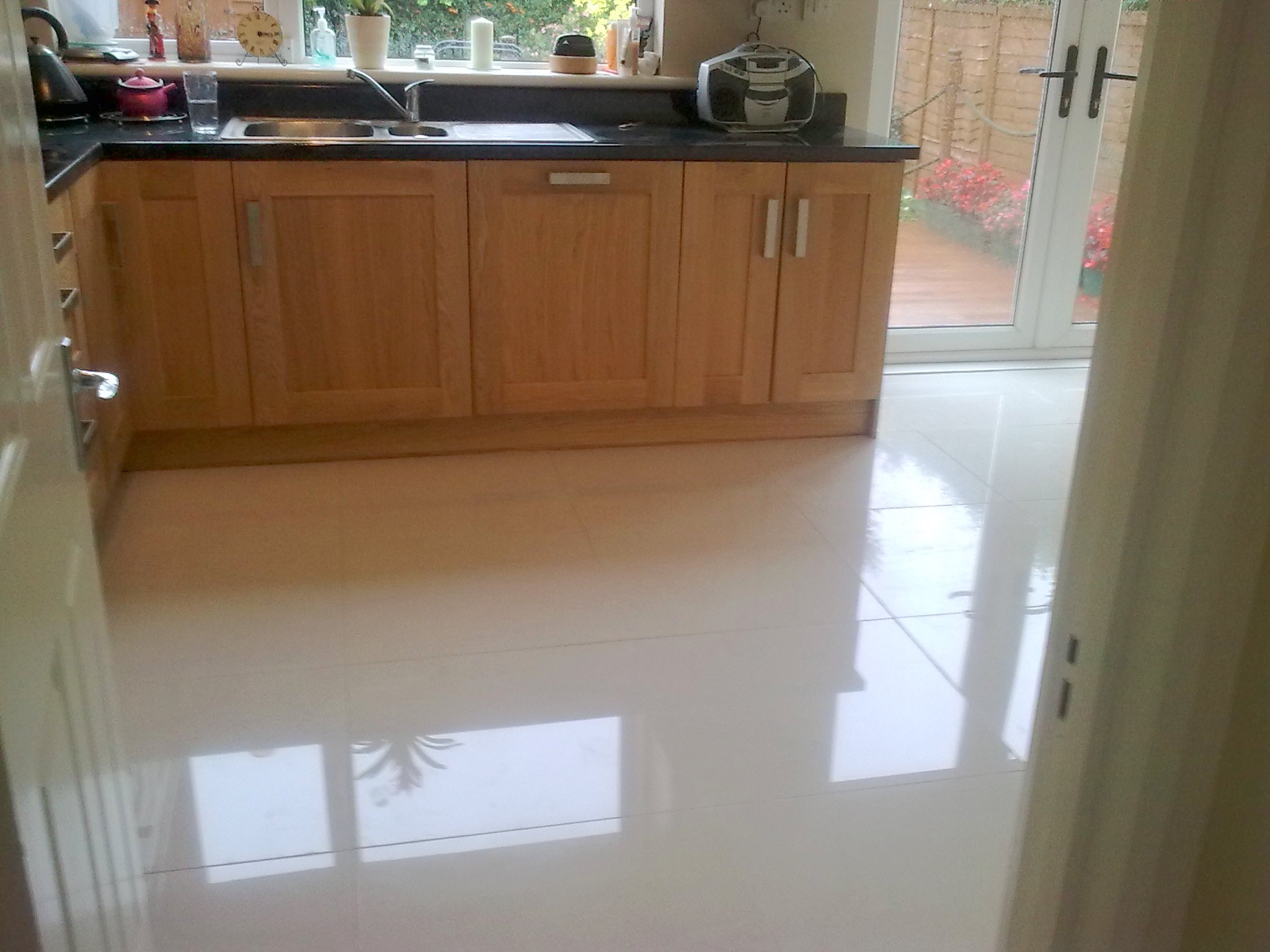 These tiles can also be mimicked as other surfaces, such as concrete, wood or even leather. The sky is the limit for textures and the choice is completely yours!
Kitchen Flooring With Ceramic Tiles
Typically, ceramic tiles are made of clay with a glaze on top of it. These are available in a wide range of sizes, shapes, colours and textures. Similarly to porcelain, ceramic tiles can be used to mimic other materials such as wood.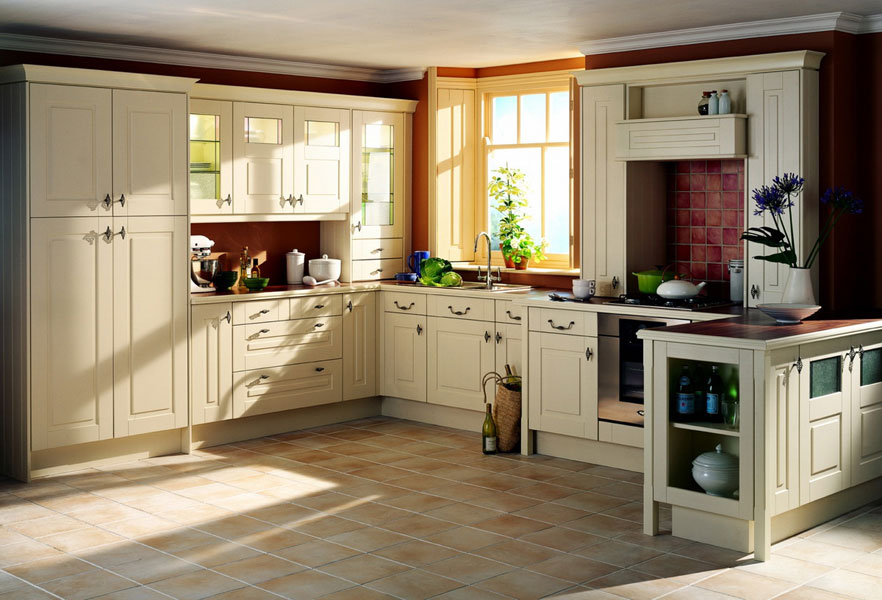 You can opt for tiles with "rectified edges" as they are cut after being in the kiln, which is why its edges are even and smooth.
Kitchen Flooring With Hard/Engineered Wood
Even the best substitutes cannot really match the beauty of real wood. They come in wide variety of grains and shades. It works in any setting right from ultra modern to country cottage, and is unlikely ever to go out of fashion!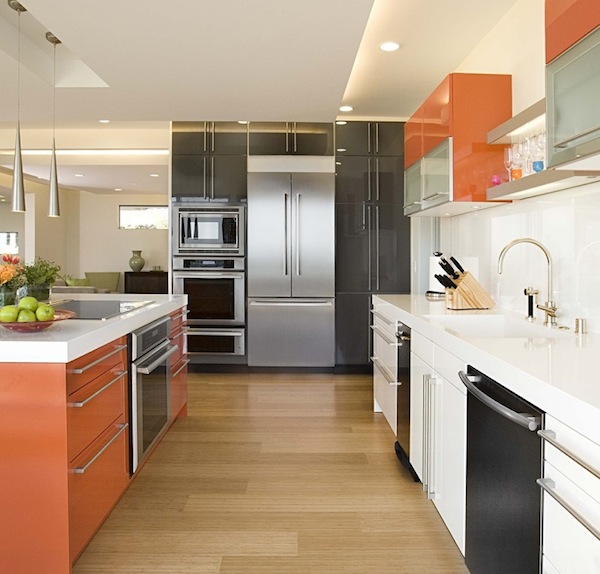 To acquire a modern look, you can opt for uniform grain, whilst irregularities and knots can fit nicely with a traditional scheme. To achieve a perfect finish for your kitchen floor, you can opt for wax or oil instead of lacquer, as it gives a natural look and can be cleaned with a damp mop. Be warned though, whilst one of the finest options, it is often usually one of the priciest and is likely to require a lot of maintenance.
Cork Flooring For Kitchens
This flooring material not only doesn't harm the environment, but also actively helps it. When  bark from the cork oak tree is removed, it simply means that they live longer.
Cork is warm and has bounce to it, similar to rubber, which is why it is comfortable and absorbs sound. Before you start thinking of wine bottles, long gone are the days when tan was the only option.
Still traditional, exposed cork is available, but with various designs coated on it, giving you variety of options for finishes.
Kitchen Flooring With Poured Resin
Resin is one of the increasingly popular choices for the kitchen, as at present the trend is for mid greys and whites. This can be poured over the entire kitchen floor, which is why it is a seamless finish. If your resin floor is damaged it can be easily revived. All you need to do is simply sand it, then apply a couple of sealer coats and you're done. But, if you fancy a new colour or texture, you can opt for a different sealant.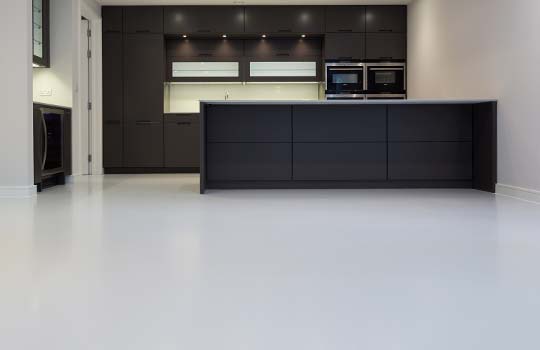 Poured resin is available in silk, matt or gloss finished, but among these matt is the most recommended one because they can hide scratches, if any.
So, what is next for kitchen flooring? Herringbone brick floors are definitely the answer! It might sound odd, but it's already trending in gardens and is now being used in the kitchen to add a French rustic look. In addition to this, bricks are a great insulator, too.
Even bamboo can turn out to be an exceptional flooring material. Though it isn't popular in the UK, it is gradually creeping in instead of taking off. It is super sustainable as it is a grass and surprisingly tough, so if you're feeling like something a bit different, why not give it a shot!
With any type of flooring, it is crucial to consider how wide the boards are or how huge the tiles are. Only then you need to think about how the units will sit, where the lines would fall and what type of bolts, rivets, nails or screws you need to use to ensure perfect installation. See reviews for best subfloor screws at drilling-it.com
Before starting your kitchen flooring, ensure that the sub floor is leveled because if your flooring isn't parallel to the plinths it will look really odd. We'd recommend you craft a leveled sub floor by utilizing dry screed, in order to achieve the perfect finish!