What is one feature of a project that is essential? A ceiling is one thing that can be found on any site whether it is commercial or residential. It is just as common of a building element as the floor, windows or even roof. For the budding builder or contractor, we share 4 styles to consider when preparing to install a ceiling as well as recommendations for an access panel.
Shed
To some builders, a shed ceiling is often associated with those seeking a barnyard feel. A shed ceiling is designed with a slope and can actually provide extra vertical space. This type of ceiling design is one that promotes ventilation, circulation and insulation all in one.
Typically, shed ceilings are designed with wood or steel reinforcement which is then drywalled. With this choice of ceiling, it can easily have a drywall access panel installed for storage or extra insulation from outer elements.
Shed ceilings are designed in commercial or industrial buildings – in these circumstances, they may not have insulation or drywall, but rather be the bare-bones of steel or aluminum. In this circumstance, access panels can be an asset when looking to add access or prevent the exposure of wirings and systems.
Access Panel Recommendation – 10 x 10 Contour Access Door with Hidden Flange & Latch

Conventional
A conventional ceiling is one that is commonly used on any commercial or residential site. The conventional ceiling is a standard choice for builders. A feature of the traditional ceiling is that it has a height of approximately 8 ft.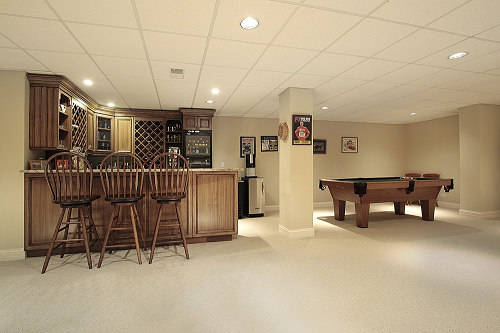 Aesthetically, this choice of ceiling can be found in office buildings and homes. It is clean and straightforward, and because of this simplicity, it can be customized to suit a client's functional needs if need be.
Need to have access to wirings to lights or cables? Access panels, especially drywall or plaster can be easily installed into the ceiling, and because of the material that is used in conventional ceilings, the access panels can be easily blended in to look like one.
Access Panel Recommendation – 24 x 24 Flush Access Door for Plaster Walls & Ceilings
Suspended
Also known as a drop-down ceiling, this ceiling choice is ideal for many commercial buildings – especially where some wires and cables need to be hidden yet accessible at the same time.
The installation of this type of ceiling is one that requires professional experience as the metal rails that are suspended need to be done correctly to ensure that there are not any fault installs that could result in injury after the fact.
From a residential point of view, suspended ceilings are a common choice of homeowners who are seeking an inexpensive solution for their basements. In a way, the suspended ceiling offers insulation and can prevent noise transference from high floors. While aesthetically it is not always the most appealing, suspended ceilings can be functional and versatile.
One thing to keep in mind when choosing to go with a suspended ceiling is that it can make a space look smaller vertically due to how the ceiling is designed and installed.
If a client is okay with this, then a suspended ceiling is an ideal cost-friendly ceiling solution – not to mention because the panels can be quickly moved by pushing up and aside, it's as though the entire ceiling is an access panel in and of itself.
Access Panel Recommendation – 24 x 24 Aluminum Drop-In Ceiling Door
Beam
Client's looking to maximize if not design their ideal commercial business space would go with a beamed ceiling. This type of ceiling is one that is commonly found in industrial and commercial properties due to the fact it is clean and straightforward.
Beam ceilings are designed with the use of load-bearing beams which promote and maintain the structure of a building. In between these load-bearing beams are additional beams that can enhance support but can also improve aesthetics.
When it comes to the actual material of beam ceilings, they are typically done with steel or reinforced metals – due to the popularity amongst homeowners seeking to replicate the feel of the beam structure, they can also be done with wood.
Access Panel Recommendation – 24 x 24 Aesthetic Access Door with Hidden Flange (Stainless Steel)
Choose a ceiling to suit your project…
Ceilings are sometimes underestimated in their importance; however, when it comes to ensuring functionality and versatility – it is essential to consider the type of ceiling one wants to have done but also their purpose.
Is the ceiling meant to be a standard conventional ceiling or should it have some functionality in concealing imperfections or functioning wires and cables. Whatever the choice and purpose of the ceiling, research is important and ensuring your building needs are met.