A drip from the ceiling above is a clue that water has somehow invaded the home and in the process of causes damage. Take the following actions to take quickly get this stopped and fixed correctly.
Investigate the Source of the Leak
The two leading causes of ceiling water damage are roofing and upstairs plumbing leaks. It is not hard to spot ceiling damage. The least of it will show up as brownish spots when dry. The area might feel damp if it has recently rained or the upstairs plumbing used. Tracing the source of the damage and fixing the leak is imperative to not having it occur again.
Inspect Wiring for Damage
Cracked or disconnected wiring behind areas of ceiling damage can pose a fire hazard. You need to have this checked by professionals if you fear there has been any damage, or if the overhead lighting in that room makes pops, sizzling, or other unusual sounds. Turn light "off" and have it looked over if it constantly goes "on" and "off."
Replacing Insulation with Water Damage and Black Mold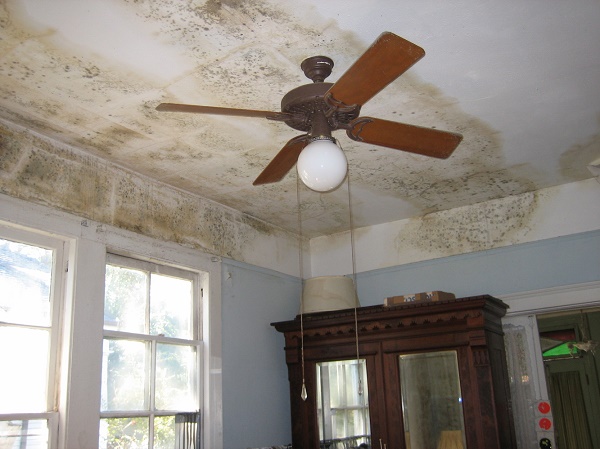 You may find ceiling tiles and materials in a heap all over your floor, which is the best indicator you have water damage. If the room is insulated, check the insulation for signs of water damage and the presence of black mold. It will need changing before the job is complete.
Remove the Damaged Materials and Replace
Remove all of the ceiling tiles, wallboard or plaster damaged by water carefully. You need to wear skin, eye, and airway protection. If you are sensitive to dust and mold, or there is black mold present, stop and call a professional water restoration service. They have the necessary equipment to fix the problem fast at an affordable price.
Never Paint Over Water Damage
As tempting as it may seem, never merely paint over water spots on the ceiling. Ignoring or lessening the indicators of a serious water leak will never lead to positive results. The damage will continue and worsen over time.
Contact a comprehensive water damage specialist like United Water Restoration for ceiling repair Houston today!