This week's feature on our celebrity homes column is rather strange, it doesn't really feature a well know celebrity, however, it's more than meets the eyes.
Jarvis Chimenes Pavao, considered one of South America's most dangerous drug traffickers, had been serving an eight-year sentence for money laundering at the Tacumbu prison in the Paraguayan capital, Asuncion.
But little did anyone on the outside know what kind of lifestyle that really meant – until a powerful bomb was discovered inside the prison.
Chimenes Pavao, who was due for release next year but facing extradition back to Brazil on drug charges, had allegedly planned to use the plastic explosives to blow a hole in the prison walls and escape.
But his plan backfired when police poured into the prison to investigate and discovered his pimped out cell.
The "VIP cell", as it was known to prisoners, had three rooms with en suite bathroom, a kitchen and conference room, air conditioning, stylishly tiled walls, plush furniture and a library complete with a DVD collection to watch on the big-screen plasma TV, AFP reporters saw during a visit.
The DVDs included the full collection of Pablo Escobar, a TV series on the feared Colombian kingpin who was killed in 1993, a hero of Chimenes Pavao's. The raid, which took place on Tuesday night, has already shaken up the Paraguayan penal system.
Chimenes Pavao's lawyer, Laura Acasuso, told reporters the corruption that enabled her client to turn his cell into a luxury suite reached all the way to the top. "Six or seven justice ministers and six or seven prison directors" took bribes from Chimenes Pavao, she said.
Justice Minister Carla Bacigalupo was sacked almost as soon as the scandal broke. Her replacement, Ever Martinez, vowed a crackdown. "We're going to demolish Chimenes Pavao's cell and take measures against the prison directors who allowed this inmate to enjoy these privileges," he said. Chimenes Pavao has now been transferred to a cell in a police special operations unit.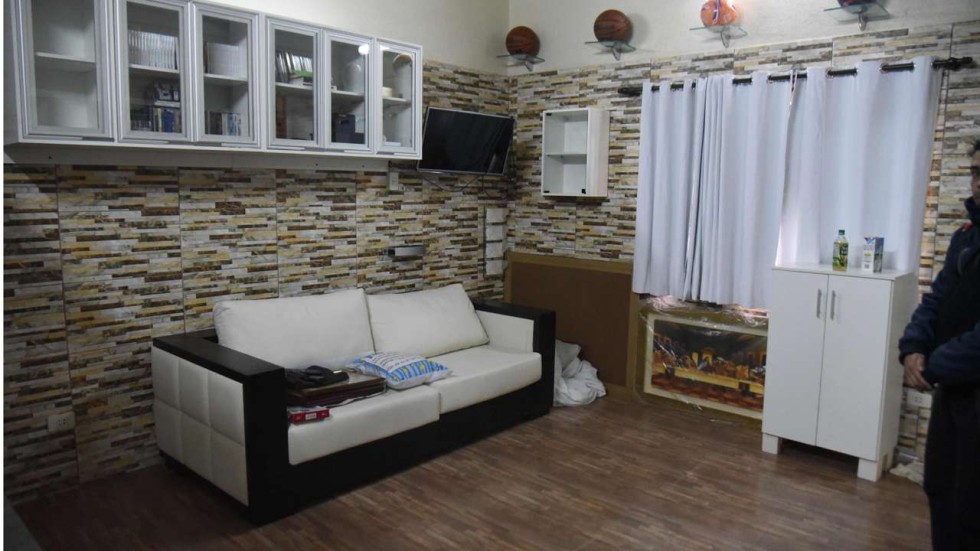 Among the 3,500 inmates at Tacumbu – double its capacity – many already say they miss him. "I don't know what's going to become of us without him," said a fellow prisoner, who spoke on condition of anonymity.
He said Chimenes Pavao was a generous benefactor who paid for a football pitch and chapel at the prison, as well as employing bodyguards among the inmates.
"He was the most loved man in this prison," said another inmate, Antonio Gonzalez.
Like at many prisons across Latin America, most inmates at Tacumbu eat only irregularly and sleep on cardboard boxes or directly on the floor. Riots are common. "It's miserable," said Josieux, another prisoner from Brazil. "Two inmates died of hunger and cold" in June, he said.
Things were different for Chimenes Pavao, who was arrested on the Brazil-Paraguay border – a hotbed of smuggling – and is accused of ordering the killing of business tycoon Jorge Rafaat in the same region last month.
To be transferred to the pavilion where he was held, inmates had to pay US$5,000, plus weekly rent of US$600, a former inmate, Osvaldo Arias, said in a TV interview.
In return, they were allowed to use cell phones, the internet and receive visitors anytime, he said. "He never said he was a saint," said Chimenes Pavao's lawyer. "But he was completing his sentence and helping out with the money he earns legally through his companies," which employ 1,200 people, she said.
She said her client paid for lodgings for prison directors, toilets for the guards, the renovation of the prison library and the cooks' salaries.
(This article appeared in the South China Morning Post print edition as: Drug lord turns his prison cell into plush suite)