A lot of parents have been asking questions on the internet about ideal ways to infuse as much fun as possible into a kid's bedroom, many of them have been considering the option of funny beds, however, not so many persons know the best way to implement funny beds in their children's bedrooms.
There's something spectacular about children, they sometimes love to play a scene, and you better catch up with their game and pretend with them or you'll become just another bore. For most of the guys, they may love more than anything else, to become one of the heroes in their comic books or movies.
It is important to have kids whose hearts are always close to home, and the best time to do this is when your kids are still very young, the catch? Something very dear to them… that's the easiest way to have your kids busy in their rooms…  it further transforms into lesser stress and a happy home for you.
If your child wants to pretend that he's a pirate, how about making their day by having their bed crafted into a pirate ship. You'll definitely be the coolest dad/mom every if you pull this off.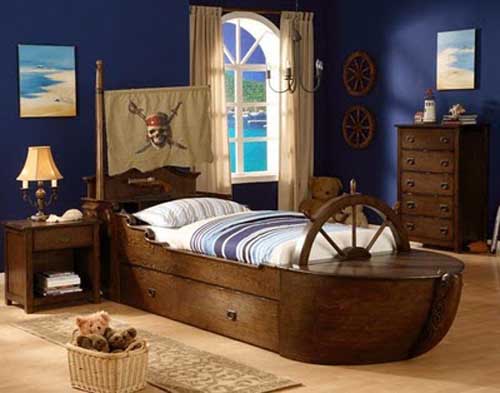 Now check this one out,  This bed is made for sleeping all through the night and for playing on all through the day. It is a twin bed with a pull out trundle, lift top storage compartment, and two drawers.
Your kid may not be into pirates, but there's always that one thing that they love, it could even be fast cars.  If your child is not into pirates but loves fast cars, you can get him or her a race car bed. The silver and black/red and yellow racing car bed will look fantastic in your child's race car themed room.
Then again, we have our beautiful daughters who always want to be Cinderella, or some other princess in one of her favorite stories. You can decide to introduce a Guinevere-like bed which would be a perfect fit for your child's imaginations.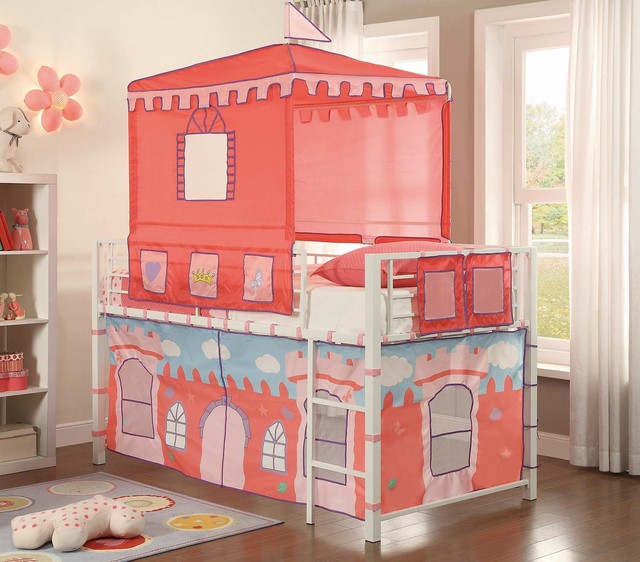 With this bunk bed, your child will go to sleep feeling like she is a princess. This piece of furniture features a castle like construction. The bed design features inside access to an 8 sided tower with shelves, a bookcase, and additional towers in the rear tower.
While looking around on the internet, I also discovered this fun bed which looks so much like a tractor. Your kid can often pretend like he's/she's driving around until sleep comes calling.
The bed is sturdy and will last a long time. If you want to add a special touch to it, you can personalize your child's name on the front of the bed. Doing this, may make your kid feel extra special.
These are just a few ideas to help you identify what your kid would love, and make their day by implementing it.
Try any of them out and give us your feedback, we'll be happy to hear from you. You can also share your ideas with us, we will definitely appreciate every opinion.