How To Choose A Color Scheme For Your Home
Color is one of the basic foundational elements of good design. Color choices affect every part of a room's design, so understanding how colours work together is very important for any decorating your home.
Every space has its specific colour requirements. Colour can play tricks on the human eye when chosen and applied correctly, making small spaces appear more significant. Choosing the wrong colour can ruin your entire home decorating project, so you should always take great care of your colour choices.
Choosing Warm Colors For Your Home Interior
Choose warm colors if you want your room to be comfortable and inviting. Warm colors work well for living rooms and dining areas. Cool colors tend to ease anxiety and promote relaxation, so they are the perfect choice for a bedroom project. You can use color through many different elements in a room.

Using Solid Colors For Your Home's Interior
The most obvious is on the walls, which can be painted one solid color or complementary colors in a striped pattern. Some designers love to paint one wall a bold color while the others remain neutral. This little trick acts to create a focal point and draw attention to one part of the room. If you use color on an accent wall, choose a color that will pop such as a deep red or burgundy.
Another popular color choice is to create a monochromatic effect by using one color throughout the entire room. Stark white monochromatic designs are extremely popular for coastal cottage designs.
You can make one color very interesting by adding texture as your primary design tool. Add texture through a plush area rug, silky drapes, or thick cotton quilts. The options are truly limitless for infusing texture into a monochromatic room.
If you are new to interior design and you aren't sure where, to begin with color choices, try a few simple tips. First, choose light, cool colors to make a room look bigger or to make ceilings appear higher. Select a warm, darker color to create a cosy effect or to make ceilings appear lower.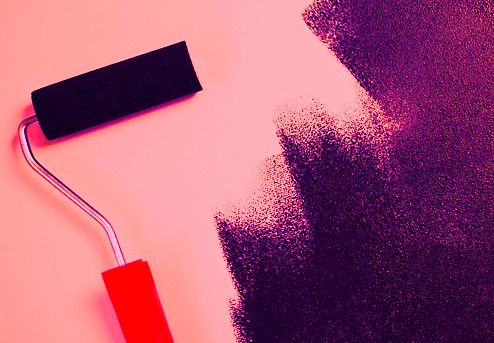 If you are afraid to go too bold at once, try to cover your primary areas with neutral colors. Vary the color slightly on each surface to create a well-blended effect. You can choose brightly colored accent pieces to complete the look. It's always a good idea to make the floor the darkest surface in the room, no matter what your color scheme will be. This makes the room feel and appear well balanced.
You can accomplish this important step with a beautiful area rug. If you have natural wood floors, you can vary the color and add visual interest with a complimentary rug. If you already have a carpet, you can add depth and boldness by using a rug in a dark or warm colour.
Knowing the color that you would like to paint your room is a great first step, but picking the actual shade should be one of the last things you do. If it's an existing room, take some time to do an inventory of all the permanent features, such as the colour of the floor or curtains. Think about the upholstery fabrics and any artworks. Your wall colour will need to work with these items. Otherwise, you end up with a room where everything feels out of place.