There's been a buzz around electric fireplaces and for good reason. These modern fireplaces come with a host of benefits for both homes and offices, including low installation and maintenance costs, convenience, and ease of use.
Here, we list the top questions consumers ask about electric fireplaces and discuss the answers in detail. For those who are interested in having an electric wall fireplace in their home, we have the information you need to know.
How do electric fireplaces work?
Traditional wood-burning fireplaces are pretty straightforward: you light up some logs or firewood, and the heat from the fire warms up the room. The smoke from the fire goes up the chimney and into the cold night air. How about electric fireplaces?
Electric fireplaces, in contrast, do not burn wood. They don't require any chimneys either. When plugged in and turned on, they work by drawing in the cool air in the room, heating it using a metal heating coil, and pushing the now-warm air back into the room through a blower motor. There are also electric fireplaces that make use of infrared technology to heat objects in a room directly.
There are no real flames in electric fireplaces. The flame effect is achieved through the refraction of lights. Users can control the appearance of the flame to make it smaller or larger, and the simulated flames remain cool to the touch.
How much heat do  electric fireplaces emit?
Modern contemporary wall fireplaces run on 120 volts and have a maximum draw of 1500 watts. This makes them emit a maximum of 5,000 BTUs (British Thermal Units). This amount of heat is enough to warm an area of around 400-450 square feet. Some electric fireplace models that are designed to be connected to 240 volts are able to generate more heat.
Heat is the only thing that electric fireplaces emit. You won't find any fumes here.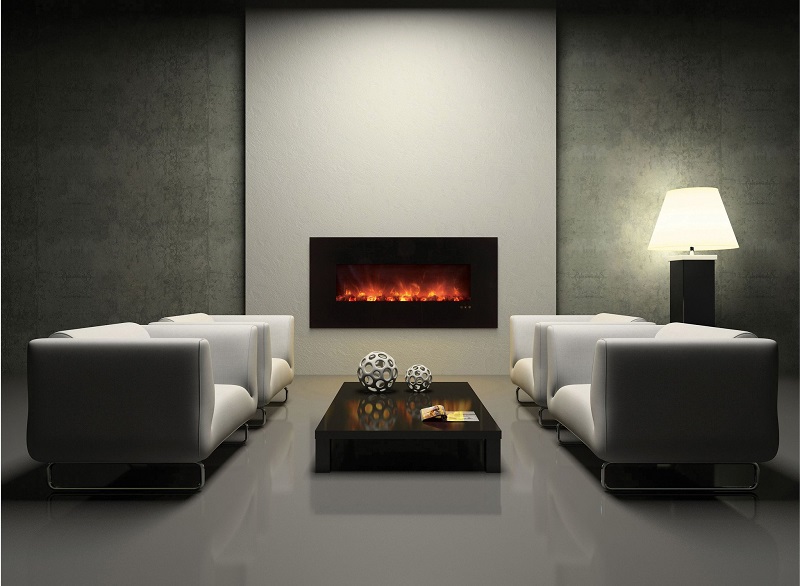 What are the main differences between electric and ethanol fireplaces?
Electric and ethanol fireplaces differ in the following aspects:
Heat source – Electric fireplaces use metal coils to heat the air; ethanol fireplaces burn ethanol. In a situation where there is no power (think a snowstorm with power lines down), an ethanol fireplace would be more useful.
Style – Electric fireplaces are usually placed against or close to a wall because of power cable logistics. These fireplaces need to be plugged directly into a wall socket, while ethanol fireplaces have freestanding models that enable you to move them wherever you need their heating power.
Flame – While the flame in an electric fireplace is an illusion, in an ethanol fireplace the flame is real. However, with an ethanol fireplace you cannot have the flames without the unit producing heat. In contrast, with an electric fireplace, you can view the "flame" without having the heat to go with it.
Environmental Impact – Both electric and ethanol fireplaces are more eco-friendly than wood-burning ones, but ethanol fireplaces have an edge over electric fireplaces. Electricity uses fossil fuels that emit carbon dioxide into the air, which contributes to global warming. In contrast, the fuel used for ethanol fireplaces, ethanol, is created through the fermentation of agricultural feedstock such as sugar cane, corn and potato. Ethanol is also odor-free and it burns clean – no dangerous particles or fumes whatsoever.
Maintenance – Both types of modern fireplaces are low-maintenance and are easy to clean. You may have to put in a bit more work in checking and cleaning ethanol fireplaces, which may have fuel residue in the actual burning unit.
Is an electric fireplace easy to install?
Very! All you really need is a wall socket to plug the unit in and you're ready to go. Most electric wall fireplace models run on a standard 120-volt socket and don't require any special wiring. Manufacturers include detailed instructions with wall-mounted electric fireplaces, too.
Can I mount my TV over it?
Yes you can, and not just a TV. You can also mount a painting or a tapestry above your electric fireplace – just make sure your TV is mounted at a comfortable viewing height. You can choose to go for a low or small electric fireplace without a mantel, or a mantel that is low enough for comfortable TV-watching.
When you're shopping for an electric fireplace with the intention of placing your TV above it, it's recommended to choose a model that expels heat from the bottom of the unit and not out the top. This would prevent any heat from blowing directly on the TV.
Another option is to invest in a media mantel or entertainment hub that is specially designed to contain both the electric fireplace and the TV.
Those are the frequently asked questions consumers have about electric fireplaces. What other aspect of electrical fireplaces would you like to know more about? We're listening!
TAGS:
buy electric fireplace, where to buy electric fireplaces, what's the best electric fireplace to buy, where to buy electric fireplace inserts, best place to buy electric fireplace, where can i buy an electric fireplace, buy electric fireplace insert, best fireplaces to buy, buy fireplace insert, places to buy electric fireplaces, electric fireplace buying guide, best buy electric fireplace, where to buy electric fireplaces near me, where can i buy electric fireplace inserts, electric fireplace to buy, where can you buy electric fireplaces, cheapest place to buy electric fireplaces, electric fireplace service, electric fireplace repair service, fireplace cleaning services, gas fireplace cleaning service, gas fireplace service and repair, gas log fireplace service, fireplace service and repair, electric fireplace installation, electric fire installation, install electric fireplace into wall, electric fire installation cost, installing a built in electric fireplace, how to install electric fireplace, installing an inset electric fire, napoleon electric fireplace installation, electric fireplace installation instructions, how much to install electric fireplace, how to install an electric fireplace in a wall, warm house electric fireplace installation,