HOW TO MAKE YOUR HOME LOOK RICH MODERN AND EXPENSIVE.
"If you buy stuff you love, regardless of era or price, your home will be a true reflection of you." –Sarah Norwood
Our homes interiors should be a reflection of us and the things we love. In this sense, we should decorate it with stuff we know to be visually appealing, sophisticated as well as elegant. However, many are daunted of the idea of giving their homes an elegant touch under the mistaken impression that this would cost them exorbitantly. Although it might take a bit of creativity, effort and time on your part—there is no absolute need for you to spend any money in the endeavor of giving your homes an upgrade.
Regardless of whether you are living in High Park or elsewhere, here are some of the failsafe and affordable ways to make any room in your house look more chic and refined:
Beautiful Flower Ideas For Your Home
Fresh flowers not only add color to any rooms, but they also show your appreciation for nature. The organic feel fresh flowers bring to the room is always ideal for brightening up any space—plus they create an aura of interest in the room. Choose a flower arrangement and let this serve as a complement to the other design elements of the room or turn it into your room's focal point.
How High Should Curtains Go
Curtains poised higher would give the illusion of higher ceilings and in effect, making any space look grander and bigger than it really is. Apart from hanging your curtains high, have a keen eye on which curtains to choose so that you can truly enhance the feel and sophistication of any room.
Best Way To Paint Your Walls
A good paint job brings life to any room and the absence of paint will not only make your walls seem bare, but dull as well. If you want a homier feel to your interiors, choose the right colors in painting your walls as the right color or shade can depict the feeling of a room. More often than not, color can affect your mood so be meticulous about your color choices.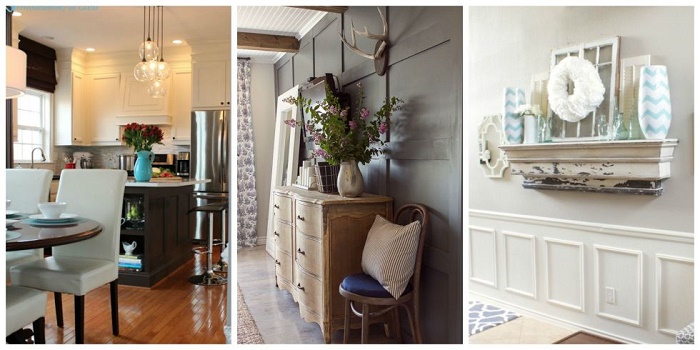 The Importance Of Area Rugs
Adding dimension to your room is as easy as utilizing the right kind of area rug. Apart from adding visual appeal to any room, these rugs are also perfect for soundproofing a room as well as adding a dash of personality and a pop of color. Look for the right rug and give any room a touch of character.
Beautiful Lamp Shade Ideas And Tips
Lamps perfectly positioned on bedside tables look already sophisticated by themselves. However, if you want to take it up a notch and give your rooms a subtle change, you can simply swap out your existing traditional shade with a more modern one. Simply swapping out the shade is a more practical way to redecorate than having to replace the entire lamp. If you wish to give any room a touch of class, dress up your lamps with artsy and modern lamp shades.
Giving your homes a touch of personality and a dash of panache need not be expensive, you only need to think out of the box and utilize practical tips in redecorating such as the ones stated above. Incorporate any of the tips above into your designing endeavors and see your home transform from a drab space to an elegant one!