Are you thinking about having a gym at home, but aren't sure how to start? Do-it-yourself projects get a bad rep, since people assume it will be more work than it's worth. However, these simple tips will get you on track to designing the perfect home gym for your style and your budget.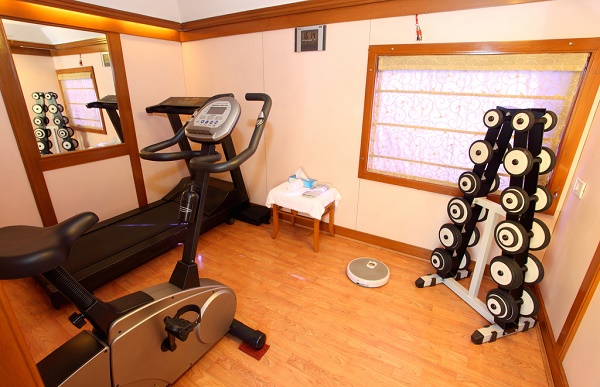 Find the Space
Not every gym needs to be state of the art nor does it have to fit a football team. Consider how much space you physically need while getting a work out. Do you stretch beforehand? Will you be working out alone or with partners? Is there furniture in your home that can be easily moved or repositioned? Whether it's the basement, a spare bedroom, or a patio, any space can be great for exercise. Try making a room double up as a safe space for you to focus and work out.
Balance the Room's Energy      
How you feel when you enter your gym helps determine how productive your workouts will be, so feng shui is important. Declutter your space by removing anything that could potentially disrupt the room's balance. Magazines, old gadgets, or anything else that can distract your exercise should be stored out of sight.
Adding plants to your home gym creates a more peaceful environment and detoxifies the air. Mirrors are also a great addition. They can help you keep your movements precise, and they're extra helpful during mediation. The temperature of your home gym is also very important. Research HVAC zoning to learn how to maintain the perfect temperature for your workout room.
Get the Right Equipment for You
Maybe you work out frequently, and maybe you simply do it when you can. Not everyone knows exactly how often they'll exercise until they actually start. For that reason, consider how much money you're willing to spend on equipment. Is your budget on the lower side? Get the basics. Smaller dumbbells can be great for doubling up, and they're easy to travel with if you're taking your gym on the road. Foam rollers are also a good buy, since they're flexible to use and great for core-strengthening exercises.
If you can manage to spend a bit more, try to invest in your equipment. This doesn't always mean buying big machines. You may find it useful to have storage units or an iPod dock with speakers. Prioritize your needs, and remember that you don't need to get everything at once.
Regardless of how much you invest or what your home actually looks like, creating a safe space to exercise is possible. You want to design the perfect area for you to focus and push yourself to the best of your abilities. Make sure that this space is exclusive to you and whomever you choose to invite to it. Use feng shui principles to balance out any distracting energy in your new gym. And once you find the equipment that you want, use it! Your new gym just might become your new favorite place.