Your home's lighting system does more than just provide adequate illumination. Particularly good lighting enhances a space, increasing its aesthetic appearance and cosmetic appeal. And in certain areas of your home, such as the outdoors, it increases your home's safety. As such, it's important to understand the different types of lighting and how they can impact any space.
Understanding how to apply the best light in each space ensures you perfectly complement the surrounding décor. Knowing the different types of lighting enables you to determine the right fixtures for every room in your home. Done right, your home lighting system will highlight your home's best features, drawing attention to key architectural and design elements.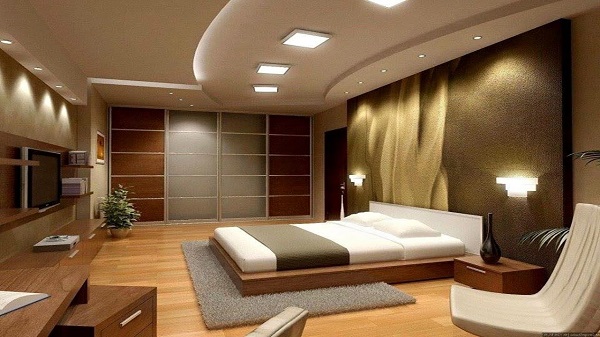 To help you identify the type of lighting appropriate for your home, let's examine the three basic types of lighting.
1. Ambient lighting
When an area in your home requires general illumination, consider installing ambient lighting. Rooms such as the entryway, living room or kitchen require evenly distributed sources of light, or ambient lighting, to provide overall illumination. This will create a comfortable level of brightness that enables movement and work to be done in a well-lit, safe environment.
While most rooms throughout your home may benefit from access to natural light, when dusk approaches, ensure adequate lighting is available.
Make an impact in your designated spaces with the right light fixtures. Consider installing a chandelier in the entryway to create a warm foyer space. Or introduce a combination of floor and table lamps to your living room to not only increase illumination but also its aesthetic appeal.
2. Accent lighting
Accent lighting is a brilliant way to add focus to any living space. Accent lights such as pendant lights provide focused illumination that fills the surrounding space and complements the room. Accent lights such as LED strips are best employed in spaces where space is limited, but functional, powerful lighting is required. This includes ceiling coves, vanity mirrors or closets, among many others.
Accent lights can also be an effective solution to enhance a room's aesthetic appeal. They can enhance or reinforce a style decision in your home, adding a unique quality to the space. Accent lighting can be stylish, creating a dynamic yet functional look.
You can also give your outdoor space a stylish upgrade with the addition of exterior fixtures. Outdoor LED lights are an energy-saving eco-friendly solution to help beautify your front yard and backyard. A well-lit walkway ensures safety for family and guests alike.
3. Task lighting
Be sure to install some task lighting in your home's working areas, such as the kitchen or office. Whether it's for reading, writing or cooking, focused lighting is paramount in ensuring you avoid eye strain with the wrong light fixture.
Task lighting should become an essential aspect of your home's interior design. Its ability to add brightness to spaces in conjunction with ambient light is crucial in performing routine tasks such as cooking, reading or studying.
In spaces like the bedroom or living room, consider installing a small lamp or reading light to improve visual perception and comfort. A light directly placed overhead may become reflective. If your desk space requires task lighting, opt for a small lamp with a soft LED light bulb to avoid glare on your computer screen or mobile device.
While your home lighting is an important interior design element, too often, it is overlooked. The wrong type of lighting installed in the wrong space diminishes the aesthetic appeal of your home and creates a dull or unwarranted light and color scheme to space.
More importantly, using the wrong lighting elements in a specific home space will make the area less functional and efficient. By using the right type of lighting and the right type of fixtures throughout your home, you make light work for you.
Illumination is important. The right type of lighting enhances the look and function of any area. It can work wonders in all parts of your home, imparting beauty and brightening up your space, making each room stylish, efficient and safe.
AUTHOR BIO
Ajay Awtaney is co-founder of Nakashi General Trading LLC, an electrical lighting company in Dubai catering to the needs of clients and projects requiring quality lighting products and solutions. Nakashi General Trading LLC today is an approved vendor of reputable organisations (Jumeirah, Engineering Office, Meraas, Musanadah and Thumbay, to name a few) for supplying lighting products.
SEARCH QUERIES:
how to light the outside of your house, interior lighting tips, how to eliminate shadows with lighting, lighting mistakes, overhead lighting, track lighting, ikea lighting,