With most of the work already becoming accomplished digitally, many people have the luxury of earning while in the comforts of their own home.
Whether you're working from home full-time or just need an area where you can finish up leftover tasks for the day, you should consider transforming that previously useless nook into a comfortable home office.
To start, here are six design ideas you can try that could help you build a place where you can make a living while optimizing the use of every available space in your home: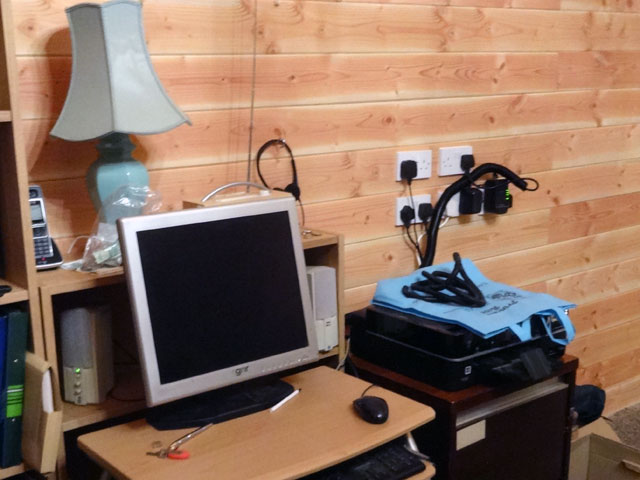 Float Your Desk
One feature that modern home offices have that seem to be becoming more common today floating shelves. Aside from serving as a storage or display area, these fixtures can also double as office tables or desks for people who only require a small space to set up their work equipment.
One great way to make a functional desk out of floating shelves place two separate planks adjacent to each other. You can do this in a tiny three-wall area that has been recessed to accommodate a display rack or bookshelf.
Make sure that each shelf is placed in a way that they form a 90-degree angle, with one side shorter than the other. You can also put one of the shelves is higher to create more elbow room.
Make Room Within a Room Using a Curtain
If you don't have recessed walls or unused corners that you can transform, you can also try to make room for a home workstation – literally. Simply carve out a nook to use as your home office by adding a curtain between the two spaces or in a single bigger room.
This clever use of fabric in interior design can help you maximize the available width of an area without occupying too much space, not to mention spending a hefty amount on building an additional wall. The best part is, it offers much-needed privacy by separating the work area from the rest of the room.
Create a Sit-and-Stand Workstation
Sitting all day is never a healthy practice, even if you're working. Fortunately, you can remedy this while maximizing unused spaces in your small home by creating a sit-and-stand workstation.
As the name suggests, this is an area where you can work while sitting or standing. Simply gather up your unused shelves and inexpensive wood and install them at chest-level to transform them into a bar-height desk. Then, get some bar stool where you can rest when your legs have already been stretched enough.
You can apply this trick to spaces like the hallways and nooks within your kitchen or bedroom
Create a Workspace Out of an Unused Closet
In residences like apartments, condos, and small houses with a limited floor area, every bit of space must be used – even that spare closet.
If you don't have as many clothes to fill an entire built-in closet, why not create a home office out of it instead?
To maximize the tiny space, you can choose between putting a low-profile desk with a narrow body or a hideaway desk with a wider surface. Any existing shelving along the upper or lower parts of the closet can also serve as space for your printer or books.
You can also put up wallpaper for your home office's walls. It shouldn't take much expense and effort to cover one whole wall considering the tiny size of the area of your closet-slash-workstation.
The best part about having your workspace within your closet is that you can easily close it up when you're done working.
Pick Your Furniture Wisely
Another way to make the room feel more spacious is by picking out pieces of furniture that don't take up too much of visual space. This essentially means that, when you look at the room, it mustn't look too cluttered to small because of too many bulky fixtures inside.
Tables or desks with glass tops can help you achieve this for your home office. Since they are transparent, they make the small nook seem less congested, creating an illusion of extra space.
Aside from that, you can also choose leggy pieces that don't have much visual heft. This applies to the two basic furnishings any workstation needs: a desk and a chair.
Also, you can try to limit the number of pieces you have and opt for multipurpose ones whenever possible. Aside from a comfortable office chair, you'll also need several storage spaces to keep your work materials nice and tidy. Ottomans can give you both for the price (and size) of only one furniture.

Mount Anything You Can
Mounting the TV is one way you can expand the moving room in your living room. Since they are attached to the wall, they take up vertical space, which frees up the floor for foot traffic or other essential fixtures that cannot be mounted.
You can also apply this idea to the home office you're carving out of a tiny nook. From shelves and hook storage spaces to fans and desks, you can have them mounted on the wall to give yourself more elbow room while you work.
Making Room for Work at Home
While it wasn't an ideal setup in the past, working from home has become more and more prevalent today. Since it is now possible to stay productive while avoiding traffic and being copped up in an office cubicle because of the Internet, you must keep up by setting up a dedicated workspace in your home.
Luckily, you can do this while maximizing the smallest nooks with the help of these clever interior design ideas.
AUTHOR BIO
James Prathap is one of the Directors of NGC Nafees, top importers and exporters of wallpapers, floorings and fabrics in India. The business also offers high-quality panoramics, coordinated fabrics, and creative stickers for residential and commercial projects.LinkedIn: https://ae.linkedin.com/in/james-prathap-5b089824