The workplace is a space where we spend almost half of our day and if it does not offer a welcoming and pleasing environment and giving a positive vibe then our work is also get affected.
This is the main reason why you need the best office design to make it comfortable for your employees. Interior designing and designers come to our solitude and help us in creating a place that reflects not our work but also assists in building a productive space.
Space where employers come and feel motivated, creative, innovative and intelligent. It is a good way to let the workers and yourself relaxed while trying to meet deadliest timelines and catching the pace.
However, when it comes to renovation and designing then several things play a role in it. Apart from the area and location, some other factors are equally important; things like the nature of the business and the work environment you want to set.
Whether you want to go with the corporate and formal theme or prefer a casual and funky environment; these factors play a huge role.
Added to this, it actually cannot be done with the one person's wishes and preferences or otherwise it can ruin the whole work and money that goes into it. To avoid this blooper to happen, start your office interior designing by looking at these important and much-needed factors: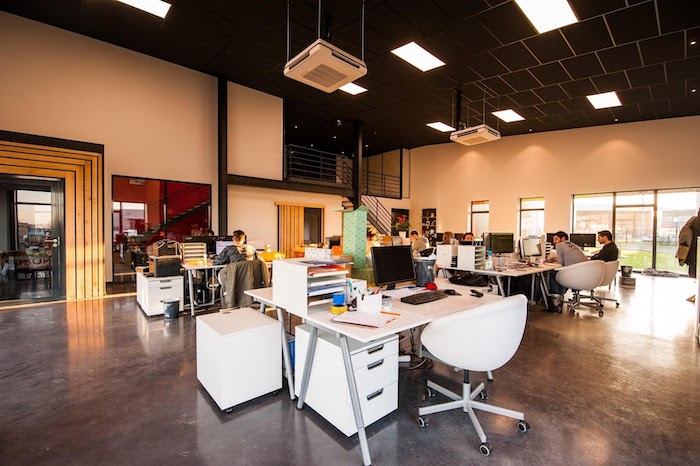 IT SHOULD BE ABLE TO REFLECT YOUR WORK
The workplace should reflect your profession, work and your attitude towards them. If you are not buying this point of view and think that a clean and reasonably equipped place is enough to let you and your workers move and motivate daily then try to think about it in another way.
Imagine your place as the most personal corner, now imagine what would you like to place there? What types of equipment and facilities you will be required to have so you can relax and work efficiently. You need to own your place and personalize it to the extent you feel comfortable.
In this way, you will be able to concentrate more on your work, because when your mind is relaxed and can connect with the surroundings it will automatically release a chemical that makes your brain productive and send the message that we are okay! We are secure!
Here is a little imagery. If you are a lawyer and own a law firm then refrain yourself from placing the statues that have been placed in all the law offices, if carpeted floor annoys you then there is no need to get it done but can be replaced with marble or even brick flooring.
If you do not like the signature color theme then try customizing your own and go with the colors that truly reflects your body of work, your idea of legal system, justice, and ideates your attitude towards system and world.
IT SHOULD BE WIDE AND OPEN
When you decide to build, buy or rent a place for your work then there is one thing that needs extra attention and that is the architecture and design of the building; either the building is a much closed appearance or has wide and open spaces.
Being wide and open does not necessarily mean that the place needs to have gardens, balconies, and galleries but it should have large windows and an interior setting that offers more space and free area.
So when the person comes in they feel relaxed and do not feel too occupied. To create such space, placing a full wall wide large glass windows is a great idea.
Additionally, instead of equipping the place with old Victorian and heavy furniture consider getting yourself a modern one. That does not take too much place and also offers more comfort.
QUALITY FURNITURE IS ESSENTIAL
Interior designing is not just about fitting in the beautiful pieces without considering the quality and use of that particular item. While the furnishing office is mindful of the fact that comfort is of utmost importance.
If you are having stylish furniture but not able to get comfortable then this is of no use. Therefore, make sure to buy the furniture that is comfortable yet stylish enough to mirror the office theme and culture.
LIGHT UP YOUR WORK PLACE
Lighting is important and if it has not been able to light up your place then it needs to be redone. Not just the electric light but daylight is also equally important to reach in. Having daylight can also save you from paying huge electricity bills.
Added to this, whether you are going for a luxurious dark theme or happy mood theme, you need the right colors of light tubes and bulbs to place in. They can change the whole vibe of any place and set the mood. Therefore, it should be done according to the theme.
GIVE SOME PRIVACY TO YOUR WORKERS
Try creating a place that offers space and privacy to all workers. Compartments are great but have you seen the new ideas. These settings can incorporate a large group of people in small areas and make room for private places to be stationed in some corners.
Having long tables and shelves are a good idea. They not only help in gathering the team at one table but also strengthens the good and healthy environment.
In this way, you will be able to get more open and free space. Space where you can easily build a private corner or resting room so anyone can have some relief during work.
PLACE SOME FUN GAMES
If you want to build a good and healthy environment in your office then try placing some fun games in between. It will not only boost the energy of you and your workers but also accentuate the theme of your office, make it more classy and vibrant.
Having table tennis beside the workstation can give hope to the worker that he/she can have fun and take a rest in between.
Moreover, PlayStations is also another great fun and can add extra fun to the office environment. Apart from games, one should definitely place a screen in all rooms of the offices. So in the times of world cup, no one has to open another tab just to keep informed and felt the need to curse their life and job while doing it.
CONCLUSION
Designing an office is a fun job; especially if you are doing it for yourself. And also a life-changing experience. Because it means you are established enough that you can make and open an office of your own. Therefore it should be done according to yourself, according to the way you are handling your career.
But also should be considerate about others' needs. As now you have the opportunity to bring change in other's life and you can do it by following these tips and tricks. And this will be the best interior design of any office.