There is an undeniable charm to old homes. Historic or retro houses come with decades of personality and memories. Plus, by purchasing an older home, you can often score a deal on a property in a prime location.
There are many pros to buying an older house, but there is one downside. Usually, older homes are missing many of the modern touches and conveniences that buyers want.
To combine the charm of an old house with modern style and convenience, you may need to make a few upgrades and tackle a few DIY projects.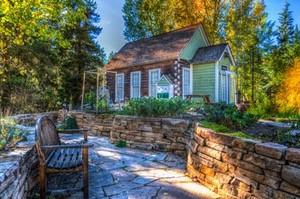 Install Smart Home Devices
Do you love the idea of seeing who is ringing your doorbell without running down all the ways downstairs? Wouldn't it be nice on a winter night to come home to a house that is perfectly warm, with welcoming porch lights turned on?
Smart home devices, such as smart plugs, doorbells and security cameras, and thermostats, can add convenience to an older home. Best of all, most of these devices are easy to install and are perfect for a high-tech DIY project.
Create a custom-designed kitchen
The kitchen may be the most important room in the home. Over the years, you will spend a great deal of time in this one room cooking family meals, baking holiday treats, packing lunches, sipping wine with friends, and talking about the day's events. Sadly, many old houses come with lack-luster kitchens.
From poorly-designed arrangements to faded countertops and sagging cabinet doors, an outdated kitchen is a letdown.
A custom-designed kitchen, as seen on https://kbdcolorado.com/, can help make the most of the available space. Plus, new countertops in granite, quartz, or soapstone brings in a welcome touch of modern style that can be the perfect contrast in a historic house.
Create a light, airy feel
Modern homes embrace natural light and rooms that feel light and bright. Unfortunately, most older homes don't feature open floor plans.
Lots of small rooms can lead to a home that feels closed in and claustrophobic. But there are plenty of décor tricks that can give an older home a light, airy feel. Skip the dark wall colors and paint rooms in white, cream, soft blues, and pale lavender.
Remove heavy curtains and opt for sheer window coverings and blinds that stay open during the day. It's also a good idea to keep accessories minimal and choose furniture in lightweight fabrics.
Don't overlook the outdoor space
Who doesn't love an evening spent around a firepit or a backyard cookout? Many older homes come with perfectly manicured lawns and flower beds, but not much in terms of outdoor living.
A few quick budget-friendly DIY projects can give you an outdoor room that will increase your living space and add value to your home. The simplest approach is to add a porch swing, some cozy chairs, and a plush rug to an existing patio.
For a bit more in-depth project, select a place on your lawn to install a flagstone floor. Then, add a pre-built fire pit, bring in comfortable chairs and string fairy lights into a nearby tree or add solar lights to the area.  The result in an outdoor living space that feels fresh and modern, but still coordinates with an older home.