Is organizing your kitchen a bane for you?

Are you finding it hard to stack up your kitchen tools, pans, and pots?

Well, most ladies do! A kitchen is the most used and loved area of any house. But so many utensils, half-filled jars, jumbled cutlery and many other things make it look messy.

The situation can become worst if you have utensils like pots and pans of different shapes and sizes.

But there's a solution!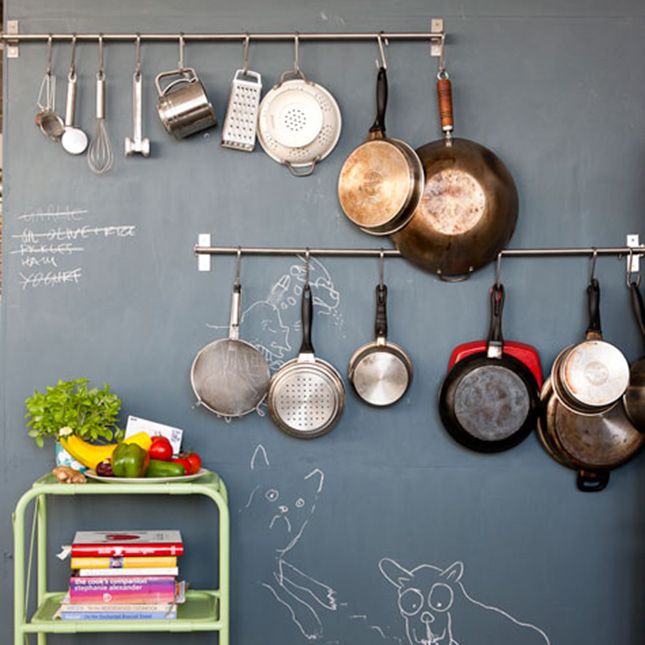 Here are some creative and effective ways you can use to organize pots and pans without hampering your pocket:
Use Pegboard:
Do you have an empty wall in the kitchen? Why not using it? Get a peg board and hang everything on it. Use hooks to dangle pots and pans so that they will be easily accessible to you. Aluminum pots or copper pans are quite ductile; they easily get dent when placed in close and low-space shelves. However, to avoid it, put them on walls. You can even use long rod-like hooks to hang lids on the pots.
Is the pegboard not complementing your kitchen interiors? Spray some paint or use a high-gloss paint to get the flatter finish.
Ceilings are the Best:
You cannot place plates and other cutlery on the roofs; however, you can use them to hang pots. Create a DIY surface with the ceiling and hook the pots on it. You can also use rods or designer hooks to make the design look more appealing. This will also give your kitchen a rustic look and will also make more room in cabinets for other dishes, food, and kitchenware.
Divide the Drawers:
Add separate columns in the drawer of about 1/4 inch. You can use plywood or cardboard to add more space. Make sure to create deep cubbies; this will help you keep lids and will make good space for broad pans.  You can also go for the pots of high quality, however, if you don't know how to buy look for the copperpans.reviews.com to know which would be best for you.
Hang A Vintage Type Ladder:
How about shopping for a unique kitchen organizer at an antique shop? Why not! Get a plane ladder and give it a new look.  Hang them on the ceiling and add some hooks and wolla! A new and revamped look for organizing pots is ready.  Give the ladder a unique twist by painting it with bright paint or coating it with a decorative paper.
Organize Pots by Utility:
If you are putting things on shelves or in cabinets, organize by its usage. Keep pans that you use more often in the front while the other at the back. This will help you load and unload utensils with ease. If you're in doubt and need to shop for sufficient kitchen utensils for a wholesome look, you should consider these popular pots and pans for $100
Open Shelves:
If you want to showcase your antique cookware, put them on open shelves and make it accessible. Pots placed on open shelves are easily accessible and are visible. Not only offer huge space to keep everything, but they can also be sized in different shapes to add more room for utensils. So stack your pots on it and showcase everything.
Use Sides of Cabinets:
Don't let the cabinet's side vacant, use them to hang pots. Place some hooks or tension rod and put everything on it. Place lids as well above the pots or make use of lid rack and place it on shelve.
Open Racks can also Solve The Purpose:
If you don't want to add shelves to the kitchen specifically, open racks are the best. They are portable, handy and are stylish as well.  Plus, it is spacious, and you can keep them anywhere.
So, those were some of the most useful tips! Use them and make use of space effectively.