These days, open living space is in high demand—and this trend doesn't appear to be going away anytime soon. In most open-concept floor plans, the kitchen space opens up to a family room and/or dining area via a large kitchen island or peninsula. Kitchen islands provide a great transition between these separate yet interconnected spaces, but not all islands are created equal. In fact, there are many considerations and factors that must go into the design and creation of a "perfect," functional kitchen island.
Ample Seating & Gathering Space
While seating isn't absolutely required in order for a space to be considered an island, this is becoming an increasingly common expectation among home buyers. Not to mention, having space for seating around a kitchen island helps to improve the overall functionality of the space. Generally, there should be room for at least two full-sized bar stools to be set up around a kitchen island, with the ideal height of an island counter top being right around 42 inches. For islands that will have seating, a counter top overhang of about 1.5 feet will allow for barstools or chairs to be nicely tucked away when not in use.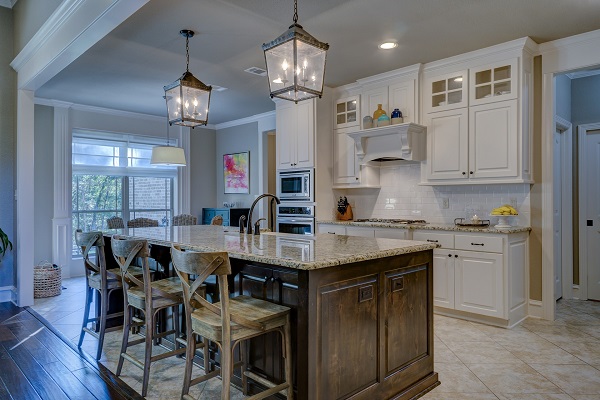 Ambient Overhead Lighting
Carefully selected overhead lighting is also a must in the design of any kitchen island space. For a budget-friendly option, recessed or track lighting is a good choice. In recent years, however, pendant lighting has become increasingly popular in use above kitchen islands and is a great way to add a focal point to the space. Allow homeowners to switch between ambient mood lighting and task lighting by installing overhead island lights on a dimmer for added functionality.
Durable Counter Material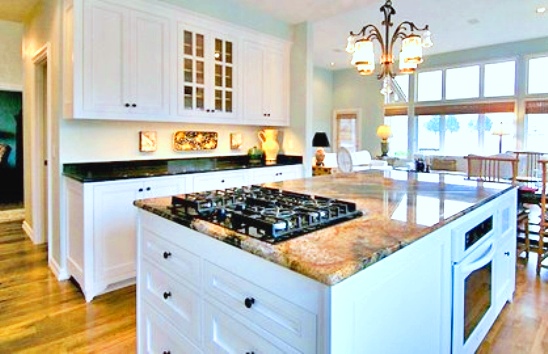 When deciding on the specific material to be used for an island counter top, there are a few considerations that need to be kept in mind. For starters, think about how the island will be primarily used. Will it be used mainly as a prep space? If so, then using a durable material such as man-made quartz or natural stone is a must. Often times, designers and homeowners will opt to use the same counter top material throughout the entire kitchen, but in recent years, it has become trendy to select a different material altogether for the kitchen island. So long as the material will work with the use of the space and is complementary to the rest of the counter tops, you really can't go wrong here.
Waterfall Islands
If you're looking to make your island the focal point of your kitchen, you might want to lean towards something more trendy, like a waterfall island. This is when the stone countertop wraps around the sides of the island going all the way down to the floor. Because wood is softer, it can easily get nicked. But by using the right type of stone, your surface material will be more durable, and it also provides a clean, modern aesthetic which is highly desirable.
Clever and Convenient Storage
Last but not least, the ideal kitchen island features ample storage space and unique solutions that optimize overall kitchen storage. Standard cabinets and drawers built directly into a kitchen island are popular, though for those who want to put things on display, open shelving has also become increasingly popular. For those using their islands primarily as a prep space, features such as a pull-out cutting board or retractable trash bin can be especially convenient.
A great deal of care and planning must go into designing the perfect kitchen island, but these are just a few of the key components that today's most functional islands tend to have in common! Those looking for durable stone material for a kitchen island counter top should contact Connecticut Stone for all their needs!
Post Credits
https://www.connecticutstone.com/contact/