You know it yourself too and must have also read it everywhere that the kitchen is one of the busiest places in the house. Hence, when it comes to upgrading the looks, you try to be careful even though it means implementing a few changes. After all, you cannot take risks with the functionality of this space that is constituted together by all the individual elements.
When you talk about this, you can suddenly remember the kitchen faucet and your dependence on it. To be in the kitchen means making multiple rounds to this appliance for a diverse range of small and heavy tasks.
Whether you need to rinse your hands, or vegetables and fruits, or utensils, you need to access this feature.
Considering all this, it makes sense to select something that goes with your habits and behavior. At the same time, it has to have a certain level of appeal to match your kitchen atmosphere's vibe to avoid looking a fish out of water.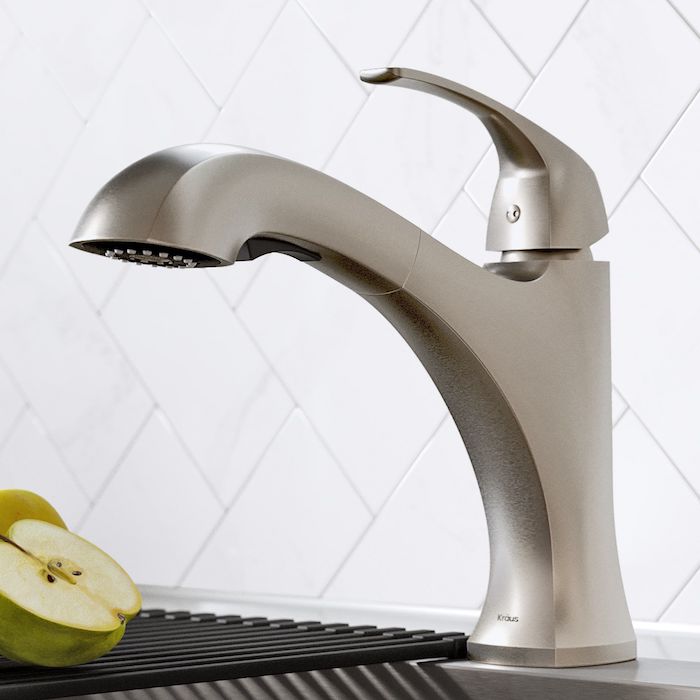 Interior experts suggest that most of your worries can disappear into thin air when you pay heed to your style of working in the kitchen.
For instance, if you are accustomed to using a spray head to reach out to your desired location, such as a pan or a corner in your sink, you need to get a well-designed pull out kitchen faucet. If the spout height is right or decent, it can be further advantageous.
Many designers also emphasize the aesthetic construction of the faucet. They believe that coordinating the finish of your plumbing with the lighting can be an ideal way to create the right mix of emotions in your cooking area.
However, it doesn't imply you should restrict your choices. For the love of eclectic decorations, you can explore varieties. Anyway, it is up to you to decide.
If you like to play safe, you can check a Kraus pull out kitchen faucet in spot-free stainless steel finish.
Stainless steel forms a common sight in every kitchen in the form of daily use appliances. Hence, introducing a faucet in this type of body should not be a challenge.
And the modern architecture of this feature can give you enough confidence to add it to your thoughtfully curated culinary zone.
In essence, you can go after stainless steel pull out faucet for your kitchen without any hesitation, and there are various supporting reasons for the same.
Selecting a pull out kitchen faucet
Do you love cooking? Whether or not you are a chef, you will appreciate a faucet design with rinsing sprays that can turn your sink into a multifunctional space. And for this matter, you can enjoy the pull out feature the most.
The dual water flow function of the single-handle pull out taps tends to be a significant highlight. It is also the need for a modern kitchen. You can clean salad leaves and fruits hassle-free.
Simultaneously, filling water in large pots and pans doesn't feel like a task due to this characteristic. The choice of two sprays solves many problems. You can switch to aerated stream for water filling and spray mode for stubborn cleaning jobs.
The pull out faucets come with a switch that helps you change from full spray to regular stream conveniently. Many designs offer a reach of eight inches or more, due to which you can take the sprayer to any corner of your sink.
It will not be wrong to say that if you expect something to be enduring and highly functional, you can trust pull out tap models to perform on both fronts.
Some companies equip these models with nylon hose to ensure optimum flexibility for use.
Nylon hoses are an everyday material for their compressive strength, tenseness, and robustness; you can extend them easily to complete your task.
Its mechanical construction is such that it can serve you even after repeated bending for a long time. That's why some reputable companies repose their faith in this choice.
When you have to access sprayer, you can detach spout from the docking station and put it back after use without any difficulty.
Besides, to indulge in the long-lived charm of L-shaped or U-shaped spouts, you can again fall back on the pull out versions. With aerators and spot free stainless steel finish, the pull out faucets in your kitchen can take care of your varying needs.
Points to remember when shopping pull out faucets
A single-lever pull out faucet with a high spout isn't just a functional but a beautiful piece. It can go with any style of the sink with ease.
Plus, no matter what your interior theme is, you can trust this to elevate it a bit more by synchronizing. However, anything needs proper care and maintenance for its long life.
When you make it a part of your kitchen, please don't ignore it and keep it clean so that its parts don't decay or deteriorate. Some brands make sure that their taps are made of high-quality material to sort out common issues with them.
In this endeavor, you can see them using a spot-free stainless steel body in many of these designs. This surface doesn't let any water spot or fingerprint to settle on it.
If you have many members in your house, including kids, you can find it particularly useful for your needs.
Another thing is many companies make these products nowadays for their sheer popularity with people. If you want to enjoy your purchase, you have to choose a celebrated brand.
A famous brand usually provides topnotch items with rich features to keep its customers satisfied.
So, what are you planning to do? If you don't want to go for a full-scale kitchen makeover for the hassle, opt for small and easy changes, such as faucet replacement.
It not only increases the efficiency of a cooking area but also contributes to its overall interior appeal. It can no doubt be one of your most budget-friendly and smart revamping efforts to date.