It is depressingly easy for your garage to get overly cluttered with all of your bikes, toys, garbage, yard equipment, construction materials, tools, and so on. This spring, it's time to finally re-organize your garage to get rid of everything that's unnecessary and put in place an easy-to-use storage system. If done right, you can pretty much permanently solve your garage's tidiness problem. Here are four tips on how to get your garage organized.
Clear Out the Clutter
The first step to re-organizing your garage is to take out every single thing in your garage and sort it into three groups:
What you want to keep in the garage

What you want to keep but store somewhere else

What you want to get rid of
Once you've organized everything, you can sell, donate, or throw out everything you want to get rid of and move out what you want to store somewhere else in your home. For those things you want to keep in your garage, move them outside temporarily while you set up the inside of the garage to more efficiently organize everything.
Install a Wall Storage System
When you are organizing your garage you'll want to keep things off the floor as much as possible, and one of the most efficient ways of doing this in a garage is with some kind of wall storage system. The two most popular types are pegboards and slat walls. Pegboards are cheap and easily available at any hardware store, and they work best for hanging lighter things in whatever arrangement you want.
Slat walls come in a variety of materials and work similar to pegboards, but can hold much heavier things. You can customize it with whatever arrangements of hooks, shelves, bins, and even full cabinets you want. Both wall storage systems make it easy to adjust your storage on the go so you can stay on top of your garage organization.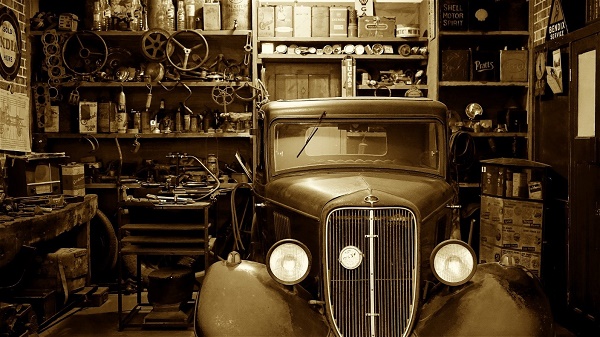 Use Open Shelving Units
For holding a bunch of little bits and bobs in your garage, you might prefer a simple shelving unit. A cabinet with lockable doors might be better for securing hazardous materials, but in any other circumstance it's much cheaper and easier to use open shelving. You can adjust the height of the shelves as you want, and use bins to organize different groups of things together to make it easier to find them.
You can buy open shelves at any home organization or hardware store, or if you're handy you can even build a shelving unit yourself out of spare materials. If you want to make it easier to move and clean things, it's a good idea to buy or build the shelves with wheels.
Build Storage Racks Above Garage Door
For things like ladders, skis, spare wood, and anything else you have in your garage that is large and long, it can be difficult to make a convenient space to store them. That's why overhead racks are so popular — you can buy or build them so they hang down from the ceiling, but above the garage door when it opens. It is a perfect way to get large and long items out of the way and use that overhead space to clear up the clutter from the walls and floor of the rest of the garage.
Author Bio:
This is a guest post from Neb Aleksic. Neb is the Sales Manager at Doorcare, a company specializing in home and property improvement projects. He is an expert when it comes to residential garage doors and commercial overhead doors, dock levelers, automatic gates and accessories. Connect with Neb on Twitter.