Let's face it: a kitchen is one of the most important parts of a home. It's where you are responsible for the food that your family eats, and for many families, it can also ending up being a social hub as well, whether it's a family reunion getting together to cook a special dish or simply close friends enjoying their favourite foods together.

However, sometimes, it can be overwhelming deciding on kitchen design choices with all of the options out there. You might be torn between specific designs and styles, and finding the right decor to express and embody your style. You might have decided on a material, but are unsure about a cabinet maker, for example.
Regardless, there is one thing to remember: in many ways, your cabinet will define your entire kitchen. No matter your home or style, it's important to make that decision first, because it can often set the tone for the rest of your kitchen. In fact, there are many resources if you are interested in finding out more about how to make your kitchen the best it could possibly be.

Small Adjustments

Accent Wall

One obvious option to highlight your kitchen in a new and refreshing way is to pick one wall and paint it a new colour. While it might sound like a small adjustment, you'd be surprised as to how it can change the entire "vibe" of the kitchen.
Whether you are trying to brighten up your kitchen with a bold yellow or red, or want to cool it down with a blue or purple – an accent wall can be an affordable but effective way to make your kitchen seem brand new. It's also a great and subtle way to add personality to your kitchen without any major changes.

New Lighting

No matter where you go today, whether it's new supermarkets, restaurants, or nightclubs – there is a lot more focus on the lighting, and it isn't without an accident. The right lighting can make a place feel newer, and the same logic goes for your kitchen. Whether you want to go for a homey lantern light or a sleek new pendant light – this is a great way to update your kitchen. It might seem small, but it can be quite effective.

Rug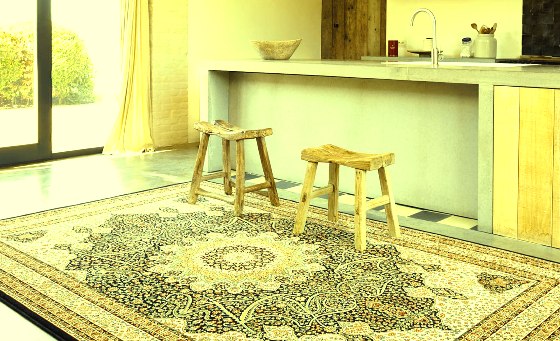 It might sound very simple, and you might not think about rugs since they aren't "eye level", but the right rug can truly become a centrepiece or even a conversational piece for a kitchen. Of course, it doesn't necessarily have to be that divisive. However, whatever you are trying to accomplish, a rug can help. If you are simply trying to make your kitchen homier, a rug can work. Want your kitchen to appear more sophisticated? An elegant rug can work for that, too.

Adding Ambience

Counters

There are ways to cover counters to make them much more attractive. Of course, while you do need some counter space in terms of cooking and preparation, often times, they are basically unused spaces that could "pop out" a little more if you wanted them to.
Some obvious options include plants if you are a fan of those, or books if you are more of an intellectual. Of course, there are more obvious options such as cutting boards. You can find some modern cutting boards to impress your future guests, as well, and it might make all the difference. Regardless, use your counters to impress!

Wood

The truth is that the right wood can really change a kitchen tremendously. It might not be the first aspect of a kitchen that many notices, but some would argue that it is one of the most important factors in a kitchen. For example, the right mahogany can make a kitchen appear extremely elegant, which could help create a more memorable formal social gathering, for example.
Others might prefer options such as walnut or ebony, for example. Regardless, there is no doubt that there are many decisions to make with regards to the right wood for your kitchen. There is always room to learn more about wood and how it can be used to spruce up your kitchen. The right wood can go a long way!

Appliances

It actually doesn't take much to create ambience through appliances. If you think about it, there are so many products out there that have customizable colours. If you choose to get kitchen utensils in a specific colour, it might be interesting, but imagine if all of your appliances had an interesting hue to it.
For example, if you have a bright red toaster, that also matches some nearby flowers in the kitchen. You might also purchase a turquoise blender that matches some plants that are strategically placed nearby, as well. For those who want to take it to a whole different level, you can consider the colours of your refrigerator and oven, as well.

Larger Decisions

Countertop

For those who want to go a little further – you can also replace the countertop. Of course, this might be a larger and more expensive decision, but it's important to point out that it can be an affordable one, too. There's nothing stopping you from finding a great laminate to help change the way your kitchen looks, for a welcome change.
New Cabinets

As mentioned before, on some level, cabinets do really define your kitchen. You ultimately have to store food for your family in your kitchen, and cabinets do this for you – so there's no reason why it shouldn't look as great as possible! There are all sorts of options to make your cabinets better, and you can find out more about these possibilities all over the Internet.

It's Your World

There is absolutely no denying that a kitchen can be overwhelming, but that doesn't mean that you can't take small steps every day to improve your kitchen and help it match your needs and style. If you break down the overall aesthetic into meaningful and manageable goals, it might help. Either way, reinventing your kitchen doesn't need to be too expensive or too much work!