Finding the perfect countertop for the kitchen is not an easy task because there are too many options in the market. For instance, homeowners can find marble, granite, quartz, and wood just to name a few. Even though some of these options are not extremely expensive, a more affordable alternative is stone coat epoxy countertops.
Using a stone coat, epoxy countertops are the perfect alternative for all those homeowners that want to renovate their kitchen with a limited amount of money. The next part about this surface is that it is stylish and easy to clean. Plus, this can be your next one for all those who like to do little projects around the house.
Even though this sounds like a perfect option for any household, it is crucial to look at its characteristics before making a decision. That's why we will talk about some features on the surface here. Then, we will do a complete list of stone coat countertops reviews for 2022.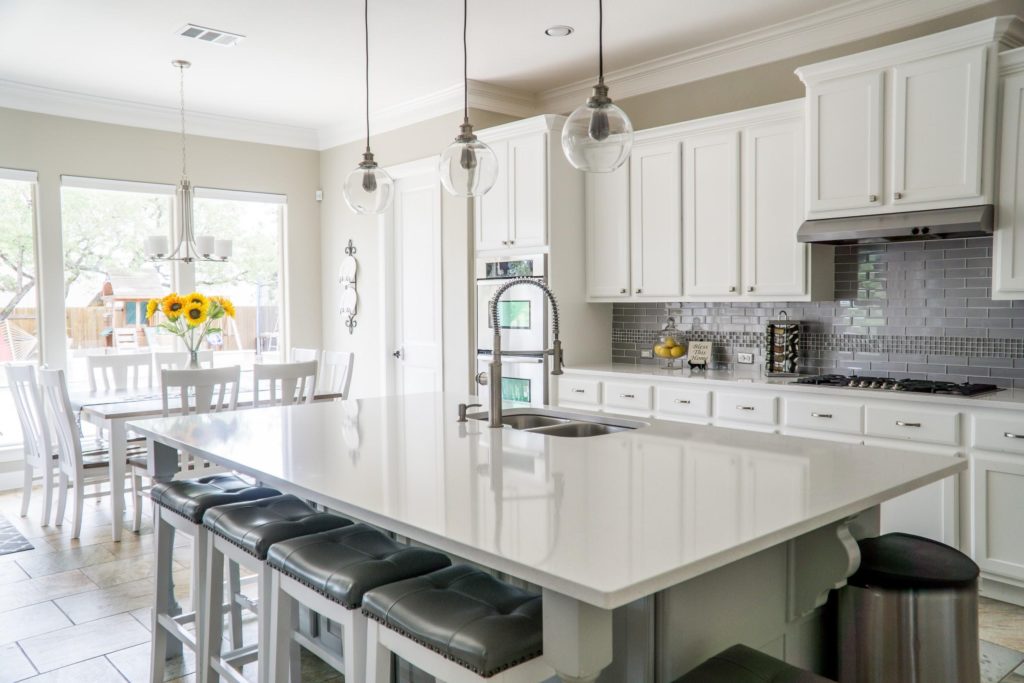 Stone Coat Epoxy Countertops
As its name explains, this surface is a countertop with an epoxy coat. This material is a resin combined with hardener, which comes in liquid form, but after it is poured into the counter, the consistency changes. Since the epoxy needs to be applied by hand, there is no way to purchase slabs of it and install them in the kitchen.
The process of creating these countertops is long and can be extremely messy. But, it will be worth it in the end. If homeowners are going to try this option, we recommend doing it during the weekend since it is necessary to clear the whole kitchen area and let the epoxy dry.
Characteristics Of Epoxy Countertops
For homeowners still trying to decide whether stone coat countertops, marble, or wood are ideal for their kitchen. Here is a list of some of the benefits that this surface can bring to the home.
Low price
This is one of the biggest benefits of epoxy countertops since they won't add costs to the homeowner's budget. Plus, saving a bit of money on this element will allow people to purchase other things such as better flooring or decor. Remember that even though the investment is low, this surface will last for a long time.
Avoid replacement
Even though many homeowners have great marble countertops over time, these can start looking outdated. However, instead of throwing away a quality product, why not upgrade it? Epoxy can give any surface a shiny and timeless finish. Plus, for all those that are looking for a change of style, this material also comes with different pigments.
Installation
We know that professionals need to install some surfaces, such as quartz. Otherwise, the countertops could easily break. Well, that is not the case with stone coat countertops marble. Homeowners can easily transport the epoxy home and perform the process alone. But, a little warning, it can be difficult to succeed the first time with a large surface. Therefore, it is better to first practice it out with some remnants.
Easy repairs
One favorite thing about stone coat countertops, wood or marble, is not their timeless look but how easy it is to repair them. Even though this material is heat resistant, it can get damaged when cutting over it. If this happens, the mark is going to be easy to notice. But there is no need to panic. This is easy to repair.
If homeowners want to learn a bit more about this alternative, visit this site. But, now after going over the main features of this surface, it is time to take a look at the list of stone coat countertops reviews for this year.
Stone coat countertops reviews for 2022
This section will talk about a couple of surfaces that can be upgraded using epoxy.
Stone coat countertops marble
From all the stone coat surfaces, this is definitely the best one. Marble itself is an incredible natural stone that will give a timeless look to any kitchen. Plus, it is a surface that will last for many years. However, after some time, homeowners might want to try something different. In this case, epoxy will be a perfect choice.
Many homeowners prefer clear epoxy because, in the end, it highlights the natural surface beneath. But for all those adventurous people, try the same material with a special pigment.
Stone coat countertops wood
All butcher block countertops are the best choice for a traditional kitchen or elegant designs. But for a modern kitchen, it needs an extra push. The wood itself is a material that has been highly popular for many years because of the warm environment that it creates in the kitchen. Plus, there are several types of tones and textures to choose from.
We always recommend choosing the clear version of epoxy for all stone coat countertops wood. Why? Because wood already has a lot of texture, adding more with a pigment will make the kitchen feel crowded.
Stone coat countertops granite
The last review on our list is granite countertops upgraded with epoxy. The fan-favorite granite has been on the market since the beginning, and its popularity has not decreased. Granite is a surface that can be found in most homes because it is a cost-effective and one-of-a-kind option.
The surface may wear away over time, but a new epoxy layer will do the task.
Remember that while applying the epoxy to the countertop, it is important to protect the floor and store all the appliances safely. Plus, it is crucial to let it dry before touching it.
Conclusion
In this article, we have talked about the key features of stone coat countertops and gone through its review for 2022. Overall, we could see that epoxy is the best material to perform a surface upgrade, and it can work well with the majority of stones.