While it seems like yesterday when we ushered the New Year, it is never too late for a total renovation or just adding a splash of newness to your home. Here are some of the trendiest home décor tips for 2017.
1. Vanity Conversions

Sometimes, the old things around your home, coupled with a few alterations here and they create the perfect vanity pieces. This includes; the chest of drawers, vintage consoles, old file cabinets and more. You can convert any of them into trendy one of kind vanities.
2. Different Shades of White





A room bathed in various shades of white is refreshing. Avoid using one shade as this makes a room look clinical. Try balancing white with creamy off-whites and natural linen hues. This will give your room character.
3. Satin Brass

Brass finishes are cherished for the bright, shiny, golden tones it brings to space. However, satin brass that is more muted and warm being adopted this year. It is preferred because it complements a variety of styles and colors. To give it an electric look, mix it up with other finishes.
4. Rugs Are the New Art







Rugs are now being used in place of art. They make the same impact for half the effort. They come in a variety of styles, color, textures, and sizes. Play around with different types of rags to make your floors pop.
5. Cork and Raw Textures

Cork has made a comeback in 2017 since the 70s. Cork is a stylish natural material that adds warmth and texture to spaces. Additionally, a cork wall is not only visually compelling, but it effectively blocks out sounds from the outside world. For an added edginess in your room, choose a simple color palette to bring about all the textural elements of your walls. Also, mix up fabrics and materials, wall treatment and art to adopt the textural element. Think pleats and folds, large stitches and chunky wool.
6. Upholstered Headboards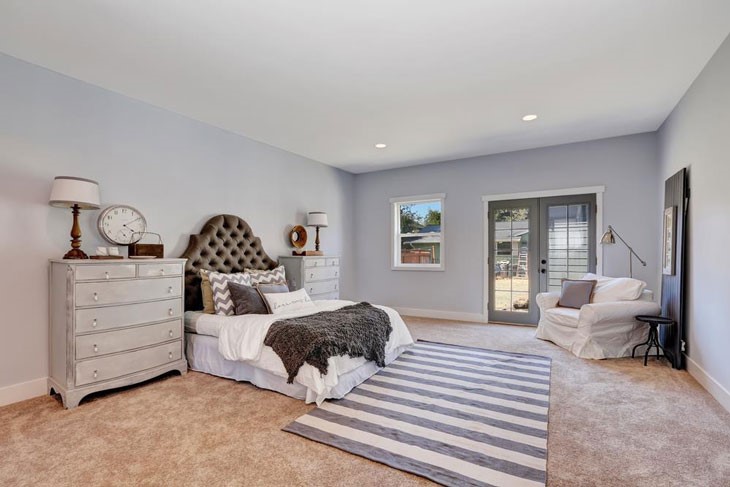 The bed is the most conforming piece of furniture in any household. The upholstered bed is now all the rage this year. A chic and sophisticated upholstered headboard tapes a room together. Upholstered headboards come in a variety of colors and fabric. They give your room a luxurious, cozy feel.
7. Natural Wood Cabinetry and Furniture

In the past year, painted furniture and cabinets have been trending. However, 2017 is more inclined towards raw, unfinished furniture that is lightly stained. Ensure the texture of your furniture is also wood grain.
8. Wall Mounted Shelving

Wall mounting shelves give you an array of designs to choose from. A traditional bookcase is highly recommended since it gives a more defined design or you may opt for a more edgy or hipper vibe.
9. Bohemian Bedroom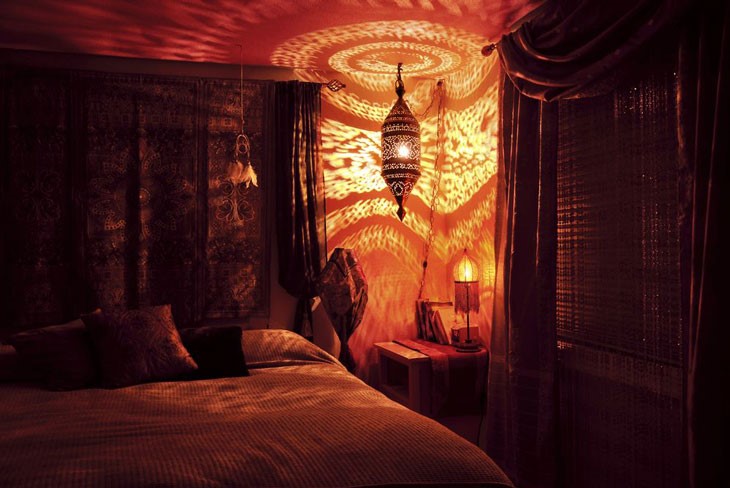 Since 2017 has taken the nature trend, a few plants, colorful textiles, and the best bamboo sheets will bring out the bohemian look you want. Boho is all about random patterns and designs and mismatched colors that are supposed to pop up on the walls, furniture, and bed sheets
10. Dark Green Paint

Green is a lively, organic and vibrant color. This year, there have been tones of green pop-ups in kitchens, on larger upholstered pieces of furniture and even in small doses such as antiques and accessories. Feature green heavily into your room. Layer it intensely in saturated colors like dark green. This will furnish your room with a fresh and light touch.
Conclusion

2017 is more inclined towards earthy, artistic, handmade, creative pieces and accents. Whatever trend you pick up, try to save up as much space by looking for multipurpose items such as chairs, and appliances to maximize the space you have. Finally, remember that trends come and go. Therefore, fill your home with beautiful, classy pieces that are meaningful and significant to you. Learn the essence of quality over quantity.