Our bedroom is always our last resort after all the busy schedules and hectic routines. No matter how much we are working, or much we get tired after day long work, we return to the one, and only peaceful place and that is our "Bedroom." Scientific the fact that humans use almost 1/3rd part of their lives sleeping makes the importance of bedroom manifold.
With such an essential role in the bedroom in our lives, we should also take some time to keep our bedroom neat clean and an ideal place to rest and sleep. In our busy life schedules, we hardly find time for relaxing and leisure, but the fact is that it is equally important as our job work or business. We need to focus on making a bedroom more and more peaceful and comfortable so that when we are back after day's work, we can find a cozy place to make ourselves at comfort and ease.
You can find simple and inexpensive ways to organize and revamp your bedroom. Let us check some useful tips and tricks to help you give your bedroom a fresh look and comfortable feel with very little expense.
Clean and de-clutter your bedroom
The first thing to be done is to clean your room. Try to get everything off its place and wash the area thoroughly. Try to filter the things out and decide which things you need to keep and which you want to get rid of. Any items you need to replace the need to be phased out during cleaning so that you have room for new things to be placed.
Books, paintings, and furniture, electronics which you are thinking about replacing should be separated from rest of the stuff. You should clean the things you want to keep and try to get the bed sheets and curtains washed/dry-cleaned.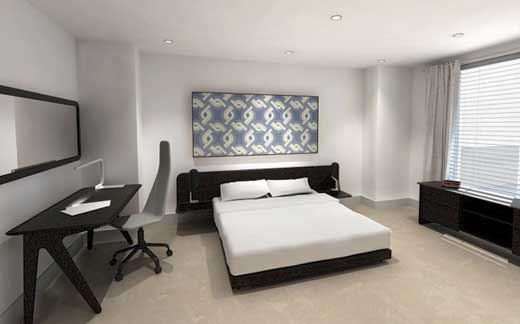 Set a budget and make a list of possible changes
After that you have cleaned your room, make a list of possible changes you want to make and set a budget for those things. If you are tight in the budget, then you should consider making the changes which have the most significant effect on remodeling but cost you the least such as lighting or the wallpapers etc. Whereas if you can have the budget a bit relaxed than you can afford to make significant changes such as adding some new furniture, wardrobe, bookshelf or a bed.
A careful working on the budget and necessary changes will help you finalize the things while remaining within your finances.
If you are feeling that it will be difficult for you to spend more on remodeling your bedroom that it's better to staying within your budget and trying to use the existing items after a re-arrangement, re-painting or a repair if necessary. You should try a new bedroom setting by re-arranging the items. This will be an excellent way to add a new look without much expense.
Another perfect way can be if you can exchange some of your room items with items from other rooms which have a slightly different design or look, that will be a perfect way of remodeling within a tight budget. You can ask your parents, grandparents, brother or sister to check if they can exchange some items with your room such as a bookshelf, a wardrobe, study table, etc. This way you will be able to get the things done without disturbing them plus they too will have a new look added to their rooms.
One of the most important things is to check for a new theme for your room and try to get things as per the chosen theme. New lighting, wallpaper, bed linens, pillows, lamps, and curtains should be selected as per the theme for a new and fresh bedroom look.
You can check some online stores for linen, curtains, and pillows. Or you can also read these pillow reviews  to get some good and economical stuff. You can also compare the prices online for different available options and check to see if there are some items on sale which you are having on your list.
Shopping for the necessary items
After you have taken steps to get the things done without any expense for your bedroom renovation, check for the remaining items which are necessary to be purchased. You may need to make a list and add or drop items depending upon its priority and your budget. Make sure to buy things which are necessary and will be making a considerable contribution towards a new look of your bedroom.
You may check online for the best deals and compare the prices of desired items or visit the nearest market for purchase.
These 5 tips which we have compiled after thorough research are definitely going to help you in remodeling your bedroom and giving it a brand-new look while keeping your budget to a minimum. You can also check for some flash sale items or consider buying some mildly used furniture on reasonable price if you like.