Remodeling your kitchen is an exciting time. You get to decide where all the kitchen units go, what they look like and even whether to have custom made ones or not. Every step of the process is controlled by you.
But, if you've decided to order custom kitchen cabinets from a reputable supplier such as sjd.com.au; then you may feel that it is better and cheaper for you to fit them yourself.
If you decide to install your own custom kitchen cabinets then you need to understand the correct process to ensure they are installed properly.
Even if you don't intend to fit the kitchen cabinets it is worth knowing what is involved:
Measure The Walls
You should have done this before you started planning your kitchen; after all you need to know what size the space is.
It is a good idea to measure it again and draw a line where each unit should go.
Get A Stud Locator
A stud locator can be passed across your wall and it will beep to tell you that it has found one of the studs. This is important as you need to secure your cabinets to these studs.
Mark where they are on your wall.
Marking The Wall
The next step is to draw a line round your kitchen which represents the height of your units. You'll need to make sure the line is level by using a spirit level.
If you're hanging wall units then you need to allow for the worktop and a gap of approximately 18 inches for the splash back. You can then draw a line which represents the bottom of the wall units.
Plumbing & Electrics
You need to note where this is and even move it if necessary before you can install the cabinets. You'll only need to move it if you have changed the position of any of your appliances.
It is advisable to get professional help with this.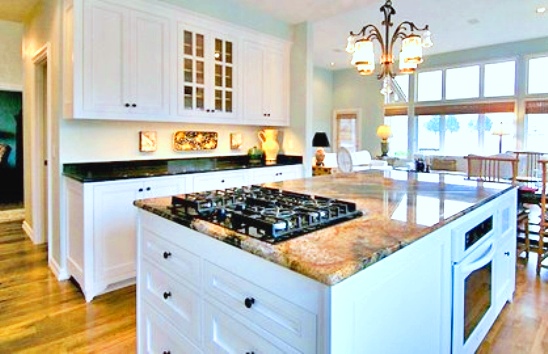 Put The Cabinets In Place
You now need to verify that all the cabinets are the right size. Move them all into position to ensure everything is where you want and need it to be.
Once you are happy this is the case you'll need to add 'L' brackets to the back of each cupboard. You can then drive a screw through two adjacent cabinets. This will help them to stay firm. The screw should be at the back; preferably top and bottom.
Now slide the cabinets into position. The L brackets should align with the studs you have already located.
This will allow you to sink a screw straight through the bracket and into the wall; holding the cabinet tight.
Don't forget to check regularly with your spirit level; you need all the cabinets to be level in all directions.
Add The Worktop
You can then lift your work surface into position. You may need to cut a gap for the stove or sink first. This is then attached to the cabinets by screwing up through the cabinet. This effectively strengthens everything.