Your living room is one of the important spaces in your home or apartment. This room is used for many functions, from entertaining the guests, watching TV to spending quality time with your family. 
That's why your living room should be comfortable, convenient and attractive. And your choice of furniture helps you achieve this goal.
Your pieces of furniture need to look classy and super comfortable. Besides, they should be able to withstand the wear and tear of daily life.
Here's how you can choose the right furniture for your living room.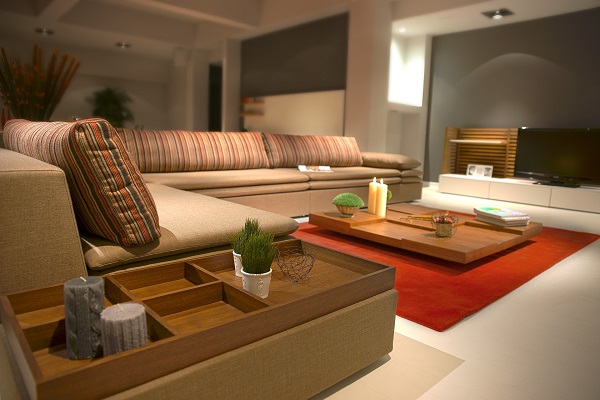 Plan Your Living Room:
First thing first, make sure to consider the size or your living room. You can have a floor plan on paper so you can figure out where to use furniture across the room. Planning helps you utilize all space while avoiding visual "mess". 
Here's how you can plan your living room for furniture:
Take measurements using a tape measure or yardstick. Also, consider the recessed space or alcoves in the room. Draw up a floor plan on the page.
Measure your doorways so that you can determine if the furniture can pass through your doorways during delivery.
Mark out the spaces on your floor where you want to put your furniture.
This plan will help you choose the right furniture according to the size of the room. Let's move the next step.
Think Over the Colour:
Colours add life to your space if picked rightly. Moreover, they set the right tone and mood. Therefore, choose them wisely. 
A neutral colour like brown or white with bright pops gives a mid-century look to your room.
Warm colours like red, orange and yellow will make the room look more relaxing and cosy.
Cool colours like green and blue add to a calmness of the room.
Choose the Pieces of Furniture:
Once you are done with your living room plan and colour choices, ponder over the pieces of furniture to be placed in the room. Start with the basics like an armchair, sofa beds, coffee table and side table.
Make sure they blend in with the other décor in the house and with the existing furniture. Then look around your space to know if you can bring in more furniture. 
Prefer Loveseat over Sofa for a Smaller Space:
Loveseats are generally meant for two individuals. They are great for a small family or for the spaces meant for entertaining an occasional guest. 
Invest in the Best Quality Furniture:
Chairs and sofas take the most beating, making them prone to wear and tear over time. Therefore, make sure to buy quality furniture that can be a bit expensive.
Look for solid furniture with sturdy wood frames and quality steel springs. Plus, high-quality furniture has even and opaque finish, with no visible bumps or bubbles on the surface. 
Choose Stain-Resistant Fabrics:
High quality and good fabrics are not only comfortable, but they last longer than cheaper fabrics. Stain-resistant fabrics are especially important if you have young kids at home.
They are still a better idea even if you only plan on using the room for guests as stains and spills can be caused by anyone. 
Consider the Décor of the Room:
No two homes might have the same interior style. What your neighbour has might not go well with your interiors. Therefore, make sure your furniture can complement your living space. Choose sleek furniture with detailed carvings for the modern interior.
Go for Victorian furniture for the classic setting. Don't choose any design of tables if it won't go well with your overall style. A corner table may not look good into modern furniture. 
Add Accent to Your Living Room Furniture:
Adding accent also enhance the appearance of your living room. You can add a shelf or an armoire along with your collection. A coffee table can be added too. What about bringing those simple centre pieces on top of the table?
However, using too many accents can overcrowd the room, thereby spoiling the entire look.
So these are things to keep in mind while choosing and arranging your living room furniture. This way, you will be able to create a stunning, welcoming and relaxing living room. What do you think? Drop your comments below to the box! 
Author Bio:
Naresh Prashar is marketing manager of E-Living Furniture, a leading online portal for affordable and elegant furniture for all types.
Now a busy businessman, he loves to travel around the world and write on related topics whenever finds some time from his busy schedule.