Concrete is a very reliable material. It is durable and highly versatile, too. However, it is not as appealing as other flooring materials. Not everyone wants the utilitarian look that it is known for.
Decorative concrete offers ways to make it look and function better. Resurfacing concrete floors is becoming a favorite among homeowners because it yields stunning results at an affordable cost. Just how decorative will your concrete floor be after resurfacing? Read on to get an idea.
Concrete Staining
Also called Stained Concrete, this is a resurfacing solution that involves the addition of color to an otherwise plain concrete surface. Concrete stains come in two kinds: acid and water-based.
Acid stain is an acid-based coating that creates random effects caused by the chemical reaction between its metallic salts and the concrete's components. The result is like a marble stone surface that looks elegantly weathered.
A water-based stain, on the other hand, is non-reactive so the color you see when you apply it will turn out to be a similar color when it dries. The exact hue will depend on the condition of the concrete and how many layers of color is used. This comes in a wide range of colors, including pastels.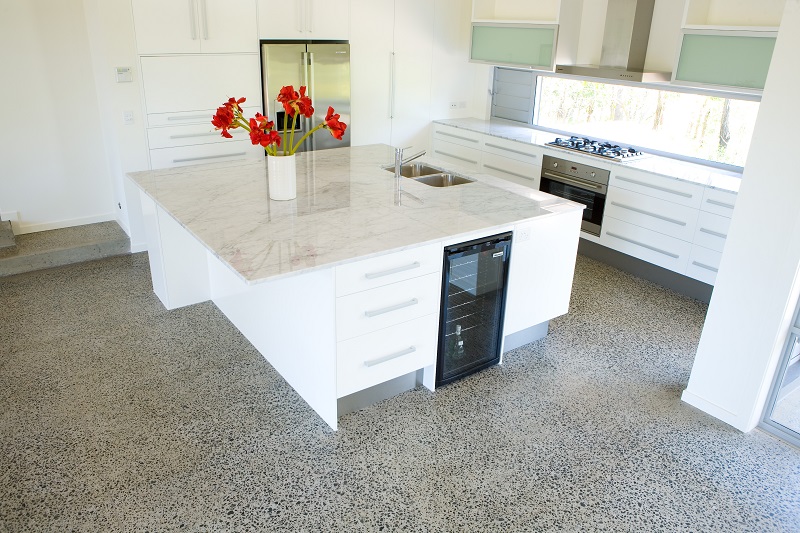 Stamped Concrete Overlay
One reason why stamped concrete is so popular is that it is able to replicate high-end materials, like stone, brick, and more. So, if you like a running brick floor in your kitchen, the overlay is stamped with a running brick pattern then stained to imitate the colors of real brick. It looks amazingly realistic but it is a lot easier to clean because there are no real gaps in between. Popular patterns include:
Fractured Slate

Flagstone

Running Brick

Travertine

Cobblestone

Herringbone

Basketweave

And more…
Spray Texture
Remember the texture of a stucco drywall? This is kind of similar but it has a more subtle texture. Spray texture is an acrylic concrete coating that is applied using a hopper gun. Once the material is splattered on the surface of the concrete floor, it is knocked down with a trowel, creating a unique texture.
The great thing about this is that it can be stained to one or multiple colors. You can even spray concrete stain to it to create a pattern or an image.
If you want to express your colorful and creative side, why not do it on your concrete floor? Not only do you revamp its aesthetic appeal but you also improve its functionality and enhance its durability. All these at a price you will love.