If you want to prepare healthy and tasty meals for you and your family, your determination will be a lot stronger in a pleasant kitchen environment. It's not all about the willingness to eat healthy but about the way your kitchen space makes you feel as well. Essentially, the way you organize and perceive your interior can have a significant influence on you. A lot of clutter, style that doesn't suit your taste as well as a simple mess can put pressure on you and cause stress to accumulate. If you find that your kitchen is all of these things, it's no wonder that you don't have any desire to spend some time in it cooking your healthy meals. With that in mind, it's time for some effective kitchen makeover.
1. Clean out the clutter
The first thing you should do is completely empty your kitchen cabinets. This is especially important for those that hold your spices, canned goods and other packaged items. If you couldn't be bothered to clean up this particular space for a while, you will notice that you have plenty of useless boxes and packages that you can easily get rid of. Go through this pile of stuff first. Once you're done with the decluttering process, you can organize this particular storage or divide it into sections. For example, it's a lot more practical to install a small shelf or get a spice holder for your kitchen wall than have all your spices together with your tea packages and canned items.
2. Go through your cutlery
If you want to enjoy spending time in your kitchen, you also need to feel comfortable with using cutlery that you own. People usually have too much or too little of the cutlery they actually need. Moreover, there's no reason to neglect your personal taste in this case. Therefore, make sure that you carefully go through your entire cutlery. Get rid of everything that is broken or never used. With these items in front of you, you can easily see what additional things you need to buy. If you want to spice things up a bit, feel free to decorate the plates and mugs however you want or simply get new ones that match your personality. To make things more organized, you can get a special drawer divider for your forks, knives and spoons.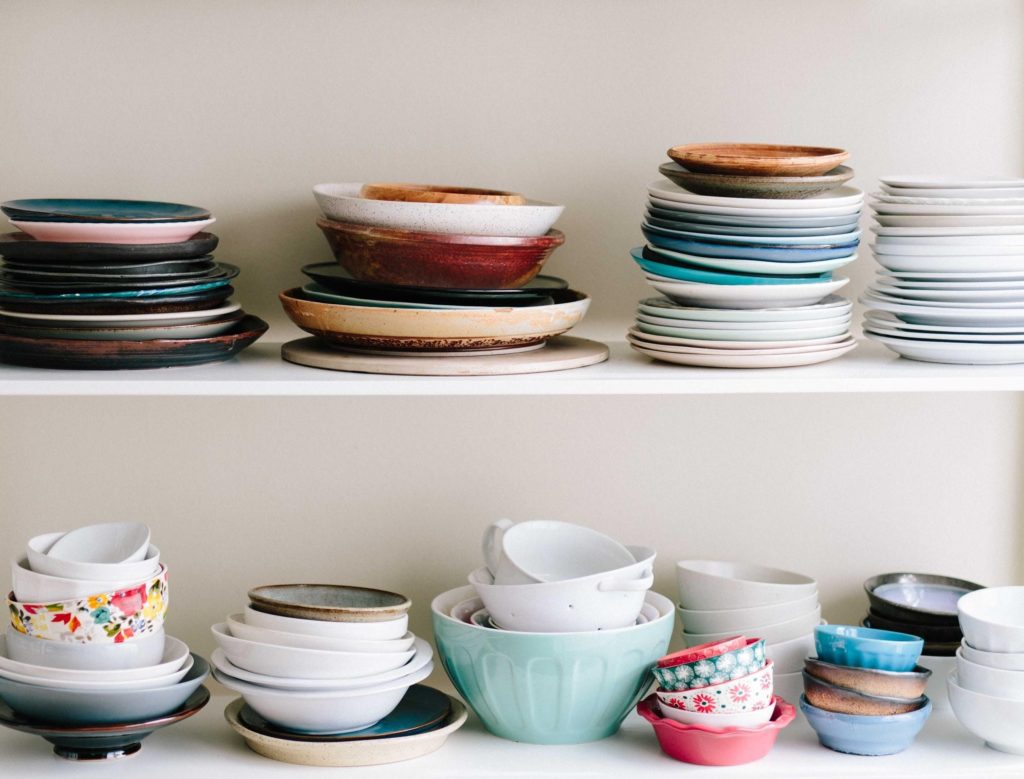 3. Utilize the wall space
When it comes to your larger pots and cutlery, you may find that they simply don't fit in your drawers and cabinets. Instead of having these items lying around everywhere and making a mess out of your kitchen, utilize your wall space. That way you can hang all the pots and cutlery that simply can't fit anywhere else. If your walls don't have much room either, there's always a way to make things work. Instead of a wall pot rack, opt for a ceiling pot rack. That way you'll always know where everything is.
4. Jazz up your kitchen
If your kitchen space doesn't match the overall style of your home, it's quite easy to change that without some bank-breaking investments. For example, repainting your kitchen cabinets can completely transform the look of your kitchen. Furthermore, installing backsplash with vinyl wallpaper can beautify this space and make it a lot easier to clean. Feel free to play with curtains and wall décor. If your kitchen is also your dining room, introduce some decorative seating pillows. Also, using multifunctional anti fatigue mats can help you keep your surfaces sturdy and protected, since they will allow any water to flow freely through the mat holes. Finally, you don't have to change your entire lighting solution, but replacing your light cover with something that matches your style better can have a positive effect on the overall kitchen look.
5. Fun storage DIYs
There are many ideas that you can use for a smart kitchen storage and organization. Apart from the obvious cabinet organization system, wall shelves, and pot racks, you can make different things work for you if you're dealing with a small kitchen space. For example, you can get door hanging storage for all the bits and bobs that have no other place to go. If you already have wall cabinets and shelves installed, you can use mason jars for additional storage. Basically, all you have to do is screw or glue the lid to the bottom of your kitchen shelf/cabinet and have your mason jar storage hang from these elements.
When it comes to your kitchen organization, the principle is the same as with the rest of your home. Give this space some love and you'll be amazed at what one weekend of decluttering, storage organization, DIYs and jazzing up can achieve.