Many home owners have subconsciously grown into the habit of visiting their wardrobe with a flashlight just to pick up a tie which will be the best fit for the shirt they hope to wear to work, this is has almost become a norm in every home, however, it doesn't make it right, it's an interior design taboo.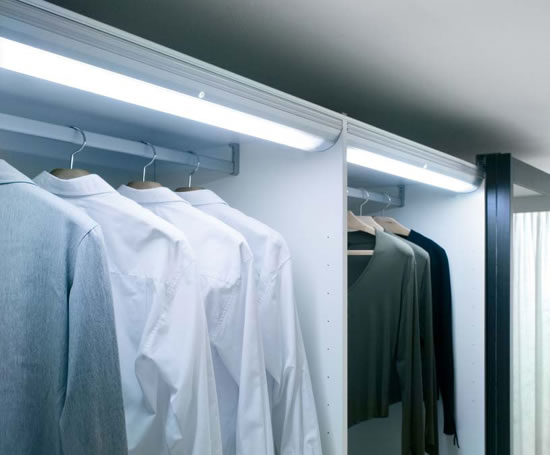 Earlier on, I published a post about how to turn your house into a smart home, think about opening your wardrobe to pick something up, and your wardrobe light comes on, motion sensor lights, that's as much as it can take to correct this anomaly. The good part? They don't even need any wiring.
Globally, a lot of effort has been put into creating a properly organized wardrobe, however, it seemed like everyone went asleep when it came to considering the lighting options which is an essential part of the wardrobe's designing and customization.
[irp]
In order to have your wardrobe looking all charming with great visibility, here's a list of our easy-to-apply tips:
Using A Strip Light To Lighten Your Wardrobe:
You know the long light bulb we know as the fluorescent? That's a very important tool to consider if you really want to stop carrying a flash light up and around to your wardrobe. Strategically place your strip light below the roof section of your wardrobe. You may also have them fixed at the edges of the wardrobe for clear visibility.
Using Motion Sensor Lights For Wardrobe Lumination:
These little geniuses are very important for small spaces. They are the best fit for cabinets and wardrobe drawers where you sometimes tuck your socks.
The motion sensor lights are always automatically turned off and will only come on after a slight vibration, just as the name implies. They are always rechargeable and can conserve power due to their smart mode of operation.
Another good deal? They come in various colours and sizes, these are sure to add some colour and glamour to your wardrobe. That's the style.
[irp]
Using LED Lightings To Luminate Your Wardrobe:
The LED technology has totally revolutionized battery powered lighting options, and the smart technology has made it possible to conserve battery juice. With a combo of these two, you'll be totally free from the worries of installing wires and boring holes for clips in your wardrobe's interior.
Everyone isn't really comfortable with wire works, but who wouldn't love a peel-and-stick lighting system?
Guided by these three considerations, you can bank on getting maximum comfort and satisfaction when next you visit your wardrobe. Remember we told you they would be easy? Now try them out.