Unless you're blessed with a large, custom made bathroom that is spacious and bright, you most likely are making do with a smaller bathroom. Many bathrooms are built for practicality over luxury, which means they often leave something to be desired for square footage. If you don't have the ability to expand your bathroom, you'll have to get creative in how to make your bathroom look bigger.

While a small bathroom can look cosy, they can also feel downright claustrophobic if they're not decorated correctly. Though your bathroom may not magically get larger, some key visual details and decor tricks can make your bathroom feel warmer and more relaxing.

1. Choose colours wisely
If you have a small bathroom, you'll want to be very careful with what colours you choose to put into it. Look for a serene color palette that uses more muted colours in similar tones. Cooler colours will give your bathroom a spa-like feeling that will give it the appearance of airiness and more space.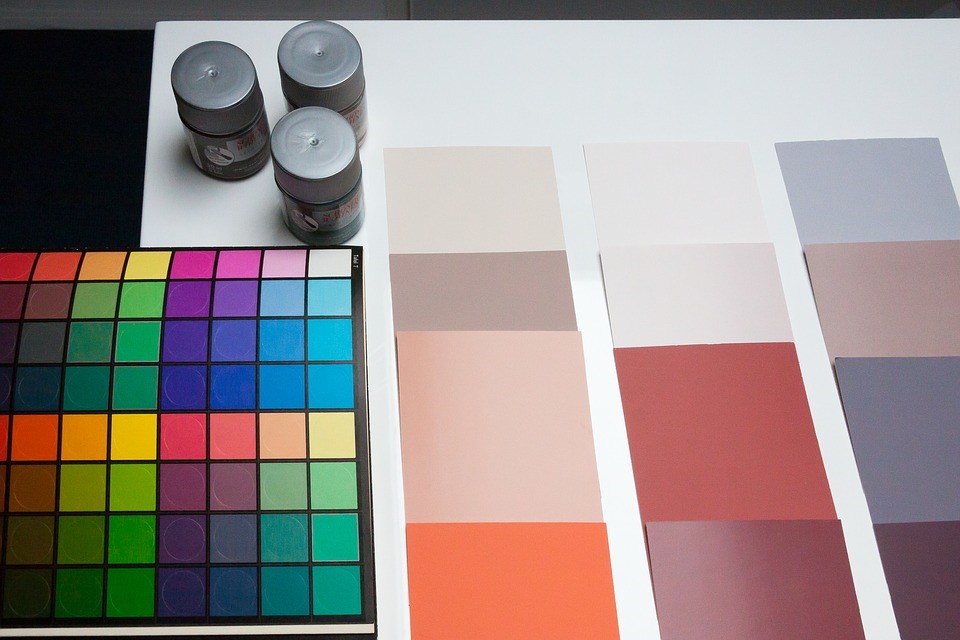 If you want to bring some colour into your bathroom, do so with your accessories and towels. Even then, be cautious about super bright, trendy colours, which can make your bathroom look outdated and draw too much attention to the accessories and not to the bathroom itself.

2. Add extra lighting
Many minimalist spaces are a perfect example of how bright, light spaces can appear serene and spacious. To make your bathroom appear bigger, you're going to want a way to incorporate more light. However, if you're not blessed with big windows, this might seem daunting.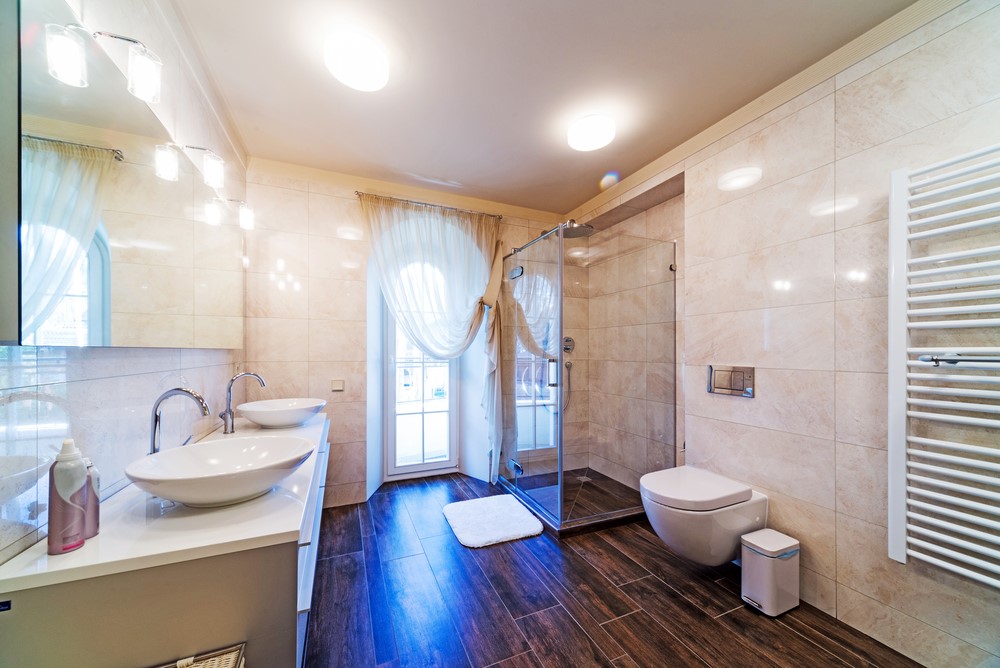 A good way to add light to a bathroom is with recessed lighting on dimmer switches, paired with task lighting by the mirror. This will add light to your bathroom without having to break the bank. Of course, if you do have the money, a skylight is a wonderful way to add light to a bathroom without worrying about losing any privacy.

3. Ditch the oversized vanity
While it might seem like sacrilege to give up extra storage in a small bathroom, a bulky, oversized vanity can really take away from your bathroom's spacious appearance. Replacing a big vanity with a delicate pedestal sink can give your bathroom a more open feel. You can visit UniqueVanities.com to see options for smaller, more compact vanities. To replace the lost storage, consider adding floating shelves or wall-mounted wicker baskets to give yourself the storage you need.
Replacing a vanity is relatively inexpensive, though you will most likely need to repair the floor underneath the larger vanity.

4. Use mirrors to reflect the space
Mirrors help reflect light and can make any space look larger, which is why using mirrors in a small bathroom can really help the space look bigger. If your space will handle it, add a large mirror to reflect all that extra light you're going to add.

Consider a large vanity mirror, with smaller ornamental mirrors scattered around the space. You can also use mirrored furniture or accessories to add more sparkle to space.

5. Streamline the space
When you're working with a small space, anything that blocks the path or draws the eye unnecessarily will work against you. Furniture, storage, or even decor items that stick out will make your room "shrink".

Once you get used to the way your bathroom looks, it can be hard to assess what really works for your space. To get a clearer "view", invite a friend over to assess your bathroom with a critical eye and let you know what is catching their eye in a way that just doesn't work.

While you may need some items in your space for practicality or for comfort, try to remove anything that you can do without that will help give the illusion of a bigger space.

6. Go for light-coloured flooring
This is a slightly more costly improvement to your space, but since your bathroom is small, you won't need much flooring to make this work. Light-colored floors will open up your space the same way that light-coloured walls will.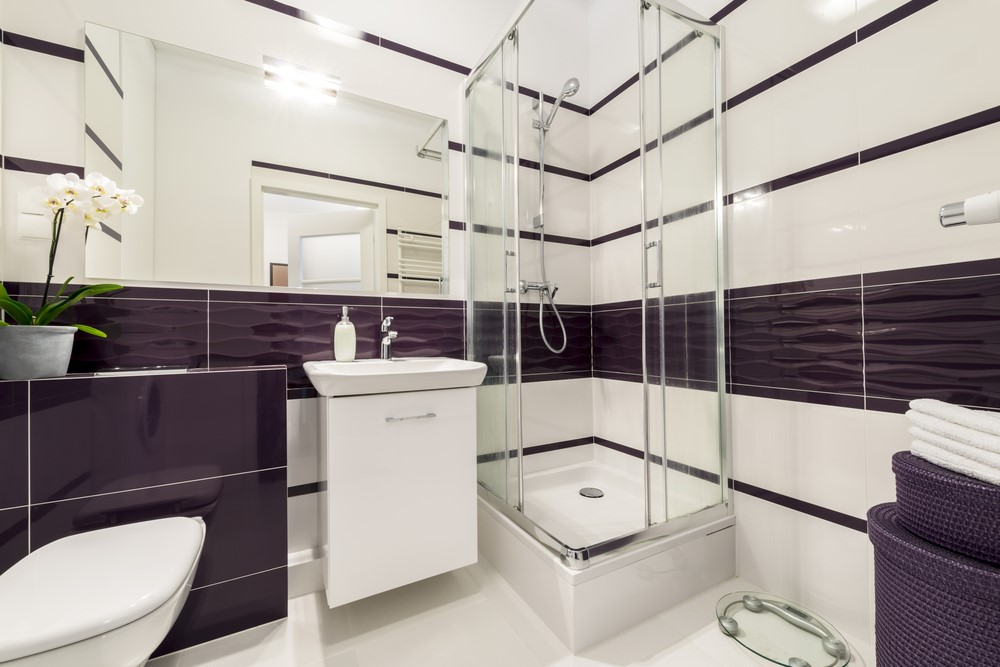 Ceramic tiles will be able to withstand the humidity levels of a bathroom while being available in every shade possible. Look for light neutrals for your flooring, and add a white or light-coloured bathmat to open up your bathroom and make it appear much larger.

7. Ditch the visual obstructions
Avoid closing in anything in your small bathroom. Thick shower curtains and dark coloured vanities will just make your space appear smaller. Instead, consider installing a glass shower door over an opaque shower curtain. Get rid of any curtains or blinds on the windows and replace it with privacy frosting to let in more light. Finally, use a floating vanity or a more delicate vanity to open up more space and let the light in. Doing this will allow your eye to move freely through the room and won't stop on curtains or doors.

8. Get rid of the clutter
Clutter can make any space look smaller and more dishevelled. No matter how grand your bathroom is, clutter will shrink it down to an unappealing space. To make sure that you don't fall victim to a clutter-filled space destroying all your hard work to make your bathroom look bigger, use key storage.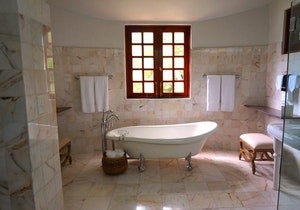 Your bathroom needs to hold a lot of stuff, but it's essential that there is a place for everything and everything in its place. Find unique storage solutions that will make it easy to keep your counters and tub edges free of clutter and products.

9. Get rid of unnecessary accessories
While you may be tempted to add a bunch of accessories to your bathroom to help channel your decorating vision, too many unnecessary accessories in a small bathroom can make space look cluttered and overdone. Ditch the clutter and pare it down to only the essentials. One towel, instead of several, one bold piece of art piece instead of a bunch, and your bathroom will look cleaner and bigger.

10. Tile up to the ceiling
If you have a tiled surround in your bath, spring the extra cash to take that tile all the way to the ceiling.
Light subway tile will to the ceiling will make the room appear brighter and more spacious. It will also make your tub appear more luxurious and streamlined in the room.